One of Chaturbate's newest and most controversial camgirls is Abby Oddly an animated camgirl. That's right! She is a cartoon cammodel, who live streams on the platform with 7800 followers and climbing. 
This article was originally posted two years ago and has been updated to include the latest trend of anime camgirls on Chaturbate. 2/10/20
While many were focusing on ways to perfect virtual reality streams and the Internets obsession with sex robots, someone else was cooking up a plan to bring a real Hentai model to Chaturbate, the most visited token based camsite on the net. And when I say "Real Hentai Model", this should not be confused with the legion of hentai obsessed cammodels who tend to flock to token based camsites more than any other. No, not the ones who're into wearing cosplay wigs and Sailor Moon outfits while masturbating with Bad Dragon dildos that squirt. Abby Oddly is literally a cartoon.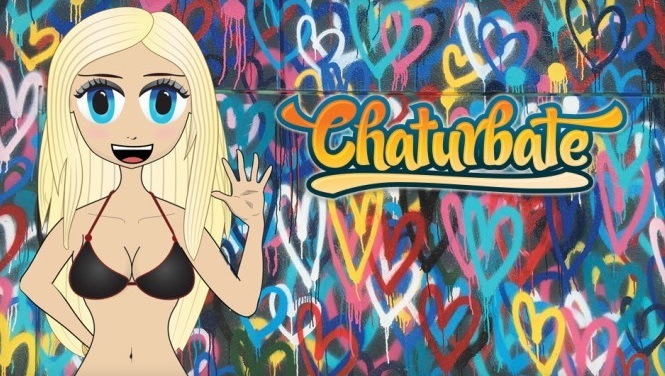 According to Abby she has special permission from Chaturbate themselves and is allowed to live stream on the site while receiving tokens like everyone else. And not only is she the world's first Hentai Camgirl, she's also a blogger with a strong focus on sexuality on a site called FigWiggly? After looking at the website FigWiggly I wonder if it's been approved as part of a promotional campaign to support their brand? I have so many questions. While I write this I am in fact laughing in disbelief that this is an actual thing that took place over the weekend, but I'm also incredibly impressed because she reportedly made over 9,000 tokens in her first two nights (possibly more) and had  over 16,000 viewers in her chatroom. In case you were wondering about how much a token is on Chaturbate and how much of that cammodels receive. The breakdown is this:
Customers Spend .10 cent per token on Chaturbate and cammodels earn 50% of customer spending.
20 tokens = $1
100 tokens = $5
500 tokens = $25
1000 tokens = $50
10000 tokens = $500
1 token is worth 5 cents
So far the reaction to this latest anomaly has varied between complete outrage and possible fear that cammers will start to lose money to a "fucking cartoon" to total disbelief and a lack of clarity in regards to models not know what the hell to think.
So a new "thing" on Chaturbate is #AbbyOddly This account broadcasts a cartoon and does NOT do a "live" performance. The person gets tokens to play animations while doing voice overs. Feelings are on the matter? @tyflos1 @ninjastarz69 @kinkyfuckery__ @LadyCypress8 @NikitaSumers pic.twitter.com/ncXbPBzSzb

— Hung4Fun9in (@hung4fun9in) March 23, 2018
Going forward I wonder how long this account will last and if it will spark a new trend in the camming community? Hentai is nothing new and animated sex objects is definitely not a new concept. It has it's own following of hardcore fans showing love on sites like SecondLife. Even Netflix has a documentary from 2010 called Life 2.0 about internet users who become obsessed with alternate realities filled with animated avatars and characters who are allowed to earn virtual cash called linden dollars. So maybe Abby Oddly isn't the first animated camgirl but the first to turn virtual currency into a bankable asset?
Update For Anime Camgirls Featured On Chaturbate 2/19/20
It's happening all over again and cammodels are pissed! The newest anime camgirl to debut on Chaturbate is ProjecktMelody. It's been less than two weeks and this one comes with 60,000 Youtube subscribers. 
I don't have a creator and I'm not puppeting a virtual avatar. What everyone sees is just me! I'm an artificial intelligence, Melody says.
If you're wondering who is behind this latest creation, it's a designer by the name of DigetrevX. He's been very vocal on Twitter and has a message for those who are fearful that anime camgirls are taking jobs away from real live performers. 
Waifu-Net is upon us. Actually, I hope some of the simps relax some about Melody's viewership. If you ask around most fans came to CB because of Melody. Not because they got tired of you. pic.twitter.com/U30wjZvOdH

— DigitrevX (@Digitrevx) February 17, 2020
And it appears that once again Chaturbate is aware that people are using their platform to cater to hentai and anime fetishist. I found this information via Vice. 
"Melody told me she followed all of the required procedures for signing up to Chaturbate, and spoke directly to a support staffer there before streaming, to let them know what she was planning to do."
According to PornHub Insights 2019, Hentai was the second most searched for term on the entire site! The search term Anime fell in at number 14 on PornHub's Year In Review, bringing it up seven places from the year before. I know this information is upsetting for many "real" live camgirls but apparently this is what certain trends are calling for. Understandably not everyone is going to be able to compete with a digitally created camgirl, but I do think there are still ways that models can stand out. The thing to keep in mind is..despite the rise in popularity, these accounts will not be able to duplicate the intimacy that goes into performing camshows.  They're flat characters with a limited range of emotions. There are still people out there willing to pay for a one on one experience with someone who's willing to unleash their desires and they will find you.