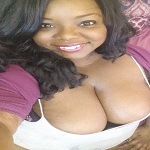 Recently Pornhub released their annual Year In Review 2016 Issue, giving insights on what topics were the most searchable on their website. Pornhub began releasing search data publicly in 2013 with this article, What Are Americans Searching For On Pornhub? They shared what topics American's searched for per state and gave detailed information on how long people watched specific porn and more importantly provided an interactive map. After that particular articles popularity grew in 2013, they decided to continue with PornHub Insights and then started releasing a yearly recap on all things search engine and porn related.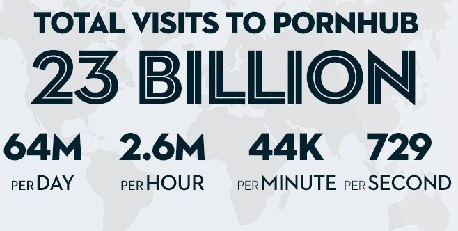 What Does This Have To Do With Cammodels?
Traffic is king! And Pornhub is the number one tubesite in the world with over 64 million hits per day. Originally created in 2007 and then purchased by porn site mega boss MindGeek in 2010, Pornhubs popularity has grown enormously. Now they are not without scandal and aren't exactly a favorite amongst content providers. In fact some industry performers have openly accused PH for the decline of porn industry due to all of the stolen content uploaded to the site on a daily basis. Despite those issues I don't believe that any cammodel with a true entrepreneurial spirit would disregard the data provided by PornHub. What's done is done and if you really want to create strategics and enhance your cammodel business plan then you should definitely pay attention.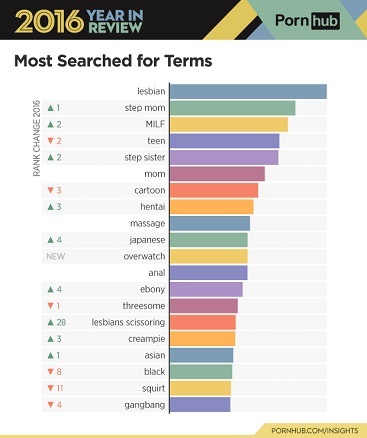 Keyword searches that dominate the list year after year are almost always Lesbian related topics. "Lesbians Scissoring" has jumped up 28 places in the past year. Now that you know this or maybe you've paid attention to the trends and you're open to working with other camgirls, then two girl shows could quite possibly increase your income. Of course if you're a solo camgirl I'm not suggesting that you go out and find any other willing camgirl to do shows with. Sometimes these things may take timing and decisions should be based upon chemistry and similar work ethics.
Other topics that have increased are "Step Mom" and "Milf". It appears that "Mom" has stayed in the same top spot as last year. Nevertheless cammodels who fall into the mature category on most sites may want to focus your marketing plan in this direction. "Ebony" is another search term that's on the rise this year according to PornHubs Year In Review 2016 along with "Asian" and "Japanese". This year has proven to show that the internet has very diverse taste when it comes to pornography. I'd be lying if I said I was sadden by the search word "squirt" falling 11 spots on the list. Maybe by next year it will have fallen off completely? What a pity.
Knowing what's trending can help you focus on your own assets and what areas to develop while creating your own personal brand. This doesn't mean that you should completely step outside of your comfort zone just because something is popular. However if you scan the list of the top 20 most searched genres and happen to find something that you're genuinely good at then why not go for it? I would suggest going forward to try using these search terms as hashtags or keywords when creating blog post on your website or tweeting new content on twitter. Hashtags, Keywords and Searched terms are all synonymous and beneficial when trying to stand out from the sea of competitors.