Cammodels you can now turn your EOS Canon mirrorless camera into a webcam. Two days ago Canon U.S.A announced a new beta software solution that will turn select cameras into a webcam. It's specifically called the EOS Webcam Utility Beta and it's past time someone in the camera industry created a high end solution for streamers. Before now the most common option for cammodel streamers and gamers to go live was with the Logitech C920 or C922. Logitech is still the number one company when it comes to making webcams, but the need for sharper images and upscale effects has surpassed the basics. Now that Canon has taken the steps towards turning a dslr camera into a webcam without the use of a capture card, other companies may do the same.
Currently the new  EOS Webcam Utility Beta software is only available for Windows 10 and may take more time before it's ready for Mac. Right now the utility software will work with select eos interchangeable lens cameras and some powershot cameras as well. The only hardware needed to complete setup is a simple usb cable. Canon says the purpose is to give streamers smooth clarity and high quality images. Check below for a complete list of compatible cameras: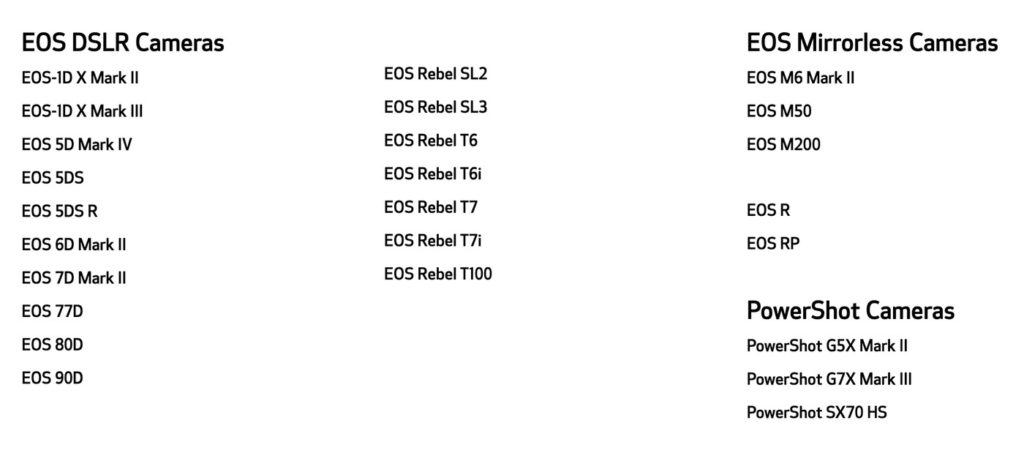 Until now only a few Canon's were capable of live streaming with a clean hdmi output. Even with the use of an ElGato capture card many models were incapable of achieving this. The EOS Webcam Utility changes the game. After taking a look at the Canon U.S.A forum, I found that even though the set up appears to be very straight forward there are a few details one most follow to get it done correctly. 
When using EOS Webcam Utility Beta software with your camera, the video source image will not be visible if the EOS Utility application is running as a background operation on your computer.  For EOS Webcam Utility Beta software to perform correctly, you need to "Quit" the EOS Utility application from the notification area (system tray).
You will not be able to use the EOS Utility application and the EOS Webcam Utility software at the same time. Note: these are two different things. 
To avoid having a black border appear around the video source image, make sure your camera is powered on and set to Movie Shooting mode when using the EOS Webcam Utility Beta software. 
You will need to use an external microphone in order to enable audio during your live stream. Currently the most popular choice among cammodels is the Blue Yeti microphone. 
Although the video below doesn't mention the tips from above, I found it very easy to follow. 
Again this is a timely game changer when considering how difficult it is to find basic webcams at the moment. And if one is able to find a webcam at all, the prices have doubled. Last year around this time a simple Logitech C920 was going for $59.99 on Amazon. But today in the age of Covid-19 those same webcams are going for $229! At that price point learning how to turn something you may already own into a webcam might be a more viable option. Because more people are beginning to work from home to avoid exposure to the coronavirus, the cammodel technology we assumed would always be there is being gobbled up by the mainstream. I suspect that Canon may have created the new eos webcam utility to meet the growing demand for work from home options using Zoom, Skype and Discord. 
If you don't already have an eos canon or would like to go with a different brand, we have a great article on which cameras are best as a webcam. Take a look at the Black Friday/Cyber Monday Camera Deals For Live Streaming. I give you four different models plus cammodel tips for when you go live. If you like this article and have more questions on how to get started as a cammodel in the Boleyn Models Daily Pay network please send us an email at support @cammodelpay.ninja.