It has finally arrive the latest tool and website companion for cammodels and phone sex operators, IWantPhone. This newest venture is under the same umbrella that created IWantClips and IWantCustoms. They're definitely maintaining a growing them with the name and branding. What's next IWantPals, the social networking site for the grown and sexy? 🙂 I just thought I'd throw that idea out there because you never know what this company may bring tot he table next. Now that IWantPhone has finally launched into public beta it's sure to have many pso's and adult content creators eager to sign up.
Several months ago in the Spring models and performers were given the opportunity to sign up for their adult phone chat site to lock in a higher payout for 90 days. Members who took IWantPhone up on that offer will receive 80% on all commissions for the first three months. Also IWantPhone is a part of the Boleyn Models Network and models who've already selected BM as their daily pay option are all set once they finalize their new phone sex listing on the platform. Essentially you're signing up for IWC but will be able to access IWP through your dashboard. This platform pre-existing traffic built up from their massive marketing efforts and traffic generated from models who upload content to the site. This means that it's possible to earn an income on the site without self promotion.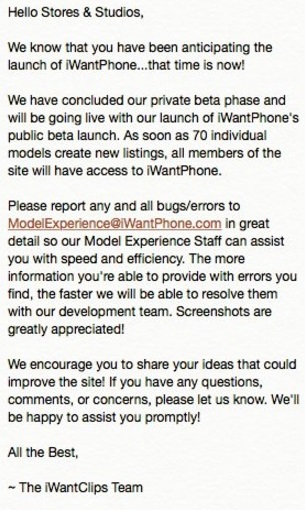 Customers who join the platform will be able to make specific searches on the platform with advanced searches that include gender, age, ethnicity, physique and other attributes. They can also search via categories and with very specific categories. If IWantPhone has one thing that sets them apart from all of the other phone sex platform is it's updated design and functionality. Some of the more senior phone sex platforms are still running with outdated coding and could use an overhaul. IWantPhone has a similar set up to sites like Niteflirt but I think do to the customization and the fact that many of the models using the newer platform are verified models. This may give them a certain edge over sites where this isn't the case and provide customers with more assurance and a level of authenticity when making their purchases. Just like some of the other platforms IWantPhone will also include pay per minute camshows, instant downloads and will feature a mailing system where models can attach content to messages and charge customers for it with the pay to view system.