Top camsite, Streamate is rolling out a new subscription based Fanclub feature. Cammodels from this platform will now be able to offer even more incentives to visiting customers. The fanclub will include a monthly fee in exchange for camshow discounts and video content.  This will be a great way for cammers to connect with their favorite members on Streamate. 
What Is The Streamate Fan Club Exactly?
For a set price per month cammodel fans will pay amount from $4.99-29.99 USD. Cammers who utilize the fanclub feature will receive their regular earning percentage of customer spending.
Cammodels can also also offer a live show discount between 0-25%. Private and exclusive camshow discounts can be set separately. (At this time discounts for block sessions cannot be included in Streamate Fanclub subscriptions.)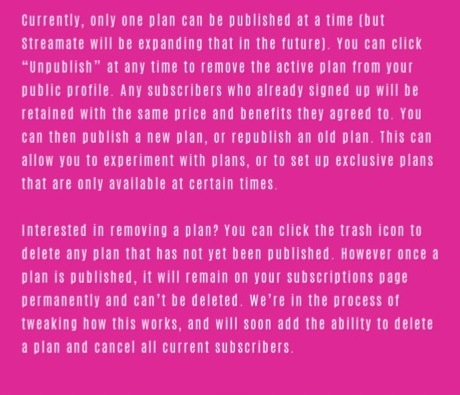 Members will see a link to join on your profile. If they sign up, they'll automatically be charged monthly. If you offer a discount, it will be automatically applied next time a subscriber starts an eligible show. You will be able to set up multiple plans and can switch which plan is available. Currently, only one plan can be offered at a time, but we will expand that in the future.
How Can This Help Engagement?
When you use this tool it can be one more way to enhance cammodel engagement. Currently on Streamate when customers find models they connect with they'll add them to their favorites list. Each time they log into the site all of their favorite models will be listed first. This is great for visibility, however models have no way of knowing which member has added them to their favorites list once they enter the chatroom. Of course we all have the option of adding notes to each chatroom visitor and there's also the ability to bring up their spending history. But now there are even more ways to sort your premium guest and to make them feel special. 
Shout Out Your Fans: Cammodels who live stream using SMConnect, a crown icon will display next to active Fan Club subscribers. (Note: Fan Clubs work best with SMConnect, and you will not be able to see the subscriber icon when using the classic streaming page.)
Use Your Fanclub To Send Videos To Active Fans: Models can send video content to fan club subscribers. If you want to reward your members and promote loyalty then this can be a great way to do it.  If you have any "snap-like" clips i.e. shortened videos, try sending them out to entice your fans into a paid camshow.  Each time this is done members will receive a notification that they've been sent a new item from you. 
Learn How Cammodels Can Get Started!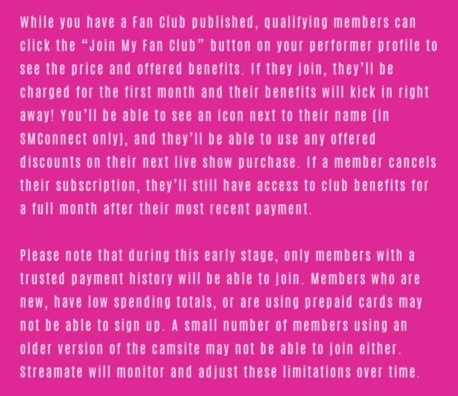 Please visit the Fan Club help page found in your Streamatemodels dashboard. Once there you'll be able to read more information about full details on how to send out video content and how best to utilize different fan club plans. Head over to our brand new Fan Clubs help page to read more about this feature, including full details on how to send videos, who can join your club, and how to manage different club plans.
Once you've decided how you want to set up your first club, check your account dashboard for a new "Fan Club Subscription" link in the "Stats and Feedback" section. For more tips on chatroom engagement and how to earn more money while live streaming check out How To Break The Ice.