Let us begin on the fact that before you dive into this wonderful world of camming (especially on MFC), it is imperative that you do your research on being a cam model as this is NOT a world of "get rich quick" if that is what you are looking for then this business/industry is not for you. Not to sound so brutally honest or harsh BUT camming takes a lot of hard work and if you are not willing to commit to it then you quite frankly will not succeed.
Now we have that out of the way, we can get to the tips that I have seen myself and from my own personal experience when it comes to being successful cam model – specifically on MFC. We are going to start with the most important that you should do first is to do ALL YOUR RESEARCH first. I will link websites below that include so much information that you should read before you jump into this career path. As it is essential to learn at least a majority of what you should expect before dive in so you A: don't get taken advantage of – B: you don't get your hopes high thinking this is a way to become a millionaire within a month – and C: That you are absolutely SURE you are okay with being naked on the internet because things on the internet are forever and very much could affect future employment opportunities.
Let us now truly dive in…
NEW MODEL STATUS & CONSISTENCY:
This is important combined with consistency when it comes to MFC. I would recommend anyone interested in being a cam model to wait until you are fully committed so you can take full advantage of the new model status and be able to put forth your full effort in order to gain that fan base necessary to really succeed at MFC. Speaking from direct experience, I wasted the new model status and I wasn't consistent with logging in to cam either and that alone equals a lack of traffic which means a lack of tips. Use that model status to log in each and every day when you first start out as this is the most critical time to gain traction to building your fan base as you will be found the easiest when you first start out. This is an advantage that you *do not* want to miss out on as it is much more difficult otherwise.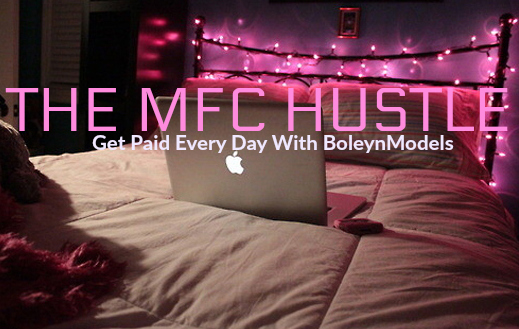 MyFreeCams is a tricky little fuck to learn BUT worth it if you take it seriously and work your ass off. Sure, some do get lucky when they first come into it but bet on the fact that may not be you so work hard & make MFC your bitch! I *again* cannot stress enough that being consistent is very important – not only on MFC but any cam site really – as that is one way guys will keep coming back as they know you'll be there. So many cam models who get into this industry don't seem to take it serious and as a job…and that mindset is wrong. So wrong. You have to treat it like your job and show the fuck up and show out, or sadly guys will forget you and not even bother.
Sit down and set a schedule to get on cam…and most importantly, stick to it. Create a Twitter account so you can let your fans know exactly when you are getting online. Social media is your friend so use it to your full advantage. Don't get discouraged if you aren't succeeding at first even though you are online, have a schedule etc…The beast we know as MFC takes time to tame. Try different things & just switch it up. You'll eventually find that sweet spot called your niche. Just be patient and don't get discouraged.
MAKE USE OF YOUR PROFILE:
Fill out your profile as they really are read by customers on MFC, believe it or not. Your profile is a tool to be used for customers to get to know more about you [who you are], what your tip menu is, social media accounts, wishlist's if you want to include those, and whatever else your heart desires. I know and understand that when first starting out as a cam model that you probably don't have a lot of money…but it is worth to at least spend a little bit to have a nice profile. I suggest speaking to the following profile creating geniuses
Before all that, I would suggest taking a bit of time out of your day to come up with your tip menu. Charge what *you* feel comfortable with doing and for how much. Ignore the asshats who will try to haggle you down or suggest you lower your prices because another model is charging this or that. Honestly, just ban those types of guys…they are not worth the time of day. It is *YOUR* profile, it is *YOUR* body, it is *YOUR chatroom so don't let them try to take advantage of you just because you're new. Believe me, this will happen – A LOT when you first start out.
Try Using Snapchat To Enhance Your Camgirl Brand:
Snapchat is also a great money maker for cam models. Guys really enjoy this as an option on MFC so I highly suggest signing up yourself a Snapchat account. There is an incredibly helpful thread done by the lovely IvyAdams which goes into full details on how to make a public/premium snapchat account which I have linked for you below. Make sure that you also turn off the location tracking on Snapchat before using it.
Turn off Snapchat Location:
Control Your Chatroom With Charles Bot :
Charles Bot is an essential tool that helps MFC models be able to have more information posted to their chat room without having to have open a notepad and copy/pasting details yourself all the time. I highly recommend using this little gem…even better is that it is absolutely free for MFC models to use. It will also give you the ability to run games in your room. Believe me, you will want this – it WILL help you tremendously.
Now with all this said…here comes one of the most important and eye opening revelation…which is to *BE YOURSELF*. It will be awkward at first camming and talking to strangers while essentially getting naked for money in front of a lot of people but as time goes by you will get more and more comfortable. Your fan base will grow when they get to know you as a person. Remember these essential words that I learned…They come for the nudity BUT they *stay* for your personality which is completely true with camming on MFC. I *really* hope that this article has helped at least one person who is looking into jumping into this amazing and gratifying world of MyFreeCams.