Now that there are more and more clips sites emerging within the adult industry, cammodels are faced with the task of deciding which content site is best suited for all of their needs creating a battle of the clips sites. The choices are based on advanced features that many of the industry pioneers such as Clips4sale didn't have as an option years ago. At one point if someone wanted to delve into the world of amateur clip making there weren't many options beyond C4S, that comes with it's very own loyal fanbase. Signing up was just a simple task of uploading 10 shortclips plus identification that proved ones age and consent and and just like that you were in the clipsite business.
Of course there were other sites like KinkBomb that appeared on the scene as slight competitor but it was C4S and Hotmovies that took over the market. Ironically despite Clips4Sale's long reign they only just joined the Boleyn Models daily pay network this past summer long after new clipsites like Manyvids and IWantClips began working with the program. Now that Boleyn Models has a full roster for cammers to choose one MyFreeCams recently introduced it's very own content solution for mfc models looking to upload, host and sell images as well as specialty videos. Their latest offering is called MFC Share.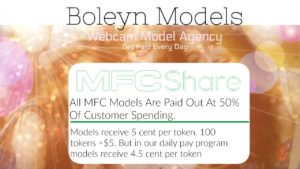 This new venture comes at a time where many models were accustomed to using services provided by content site Manyvids who previously were allowed on the MyfreeCams platform. However recently MV introduced a live streaming option expanding their business model making them a direct competitor for MFC with their new MV Star Takeovers Going Live. Therefore MV content is no longer accepted because of MFC Share.
ManyVids Vs. MFC Share
In many ways the two platforms are similar but yet and still there are distinct differences. In my opinion of the four content options in the Boleyn Models Network, I would say that MV and MFC Share are the most similar. But I believe that because the MyFreeCams solution for content creators is still fairly new there's still room for development.
The Pros For MFC Share
It's Shiny And New. New is almost always better…in the beginning.
MFC Models now have a more convenient option for selling videos.
MFC Memebers can now receive their content immediately after purchase.
All Videos appear directly underneath livestreams making transactions more seamless while still enjoying live shows.
All purchases are considered offline purchases. *MFC Tip Alert* Offline tokens are a great way to boost your camscore.
Where MFC Share Gets It Wrong, ManyVids Excels 

MyFreeCams is well known for excluding cis male and transgender performers from operating on their camsite. But at least now with MFC Share, male performers are allowed so long as they aren't visibly seen on the site. Almost from the very beginning all genders were openly welcomed to set up shop on Manyvids, Clips4Sale and IWantClips. In addition all three sites have a better sort option than MFC making it easier for all models to gain exposure and easier for customers to find the content that they crave. I think this is something that MFC Share should take a look at in the future.
IWantClips, Home Of The Cutest Femdommes On The Planet
Anyone who's ever thought how aesthetically unappealing clips4sale is, but yet still craves deplorable acts should definitely checkout IWantClips. Where Manyvids is to vanilla masturbation clips, IWC is to depravity served in a cute well wrapped package. Basically the interface is far superior to older sites like Clips4Sale but yet it's just as kinky.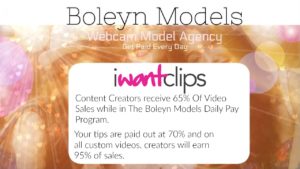 IWC has far more marketing tools than C4S and is more developed when it comes to viewing videos in mobile applications. Also out of all the content sites in the Boleyn Models daily pay network, I believe IWantClips does the best job when it comes to model diversity and putting it on display.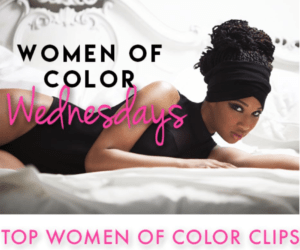 Rather than assume that customers are only capabable of sticking to just one niche at a time, IWC utilizes it's marketing efforts with email campaigns showing off their themes for each day of the week. Today is Tit Worship Sunday! Thy shall kneel at the alter of sanctimonious cleavage and double DD's, Amen 🙂 It is my opinion that by sending out themed newsletters this can entice members to spend and explore niche groups that may have never occurred to them before. Instead of relying on metrics that assume trends, likes and dislikes, IWC keeps it open and exciting.
Clips4Sale, The Epitome Of If It Ain't Broke…Don't Fix It
As previously stated C4S is one of the oldest clips sites in existence and despite the recent influx of competitors it is still the number one site for kinksters and fetish content. In the beginning it was known the site for amateur content providers who mostly filmed their own sex acts for profit and the caliber wasn't always that great. But even still to this day, now that production quality has gone waaay up, C4S is most definitely the only clipsite where a bonafide amateur can make it into the top 50 top selling clips.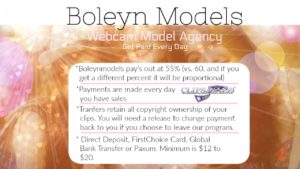 It may not be the shiniest and prettiest site on the market but it has the most traffic and a loyal fanbase that goes back for almost 20 years. In some cases depending on your intended niche, marketing and self promotion isn't always necessary. Over the years many people have grown accustomed to frequenting the site when searching for weird and obscure fetishes. It's a very kink friendly site and one of the most coveted additions our daily pay program.
Create A Membership Site Using LoyalFans!
Content creators can turn their inventiveness and influence into a thriving business via the most advanced technology available.  LoyalFans features and tools include customizable messaging, live streaming, video chat, audio recording and podcasting. There is even new video features that adult content creators can use as a selling tool. Now that LoyalFans is a member of the Boleyn Models network, creators can now receive daily payouts. Learn more about the announcement here.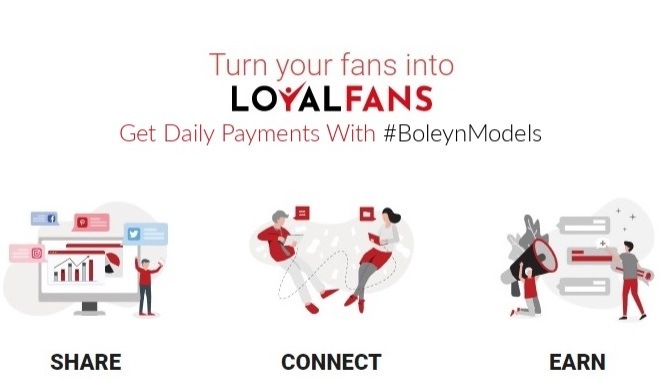 Update January 2021, IndieBill no longer provides cammodel services. 
If you are a cammodel and or a content maker (fetish clips for sale) you may have heard of a new start up company named IndieBill. They are a two man team that provides payment processing as well as hosting for your adult content needs. What's unique and equally amazing about these guys is that they actually listen to the needs and wants of Independent Cammodels and are open to implementing changes as their services gain momentum. If creators choose Boleyn Models as their payout option they will receive a 80% of all revenue free of charge backs paid out each and every day.
If you're interested in learning more information on how to build an online marketing campaign to build up your independent business please follow @BoleynModels on Twitter.