The new social media platform created for sexworkers is Switter and it's catching on fast! Currently as I create this post it's only been live for 23 hours and all ready my Twitter timeline is filled with cammodels, pso's, and pornstars sharing their switter handles. After digging around a bit I discovered that Switter was created by a two devolopers based in Austria who operate under the name AssemblyFour. Below is their Mission Statement found on their website:
Switter was created in response to the recent effects of FOSTA/SESTA and shadow banning of many workers' accounts. Despite the bill only just being passed, it has already had a detrimental affect on the community with sites such as Reddit and Craigslist pulling sections related to sex workers. We set up Switter as a sex work-friendly alternative to mainstream social media which often censored workers.The space is open to anyone involved in the sex industry. It is an open and free community where sex workers can advertise, release new shoots, announce tour dates and whatever else they would like to share. Switter is built on Mastodon, the world's largest free, open-source decentralised microblogging network.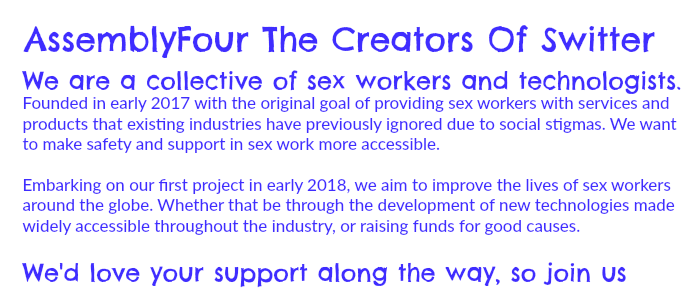 Initially when I first signed up I ran into a slight delay when it came to receiving my confirmation email. They all arrived at once after waiting one hour and I decided to take that time to do more research on Switter and it's feedback. And again this thing blew up so quickly that they ran into a server issue because of the influx of traffic to the new sexworker friendly platform. I was able to find this tweet from their @Assembly_4 Twitter Account:
"[MAINTENANCE] We grew waaaaaay faster than expected and our dev needs to upgrade the poor little server Switter is running on. Don't be alarmed; we'll be back in less than 10 minutes (hopefully)!"
Once I was able to get my account set up and look around I noticed that it some ways it's set up is very similar to TweetDeck or HootSuite. And of course it's very very similar to Twitter as well. Unlike Twitter where post are called tweets on Switter they're referred to as Toots! Maybe it's the prepubescent child that still lives within me who's never met a fart joke that they didn't like, I think dropping "Toots" all over a persons timeline is gonna be hilarious! Check out my very first Toot down below.
It's only been 30 minutes and already it's gotten two likes. 🙂 Each Toot on Switter can contain up to 500 Characters complete with a full emoji library. Each member on the platform has the ability to mark individual toots as Sensitive Content. They also have something called Switter Instances which I imagine is their version of Twitter Moments? I am now just getting started on the platform and haven't quite figured out everything as of yet.  I estimate after one solid day of using the platform I should have it all figured out. Please be sure to bookmark this post for continued updates. Also please be sure to follow the following Switter accounts that I've already created.