Streamate the number one camsite in the Boleyn Models Daily Pay network is having another contest. It's March and money is in the air! Streamate's latest contest is called Spring Fling. This event will last for only two days but the top 500 performers will be rewarded cash prizes. This will include a $1,750 top prize. The Spring Fling event begins on March 8th and ends on March 9th (GMT).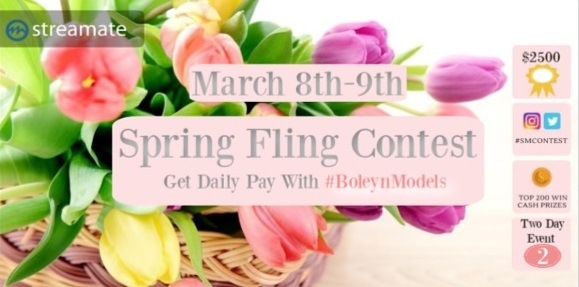 The Streamate Contest Prizes Are As Follows:
To find out when this cammodel contest begins in your time zone, please check the Leaderboard found  in your Streamate dashboard.
Prize List 
1st place: $1750!
2nd place: $1500
3rd place: $1250
4th place: $1100
5th place: $1000
6-10th place: $750
11-20th place: $500
21-50th place: $250
51-100th place: $100
101-200th place: $75
201-300th place: $50
301-500th place: $25
Cammodels who perform live on Streamate and are also members of our daily pay network can take this opportunity to compete in the contest, while earning a Boleyn Models Bonus.  Every week we provide a bonus to performers who go live on Streamate for at least six of seven days during that one week. We suggest that cammers stream for at least four hours per shift to obtain more exposure and higher earnings.  We double your second-lowest day and pay it out to you again as a bonus at the end of the week.  And remember this is not just for the week of the Spring Fling Contest, we do this four times a month!
If you haven't already signed up for our Daily Pay Network for Cammodels and are still wondering how our program works, please take a moment to look over our FAQ section. We also have an excellent Cammodel Blog filled will tons of hustle tips and tech advice for both webcam newbies and veterans. There's something there for everyone. You may also reach out to us via our contact page for further questions. In the meantime good luck out there during money making March and Streamate's Spring Fling.