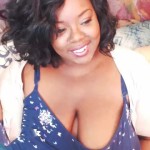 Starting with a new year and a new outlook when it comes to distributing content, Streamate the number one private based camsite has announced plans to roll out a new system for video exchanges. This system will allow cammodels the ability to upload their own video content to Streamate servers. Once approved models will then be able to send out the content to various customers as a reward or incentive for potential spenders. The conceptual idea of cammodels upselling guest with video content isn't exactly a novel idea, but the fact that Streamate has decided to create a new method that will undoubtedly become an innovative tool for both guest and models shows that they have been listening.
The Content Struggle Was Real
Previously before this latest announcement by Streamate to enhance content distribution, cammodels were eager to earn additional money while streaming and decided to use offsite services to host their creative content. The eagerness comes from the insight and knowing that selling videos really is a great way to work on your brand. And not only is it affective branding but can also be away to earn passive income that in time can become not so passive.
Therefore not having the tools to do so directly from your Streamate dashboard had become a little complicated. But completely determined models figured out ways to send links to offsite hosted videos to customers via the email system. Respectfully using several of the existing cammodel run services are still effective ways to store content and create unique links to distribute, but each time that a link is shared with a customer it potentially sends them in the opposite direction. And that is away from Streamate. I am not all surprised that going into 2017 they've figured out a away to keep the traffic on the site for longer periods of time.

Going Forward How Can You Make Streamate's New Tool Work For You?
Number one, sending videos through the upload system will not be an option for members who haven't spent money in your chatroom within the last two weeks. Cammodels are only allowed to pick and choose who to send videos to from a list of recent spenders. This may come in handy when faced with a member who isn't quite ready to buy a private show but may need a little more incentive. I would suggest using phrases like this to encourage spending:
"Hey I just shot a new video. It's really hot. It's me wearing a bikini top 2 sizes too small for my big naturals. After giggling and jiggling around for 5 minutes…do you wanna know what happens?"
And I'm gonna assume that he'll stop stroking long enough to type "What bb what?" and that's when you say:
"Well I'd like to share it with you but I'm not able to send it if you aren't on my recent customer list, but maybe if you send x amount of gold it'll put you back on the list?"
The idea is to get him on the hook for wanting what you have to offer as a cammodel and content producer. Maybe he's brand new to the site and thought of being one on one with an attractive model is intimidating? Suggesting a video for sale by not immediately mentioning the sale is a subtle tactic that won't send him running because you asked for money. But because you gave him a full on seduction while describing the video before pointing out that he's not on the ballers list it's not so much of a let down. At this point he has a decision to make. Either submit himself to the ballers list via sending gold or logging off without ever learning what it is that happens at the end of that itty bitty teeny weeny bikini video.
More Tips For Selling Videos On Streamate
Training Resources For Boleyn Models
If you're a cammer in the Boleyn Models Network and you feel the desire to expand on your cammodel techniques with an additional level of support, you may send me an email at taja@cammodelpay.ninja.  Please title your email "Tips & Training". I would love to get together and discuss what we can do to help you take your cammodel business to the next level. In addition I've created a new website exclusively for models within out network to drive organic traffic to your camsite listings, as well as your social media accounts. If you are interested in this promotion please contact me via email or on twitter Follow @boleynmodels
About the Author, Taja Ethereal is a tech loving girly girl who performs camshows live on skype. When she's not creating weird and peculiar fetish content for depraved kinksters you can find her at the dog park.