At the beginning of 2017 Streamate introduced a new innovation that would allow cammodels an opportunity to earn more money in addition to live streaming. They decided to expand their video option by allowing models to upload video content that could either be marked as private or public in the hopes of appealing to a variety of customer spending habits. One of the many things that I've noticed in the adult industry is not all members are willing or able to spend on a live camshow and some prefer watching pre-recorded content. This could possibly because video content tends to be less expensive than a live camshow or it could be a matter of time and convenience. Either way it's best to have a full spectrum of choices made available to each passing member and Streamate decided to tap into this logic when they first rolled out video sales at the beginning of the year. However it hasn't exactly been the smoothest process while they figured out way's to distribute content on their platform nor has it always been clear on if models were able to set price points for their uploaded videos.

But now going forward, Streamate has decided to revamp the process and allow a small test group of cammodels upload content videos to prospective customers and receive 50% of sales. That's an even higher percentage allowed for live streaming at 35%. Recently emails went out to the first group of testers explaining the process: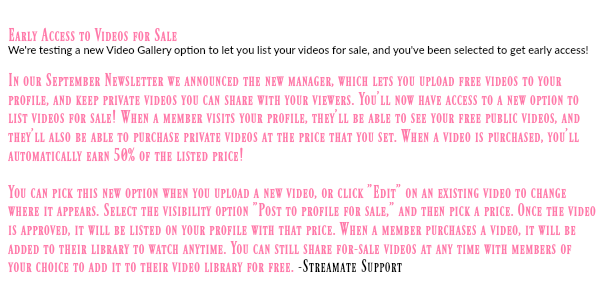 I'm really excited to see how this new  improved feature roll out and if it will become a great tool that cammodels can actually use. Also will the ability to sale videos and create price points be just the thing that Streamate needs to compete in The Battle Of The Clipsites. Currently in the Boleyn Models Daily Pay Network we have five different clipsite options to choose from and once this new venture on Streamate is made fully available to all models on the site, that will bring us to 6!
After the word of the news begin to spread cammodels begin to ask questions in regards to the payout percentage and if only exclusive videos would be eligible for uploads. Liz from Streamate's Model Recruitment and Talent Division generously stepped in to answer a few questions:
I'm seeing a lot of questions about the video feature – thought I'd address some of them so everyone can see:
– We're just testing it with a small group of models, once we work out some kinks it will be expanded quickly!
– 50% is not going anywhere. This is the rate we will pay for videos uploaded and sold.
– They are not exclusive, you can use them where you want. Of course the more places you put them, they may not perform as well
– This is the FIRST release of this feature, there will be improvements coming. Music is also on the list
– The videos are not downloadable – and are viewed by users in their accounts only
– The videos available will be in the my videos tab on your profile page (and below your live chat). Users can buy when you're on or off line.
I think I've addressed many of the comments I've noticed. If you have others, please use our feedback form on Streamatehelp – that is the best way to get your comments/concerns seen. 
Thanks everyone for your comments and support! 
Liz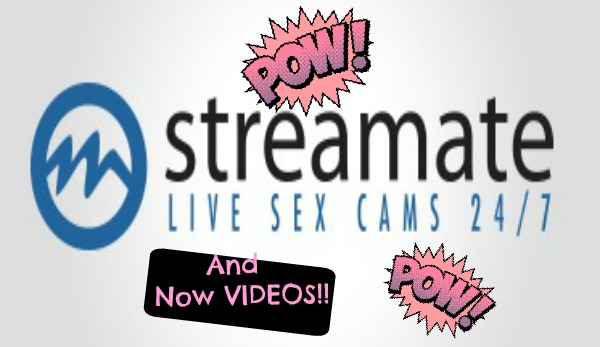 Stay tuned to this space for more updates on this latest tool created by Streamate and also be sure to follow us on Twitter @BoleynModels for daily cammodel tips, insights and humor.