There's a brand new chance for BoleynModels working on Streamate to win THREE bonuses in one WEEK!!! A triple dose of fun is on the horizon! There will be two separate 48-hr contests on Streamate during the first week of September, giving cammodels two chances to win cash prizes on the camsite. The top prize for each round is $1,5000. And finally, BoleynModels who qualify for our weekly bonus can earn even more money when they participate.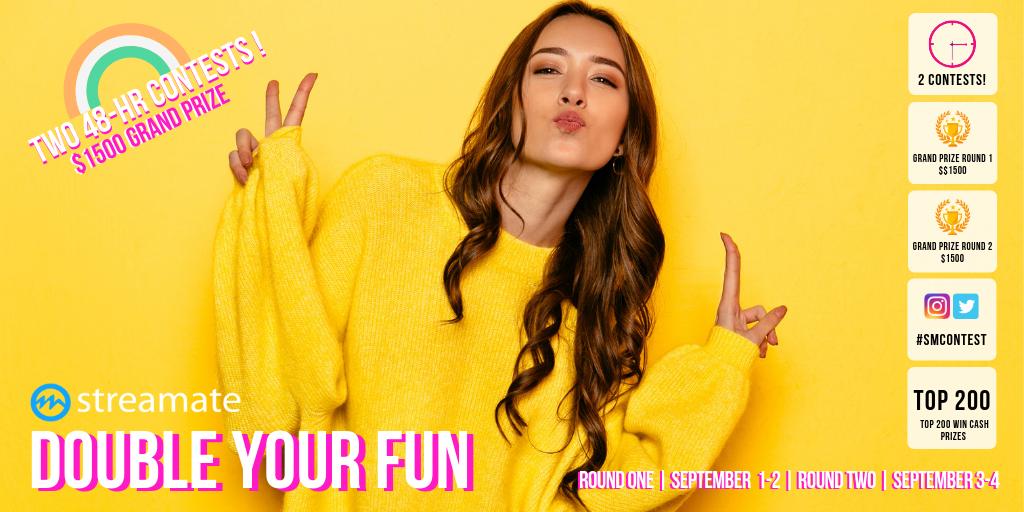 The first two-day event will be on Sept 1-2rd (GMT), and the second will be on Sept 3-4th (GMT). For each part of the contest, the top 200 performers will earn rewards, including a $1500 grand prize!
To find out when the event begins in your time zone, check the contest leaderboard for a countdown.
Prize List for Each Contest
1st place: $1,500!
2nd place: $1,250
3rd place: $1,000
4th place: $800
5th place: $600
6-10th places: $500
11-20th places: $400
21-50th places: $250
51-100th places: $100
101-200th places: $50
Let your regulars know when you plan to be online and invite them to join you! Use #smcontest to promote your shows on social media.
All performers are eligible to earn rewards. Ranking is determined by the amount members spend on you during the event (excluding Video Sales, Cammodel, Partner Site, and Gold Club earnings, which do not count towards your ranking).
How To Qualify For The BoleynModels Weekly Bonus
This is something we offer cammers in our network who have chosen to become cammodels on Streamate and work a 6 days a week to qualify. We understand that this may not be a viable option for all cammers, but many have taken advantage of this opportunity when interested in raising additional money.
Even when you set a minimum schedule of four hours per day, you can essentially earn free daily pay with us and have your second lowest day doubled at the end of the week. That's how the Boleyn Models bonus works!
For more information on joining Streamate and how to signup please read our Streamate Daily Pay FAQ article found here on our website.