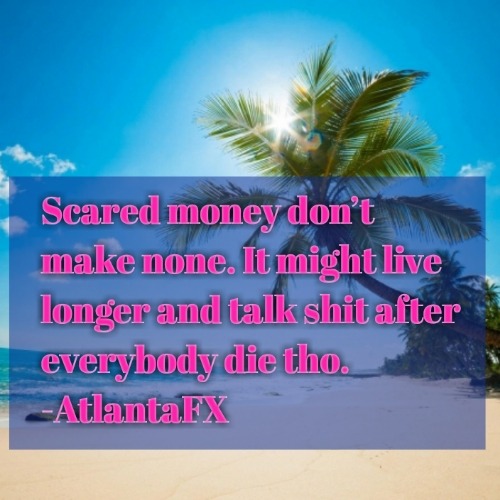 #AtlantaFX inspired me to create this meme, mostly because I'm super silly like that. BUT in all seriousness the saying "Scared money don't make money" is sooo true. It is imperative as cammodels that we invest in ourselves and our online businesses. Despite what many may believe it doesn't have to cost a ton of money to get started nor do you have to be a 'top model' before getting started. However you will need to spend some money if you ever hope to legitimize your efforts:
1. Purchase your name. Buy the domain name even if you're not ready to build a site. Buy it anyways. No escuses. A domain can be as low as .99 cents if you shop around for promos i.e. Namecheap and the free private registration that comes with a purchase of any domain regardless of the extension. (.com, .online or whatever) Or you can checkout GoDaddy where you can use a promo code that will allow you to purchase a domain name for a low rate and then add private registration for around $9. In the end it both comes out to the same price for both companies. Take a look at this article on How To Create A Cammodel Blog  for more information.
Imagine how bad it will suck when you start blowing up in camland, only to find out a cammodel affiliate has already purchased your performer name? 💋
2. If and when you become about this life 4 real 4 real, copyright your name. Yes this means your personal info is out there for the world to see. But who cares? You're a baller who works for yourself and no one can stop you. Consider this option when the money begins to stack up.💰
.
3. Now that you're balling out of control its time to leave blogger,  tumblr or any other FREE blogging platform behind. Or use them as a website companion, at least. Its time to spend some money BB and get a hosting plan. 😘 OWN YOUR NAME. OWN YOUR BRAND. See NO.1 for clarification. .
4. READ OUR CAMMODEL BLOG Lots of tips and webcammodel insights. Stay tuned for something really special coming up. Follow this hashtag #ShitGuysSayToCamgirls for more updates 💜