After working for a couple years as an online streamate both as a camgirl and gaming on Twitch, I learned how important it is to be a multitask-er and keep track of EVERYTHING you do while streaming. Why is it so important to stay on top of your multi-streams? It's very simple, one small mistake in either the video or audio quality of your stream can turn your shift into a nightmare, resulting in a loss of income. While working at a call center for a large US bank, we were all given high tech computers with beefy tech and one of the most important tools that helped with productivity was using  dual monitors.  Having additional monitors can significantly lower your average handle time for each call because all the information was neatly displayed across multiple windows. The need to switch windows or conduct complex gestures to find what you're looking for wasn't necessary.
How Does Multi-streaming Translate Into Camming?
Your screen can go from this:
To THIS: 
With one monitor, that's very hard, and if you're using SM broadcast, forget about it! Never mind that splitcamming with just one monitor gets harder when one site's window takes almost all of the screen. Where do you put the other site's window?
I have camgirl friends who've dreaded the idea of camathons because they can't do something else while camming and easily get desperate because they MUST HAVE the camsite window open at all times to not miss out on clients. This is dreadful.
Luckily You Don't Need To Be A Tech Wizard To Set Up Multiple Monitors
Inspect your computer ports to evaluate the different types of computer ports available.
If it's a desktop, especially with a dedicated graphics card, it should have more than one video port. It could be either a DisplayPort, HDMI, DVI or even VGA. If your laptop has one or more of these ports: you're in luck!
Start with 2 monitors (or your laptop screen plus an external monitor) and scale it up to your liking. You could literally have Batman's setup in The Dark Knight If you want!
For each monitor you want to add, you will have to buy a cable for each screen. Remember: your limit is your computer so you can escalate your screen number as far as you have video ports on your workstation. Once you have the monitors and the cables, hook everything up to where it should (guide yourself with the port image) and set everything up on Windows.
How Do I Set It All Up?
Close all open programs.
Right-click an empty area on your desktop, and click Display Settings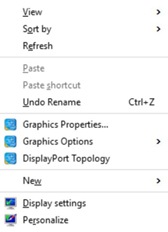 3. Click the Multiple Displays drop-down list, and select Duplicate these displays or Extend these displays or Show only on 1 or Show       only on 2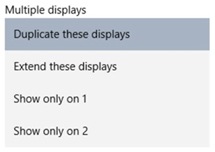 4. Click identify to see which monitor is number 1 (Primary Monitor) and number 2 (Secondary Monitor).
5. Click Keep Changes if you are prompted to save the changes made to the display settings.

Without a doubt, an extra monitor is by far THE BEST upgrade you can do to your camming setup without blowing your bank account! Anyone who aspires to be a banking camgirl will see a GREAT benefit in doubling or tripling their screen real estate.
PART TWO ON HOW TO SPLIT CAM LIKE A BOSS
Speaking of productivity, there's a neat trick that could potentially boost both your earnings and exposure. We all know how difficult is to build up a fan base on two separate websites and hustle them at separate times. Many of us like to splitcam (Stream on multiple sites at once), because it lets us hustle two or more cam sites at the same time, letting us be more efficient and have more baskets to lay eggs, which translates into more money. The problem comes when you realize that you need a VERY powerful computer, 2 monitors (Or more depending on how many sites you have open) AND a great upload internet speed to make this possible, and even then, because many sites use Adobe Flash to encode each video stream, this task becomes difficult and takes LOTS of processing power.
There is a solution that will allow cammodels to multi-stream with ease and it's with the help of ReStream.io. It's a platform that basically grabs your stream, using the RTMP link and the streaming key provided by your camsite and streams directly from their servers. Think of it as a middleman. Instead of you directly streaming into camsites like Streamate, MyFreeCams or Chaturbate, you will stream with ReStream.io and they send it to any site you ask them to.  And its always encoded with the same video & audio quality you stream. This is the same method that allows Twitch streamers yo splitcam  YouTube Gaming, Facebook and even Instagram, all at the same time. In fact I tested it for a week with Streamate & Chaturbate, and found it to be quite stable and more efficient than having separate instances of OBS encoders, or worse: Adobe Flash web encoders (eww). The best of all is that you just need ONE instance of OBS running on your computer and the same specs you'd need for just ONE site: Restream.io takes care of sending the feed to every other site.
WHY DO I NEED THIS AS A CAMMODEL?
Here's a scenario: If you splitcam into MyFreeCams and Chaturbate at the same time, since both are token sites (Although they have their unique quirks), you can manage both rooms, do your thing and have income from both sites AT THE SAME TIME without taxing your computer or requiring insane upload speeds.
ReStream.io is free for platforms like Twitch or YouTube Gaming. Howver for adult camsites there is a $9 per site fee. Additionally, I discord through their discord channel that restream.io is adult friendly and that many of their customers are in fact cammodel performers. One rep mentioned that due to their infrastructure models are able to offer a quality stream much higher than most camsites because of the low latency and the superior quality of restream.io's servers.
Steps To Take Your SplitCam Game To The Next Level With ReStream.io
First, Click HERE to sign up for ReStream.io
Choose how many sites you wish to us for splitcamming.
Continue The Sign Up Process And Make Payment.
Click on "Add Channel" and go all the way down, you'll find a rectangle that says "Custom platform (RTMP)" with a PLUS sign.
You'll be prompted for your RTMP link and your streaming key from whatever site you wanna use to splitcam.
Download OBS Studio Or OBS Classic (If you use xsplit or other software, just replace the RTMP URL & streaming key with the ones given by ReStream.io right below the "preview" video window).
In OBS, place the RTMP URL and the Streaming key provided by ReStream.io's site.
Adjust your OBS according to camsite requirements: bitrate, resolution, audio and video sources
Select Start Streaming