ManyVids Live is increasing camshow payouts to 80%. MVLive has an amazing interface that's easy to navigate and upsell your adult content.  If you're in the BoleynModels network, this means you can receive daily pay when you explore this option. I think it's a great choice for those looking for alternative camsites and want to try their hand at becoming a clip maker. Models can sell videos directly from the chatroom. 
If you're already signed up with Manyvids there aren't any additional steps before giving MV Live a try. You are all set! Additionally here are more reasons why you should get started:  
The 80% payout is higher than the industry standard for live cam shows.  
MV Live has tons of built-in features, including a prize wheel, a tip menu, a goal countdown, a live show recorder & much more. 
With the live show recorder, you can record videos while live streaming then upload them directly to your MV Profile. 
Today is the day! 💖

80% Payout on #MVLive is in full effect & we look forward to seeing all of the amazing & creative live shows from our talented MV Stars! ✨

The possibilities & fun are endless, so start planning your next show and check it out ➡️ https://t.co/SZlZIzpYiy pic.twitter.com/gbPiNZLluG

— ManyVids (@ManyVids) February 18, 2021
Plus, your MV Profile sales can increase by up to 25% in the first 3 months of streaming on MV Live. You can even earn a 100% payout if it's your anniversary. 
This isn't the first time Manyvids has increased payouts for their performers. In 2019 they raised the payout percentage to 80% for custom videos: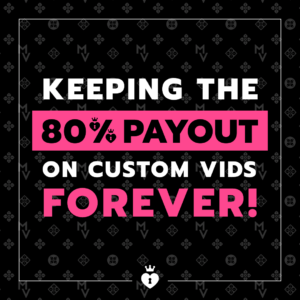 We're running this fantastic promotion forever, and we sincerely hope this will make you even more passionate about creating new content and spark your entrepreneurial drive as an MV Star. Together, we can make 2019 a breakthrough year!  
Taking advantage of MV Live is a fantastic opportunity to bulk up your revenue while connecting with your fans. Whether you are an avid MV Live user, new to camming, or even new to ManyVids
Without you, none of this would be possible, so thank you for being such an important part of our community – we appreciate you. -ManyVids
Performers are encouraged to go live as often as they'd like. Create a fun camming schedule to enhance your brand on the platform. This will be a great way to use MV Live to get to know your fans on a whole new level. Content creators can update their fans on new clips to be released in real time. 
The ManyVids team works very hard to ensure that all MV Stars have an equal opportunity to succeed on MV Live.  In order to facilitate this, they've decided to remove the monthly MV Live Top Earners prizes to offer an 80% payout to all MV Live Stars. That 20% increase will benefit everyone who goes live and gives them the  chance to enjoy extra income each month. For more details on how to transfer your ManyVids account into the Boleyn Models daily pay network, please contact us at rae@cammodelpay.ninja