New Boleynmodels partner LoyalFans enters the Season of Love with the #ShoutOutLove contest. We're very excited to welcome them into our network as a new way to sell content. Cammodels who are looking for new avenues to make money in addition to live streaming should check LoyalFans out. They're essentially a subscription based service where content creators can sell fetish clips, pictures and private camshows.  Performers who are signed up through BoleynModels receive daily payouts.  To kick the month of February off, LoyalFans is running a social media contest.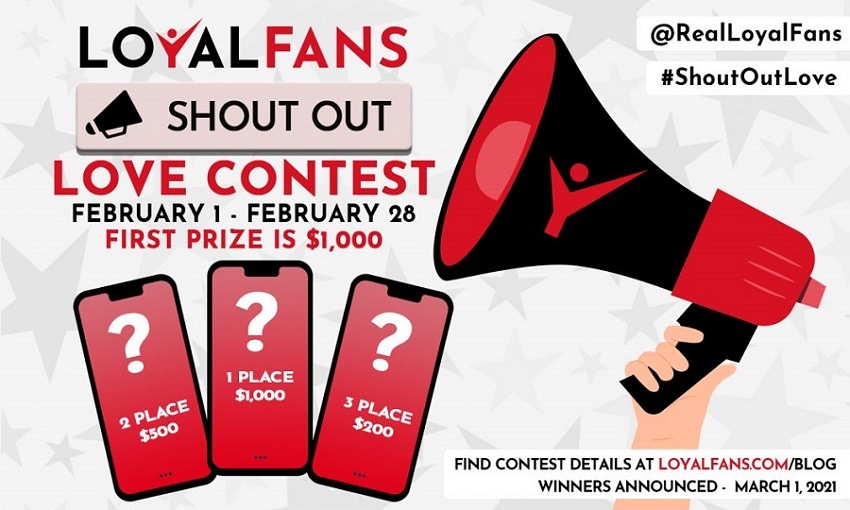 The contest runs from February 1 through February 28, with the winners announced on March 1, 2021. There are ten total cash prizes to win — and first prize is $1000!
Instructions and requirements for the two-phase Shout Out Love contest are below. Make sure to read them carefully.
Create your Shout Out intro video. Make something that demonstrates your unique personality and the kind of Shout Out messages you offer. Your intro video needs to be 20 seconds or less in length, safe-for-Insta (no nudity, etc), and  include a fan appreciation message that ties into the idea of "shout out love." Get creative!

Upload your Loyalfans Shout Out intro video to your Loyalfans Shout Out page to complete your setup.

Upload your intro video to Twitter and/or Instagram. (Note: The contest is limited to your Loyalfans Timeline, Twitter, and Instagram only.)
Loyalfans Creators: Announcing the Loyalfans #ShoutOutLove contest! Enter the contest & you could win $1000! 💰💰💰

Just make a short Loyalfans Shout Out video on why you love your #realloyalfans and why your shout outs rock! More details here - https://t.co/nuC6BaWr64 pic.twitter.com/Tl1Y08EwlP

— Loyalfans.com (@realloyalfans) January 29, 2021
Content creators will have from February 1st at 12 am EST through February 14th at midnight EST to share and promote their intro video. Note: You can share your video as much as you want across Twitter, Instagram, and your Loyalfans Timeline in order to increase engagement. This is how performers can move into Phase 2.  To learn more about how Phase 2 works please visit the LoyalFans blog post about the #ShoutOutLove contest.