The latest Logitech webcam is the C922 Pro Stream and it promises to exceed its predecessor the C920 with new features like background cancellation. Technology that was only possible with the use of a green screen and chroma key special effects previously. To simplify the chroma key process, Logitech has combined its newest webcam with Personify's ChromaCam software. They'd hoped that by adding this feature that it would enable them to compete with the new Razer Stargazer webcam designed for gamers, and quite possibly cammodels. Additional features included in the Logitech C922 Pro Stream outfit are the ability to stream at 1080p plus getting 60 frames per second at 720p. Although as a cammodel I've previously reached those same frame rates with the the older C920. Overall the C922 is a very nice upgrade.
What's Inside The Box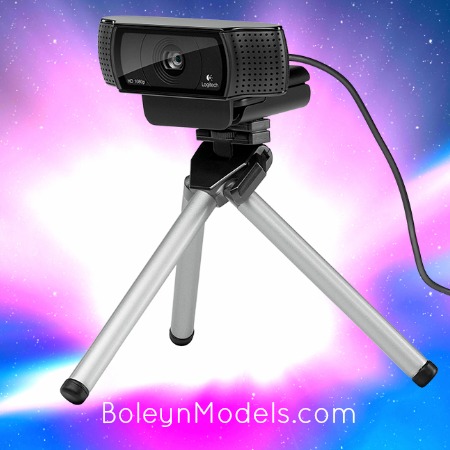 When I first viewed the new C922 I noticed that there isn't much difference between the look of this webcam compared to the C920. The newest design is practically identical and the only obvious change is the look of the new logo. Actually most of the 900 models have had a similar look to them but only with the creation of the C920 did they come with tripod threading. This is a physical feature that they decided to continue with for its latest webcam. In fact this design comes with a tiny tripod. I thought that was a nice little addition, although I'm not sure how great I would look from an upward angle,but hey! If you notice I'm using words like tiny and little because the tripod is only 18.5 centimeters tall.
Additionally the Logitech C922 comes with a 3 Month Premium License For Xsplit Software when you purchase this device directly from the Logitech website. Currently $99
What I noticed about the XSplit Software is that its very bulky and may not be the wisest choice for a cammodel looking for an encoder. You will need a high powered computer to run this software with an updated graphics card. I ran the software on a Lenovo I7-3520 CPU @ 2.90 GHZ with an Intel HD Graphics Card 4000, and my CPU shot up to 80%. But when I ran it on my Asus I7 Desktop with a Nvidia Geforce graphics card I maintained CPU usage of only 30%. My suggestion for webcammodels is to only use the XSplit software if  your intended use is for playing video games and you have a fast rig. But if you only need broadcasters for live camshows, then I would stick to using encoders like the Open Broadcast Software (OBS) or Adobe's FMLE. They take way less cpu and you are less likely to fry your system if its not up to spec.
Hardware Requirements For XSplit Software:
Processor: For HD 720p Recording/Streaming: 2nd Generation Core i5 or equivalent. For HD 1080p Recording/Streaming: 2nd Generation Core i7 or equivalent.
Memory: 8GB.
Graphics Card : GeForce/Radeon Class (DirectX 10.1 compatible or better)
Does The C922 Pass The Quality Test?
Once I was able to plug the camera into a USB port (compatible with both 2.0 and 3.0) a windows pop up appeared letting me know that there was an app available for my new device. Unfortunately, I rejected the window because I didn't fully realize what it was for. Even after a system reboot the device drivers were not detected by my Windows 10 OS. If you make the same mistake that I did you can find the download to the Personify ChromaCam For Logitech C922 software on the Logitech website. You will need this installed in order to use the background cancellation feature. After I set that I up, I opened my Open Broadcast Software to view the quality of the webcam. And I have to admit that straight out of the box the C922 webcam is extremely clear. The default settings have a cooler affect, whereas with my C920 I tend to look a bit warmer but that's only after I've tweaked my software settings. When I attempted to use the default settings for the C920 the results were terrifying.
These pictures were taken in low light settings to demonstrate the difference between the  Lowlight Compensation option provided in the Logitech C922 Webcam properties vs. not having it in the C920 Webcam properties. I think a feature like this would be amazing with a ringlight. I shall keep you updated.
The Interface For The Logitech C922 Webcam Properties
Also I would like to make a quick comparison between the C922 and Logitech's Bcc950 Webcam. Yes the BCC950 is bulky and a little awkward for cammodel positioning (comes with a remote), it shares the same native uvc drivers that are installed with the C922. If you really want to nerd out read this article on UVC drivers. This means that the interface for the Logitech Webcam Properties are also identical. Truthfully I became more than a little excited when I realized this. Mainly because I love how I can insert precise values when modifying my settings. In cases where you may need to update your settings after a reboot, trying to toggle those sliders to the exact same spot each time can be nerve wracking. It seems they took a step back here, but I don't mind one bit.
Logitech C922 Webcam Properties
An editors note: As of right now I'm not able to record videos with the Logitech C922 with the Logitech Software. When I made the attempt I had flickering results. I will report back when I've tried it with alternative software.
Personify ChromaCam Software For Logitech C922
This by far is the number one selling tool for the C922.  And I did say earlier that Logitech "promises" to simplify the chroma key process and compete with the Razer Stargazer, but I'm just not sure if they got it done. Maybe they simplified it so much that the end result comes off gimmicky and not very practical for a camshow. I can't imagine a model using this while trying to maintain a sexy vibe. Perhaps it's better suited for creating videos for your youtube channel or something you may upload to your Manyvids account? But even then it only works if you stay completely still. The problem is the more you move the less likely the ChromaCam software works. In some instances my hair was completely cutout of the frame and at one point my entire left arm was missing. For cammodels I would suggest using a 4K lighting system and a solid bright colored bed set. Possibly this is where I ran into trouble?
In regards to webcams Logitech is the one company with the most models. And throughout the years their company remains no. 1 amongst cammodels everywhere. Now that they've introduced yet another webcam, I suspect that the older C920 will begin to faze out. As I've said before the 900 models pretty much have all had the same aesthetic, but each model continues to outdo the one before. However, I find it very strange that after all this time Logitech hasn't created a 900 model equipped with a remote control. The ability to zoom in and out with HD quality is a vital tool when performing live on cam. I'm sure by now they've figured out that gamers and youtubers aren't the only loyal fans of their products.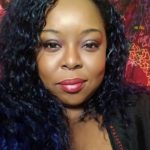 About the Author, TajaEthereal is a tech loving girly girl who performs camshows live on skype. When she's not creating weird and peculiar fetish content for depraved kinksters you can find her at the dog park.