Today in honor of International Podcast Day I've decided to highlight one of my favorite episodes from the #ShitGuysSayToCamgirls series. It's still a fairly new podcast and I'm currently working on new ideas and different ways to keep things interesting. In episode 9, I had a wonderfully weird and hilarious conversation with cammodel Kendi Cumming. In most cases when she and I collaborate the main topic for the podcast disappears about five minutes in. After completing a few recordings I've found that sometimes sporadic conversations can be very entertaining for listeners. In my opinion podcast who follow rigid guidelines aren't able to hold my attention for very long and that causes me to click off.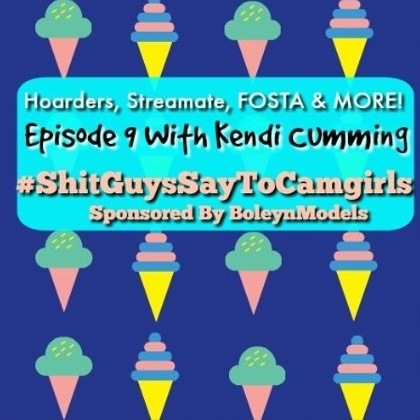 Before I go too far into my ramblings about podcasting and my love for my fellow cammodels, International Podcast Day isn't something I'd heard of before today. 🙂 I saw it trending on Twitter two hours ago and l was inspired enough to write this post. To give a brief history September 30th is known as International Podcast Day because…I dunno know? A group of people said so? Being both an avid listener of podcast and a podcaster, I take zero issue with an affiliate group capitalizing on this rapidly growing medium. To be fair I do believe the organizers behind IPD do provide quality information on how to create a podcast. Remember, I did say I would give a brief history.  In regards to the #ShitGuysSayToCamgirls series I mostly prepared by listening to other shows like The Joe Budden Podcast and Drink Champs, both can be found on Spotify.
Currently the #ShitGuysSayToCamgirls podcast is sponsored by Boleyn Models and can be found on soundcloud and youtube. If you're interested in coming on the podcast please hit me up at taja@cammodelpay.ninja or on our Twitter page @BoleynModels. I'm always looking for new people to talk to and even if you aren't a cammodel you still may be eligible to join in on a fun conversation. There are only three major requirements for guest who'd like to participate.
You must be a member of the adult industry.
 Please have a strong internet connection to uphold a high level of quality.
Do you know how to speak? Yes? Cool! You can come on the podcast. If you're shy please do not let that stop you. I'm very friendly and I can talk to anyone.
Now without further adieu, please take a listen to this outrageous conversation about weird fetishes and random television shows. Somehow our journey took us to the land of hoarders? I have no idea how we got there, but glorious.
https://soundcloud.com/shitguyssaytocamgirls/shitguyssaytocamgirls-ep9-hoarders-reality-tv-kendi-cumming