Now that Facebook, Instagram's parent company is constantly under fire, they've decided to take a firm stance against adult content. However vague the term adult content may be at least now they're fully admitting to demoting what they call "border line" content. This basically means that if you're a cammodel, clip maker, stripper or anything else that falls under the sex worker umbrella…your post will not be as visible as before. If your content includes even the slightest bit of nudity their machine learning algorithm will be able to detect it. This will result in fewer views from your followers timelines. And it's not just the sexually seductive photos their going after either. Instagram is coming for the memes too!  "We've started to use machine learning to determine if the actual media posted is eligible to be recommended to our community," Instagram's product lead for Discovery, Will Ruben, said.

I've done my own research on their machine learning algorithm in the past and it's pretty damn good. Instagram says, "this type of content may not appear for the broader community in Explore or hashtag pages,". I wrote about how they may be able to detect such content on my article regarding automation vs organic growth. Here's a quick video  going over what's known as the Cloud Vision Api. There's also a link to the full article in the video description.
As a cammodel I don't think it's time to fret and worry over platforms limiting our reach. For sometime now I believe that it's time for us to start thinking about our marketing strategies in terms of blending into the mainstream. I don't think that these new changes regarding Instagram demoting borderline content and shadow banning is exactly a bad thing. This could force models to abstain from giving away so much free content just to get more views. Engagement is and always has been the best way for me to bring interest to my online profiles. I have all together stopped sharing sexually suggestive content on my both Instagram and Twitter. I spend most of my time posting about things that I generally love like music, gaming and nature. Oh and memes, lots and lots of memes. Some may be surprised to find out that not only didn't visits to my webpages decrease, I gained more followers and sales. If you continue to post fun engaging content and while leaving links to your bio, interested parties will click through.
More Information On Instagram Inappropriate Post: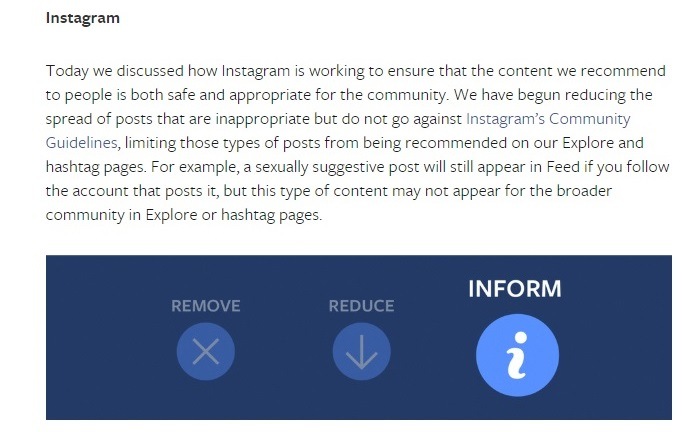 According to a recent article on TechCrunch, Instagram practically refuses to say how and what content specifically falls outside of community standards:
"The company specified that violent, graphic/shocking, sexually suggestive, misinformation and spam content can be deemed "non-recommendable" and therefore won't appear on Explore or hashtag pages."
Cammodels interested in reading the full statement released by Facebook can do so here on their news website.