By Karcin MFC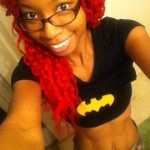 Myfreecams (MFC) is a very popular webcam modeling site that has the potential to earn models a lot of money if they play their cards right. For some cam models, this site is a hit or miss and others seem to fit right in. Today, we are going to discuss MFC in all of its glory. Who knows, maybe afterwards you'd want to sign up and cam there?
Don't be intimidated by hundreds models online at once: As mentioned above MFC is quite popular and for that reason many models want to try it out for themselves. MFC get s tons of traffic alone by their marketing skills and ads. They do have a good quality traffic- yes, including freeloaders but what webcam site doesn't have freeloaders right? The point is that there are thousands of guys online at once and scattered throughout the day so there are plenty of tippers to go around.
Have free reign over your creativity: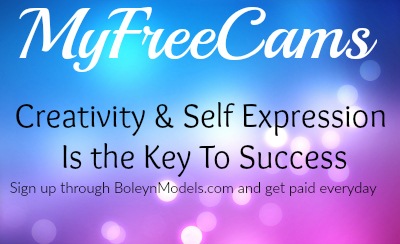 One thing that MFC values is self-expression and are honored to give you that privilege of creativity. There are some ground rules you have to follow in order to not get banned or warned but those are quite minor compared to what they used to ban models for. You can run your show your the way you see fit. If you choose to do nothing on cam or even have a lazy day and guys will drop by your room to say hello. If you are anything like me, you will log in to MFC and make it an event to clean out your closet and guys will drop by and spend sometime in your chat no matter what you are doing. The days of being on cam and waiting for a private show is over-unless its what you want to do.
To be or not to be—in private chat: As soon as you figure out your place on MFC you may realize that you make more tips in free chat then you do in private or group chat and that is okay too. It is quite common to not do private or group shows on MFC. One of the reasons is that a cam model can be having a good day and once she opts for group or private she leaves her regulars and potential regulars sitting and waiting for her to get back. Some will stay and some will move on so by the time she comes back she will have to regain her room count (viewers) back to what it was–its a bit of a hassle.
Choose how you make your money: if you want to make your money by taking private chats and doing group shows then by all means do it. Privates and groups are all good ways to make money. If you find that staying in free chat is your milk and cookie then its time to utilize your room topic. Type into your room topic any goal that you may have whether it be xxx tokens until topless, xxx tokens for videos, or xxx tokens for Snapchat add—you get my drift.
Choosing what to sell and promote is part of your creative freedom on MFC. An example list of things to sell are: Kik, Snapchat, phone number (Viber or Textnow), Fanclub memberships, raffle tickets, custom picture set, existing videos and pictures, custom videos,  viewing member cams, etc. You can even play games with your visitors for tokens. There are endless possibilities of the games like card games, spin the wheel, etc. If you want some inspiration or ideas just check out other models on the site but don't copy because originality is key.
MyFreeCams Has A Variety Of Paid Shows Available: The thing to remember is that the paid shows on MFC are set and cannot be changed by you. The only thing that you can change is how many tokens a member must have to take you to a private show. Note: Every token equal 5 cents to you because MFC pays their models a true 50 percent of their earnings. The members buy tokens at 10 cents a token. The lowest package that a member can buy is 200 tokens for $20.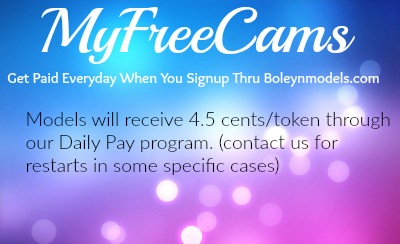 If you can gather 3 or more people to start a group show, you will receive 10 tokens per minute from EACH member joined into your group chat. So if there are 3 members in your chat it is an initial 30 tokens ($1.50) per minute that you are getting on your end. If an extra guy comes into your room then you are making 40 tokens a minute. If a member leaves and there's only 2 guys in there you get 20 tokens a minute and this goes on until there is nobody left in the chat. Some models find it worth it and some don't but it does add up quick.
Standard Private Shows On MFC: Models are paid 60 tokens ($3) per minute as long as the member is still in the chat with you. You also get an additional 20 ($1) tokens per minute if another member is in spy mode as a voyeur in your private chat. The voyeur can see and hear you but won't have access to view the private chat and cannot interact with you in any way.
True Privates On MyFreeCams: These bring in the most money. You get 80 ($4) tokens per minute that the member is there with you and you get no voyeurs and spys which make it 'truly' private.
Cammshows Live On Skype: This can be an option as well for MFC performers. For this option you will need to perfom you camshows on your skype account after a member tips you the required amount of tokens. What you charge for your sessions is completely up to you.
Do NOT Let The Camscore Get You Down: Not one model on MFC has even figured out camscore and MFC or its staff will not bother explaining EXACTLY what camscore is or how to formulate it. It is there and in effect to place the models that are 'banking' to the top and place the ones who are doing 'well' in the middle and then weed out the others who aren't doing so hot at the bottom of the page. In summary camscore is supposedly calculated by the other models performances versus how well you are doing while you are online too.
Mute Basics & Guests Immediately: Speaking and interacting in a chatroom should be an incentive for members to place a viable credit card on file. Unless its so dead in your chatroom that you can hear crickets…not all basics and guest are bad but when you unmute them and let them talk for a certain period of time one person may ruin the talking privilege for all of them. It is completely up to you. It is important to note that guests have not even made an MFC account yet and basics have an MFC account but have not bought tokens yet. In order to become a premium member they only have to spend $20 for tokens…once. So all in all……..basics and guests have no tokens and can't tip.
Don't Forget To Promote Yourself: On MFC anyone (members and models) can design their own profiles using CSS or HTML.  Modifying your bio page will give cammodels more space to promote their Twitter, Manyvids, Clips4sale, or even their own personal website. Most generate a great amount of traffic for their self promotion and marketing efforts. Once a member views a MFC profile they're able to see what's being promoted and if a fanclub is available. In your room topic, always include your Twitter handle. You will be surprised at how many guys take the time to open up new tabs and follow you on Twitter. One word of advice is to not go overboard with the promotion using you room topic handle. MFC will think you are trying to drive traffic away and may issue a ban.
MFC Basics For Cammodels: Always have great lighting, a clean background for camming, and please use audio. Typing is okay sometimes, but MFC members love hearing the sound of a model's voice even if you don't like it, they absolutely love it! Wonderful lighting is essential because it can sharpen you image and increase the amount of tokens you receive. Members really want to tip you. But they also want to be able to see you and become impressed with the quality of your stream. Despite what many camsites claim, you can use the built in webcam from your laptop when starting out. You can elevate the quality of your stream ifyour lighting is spot on. Have good lighting behind your cam and on each side of you and you will be seen (pun intended).
Be engaging and be yourself: If you've ever wondered how to make your job as a cammodel easier and more enjoyable, just simply be you. There really isn't a set formula n how to make it as a camgirl on MyFreeCams. To be honest there really isn't an exact way to be successful on any web campsite. Each site has it's very on culture of course,  you just need to find out what works for you. As long as you stick to your plan and know when and how to make special tweaks you'll do yourself —-and your bank account—a huge favor. After all, most members are looking for a uniquely interactive experience and are not interested in investing in a model for being something she is not.