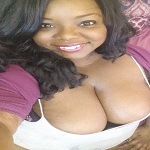 Moments before I log into free chat there's always a small flash of uncertainty because at times what you make as a cammodel isn't always guaranteed. Now this moment usually only last a short while and I can always expect it right after I've applied my eyeliner and just before I put on my lipstick. I'm a creature of habit and I have my routine down to a science. I even know how long it will take me to apply said makeup (10 Minutes) and typically how long before the first member enters my chatroom. Usually I use my webcam as my mirror to make sure I have everything just right and I listen to one of my favorite playlist to keep myself at ease. And despite all of this preparation there is almost always that one fluttering feeling before I click the button to go online. I think to myself, How am I gonna handle free chat today?
Breaking The Ice
This next part may sound obvious but it necessitates repeating and in some cases overstating. When I hear the first alert that someone has entered my chatroom, I smile. I make eye contact with my webcam and then I smile. I like to give members the impression that I'm looking at them and them alone by gazing directly into my cam. What I imagine to be an inviting first greeting just might be what it takes to keep him in my room for longer than 2 seconds. During my years as a camgirl and also a camgirl watcher I've found that many neglect to look directly into their camera, but opt to watch the chat log instead. I personally feel that by doing this it becomes a missed opportunity to connect with freechat members. My favorite eye contact technique I picked up from The Queen Of Smizing, Tyra Banks.

Flirting with your eyes while giving your best smile depending on what that is can at times speak louder than words.
Typing In Freechat VS. Talking
I feel confident when I say that most cammodels use their voices when interacting with members in their chatrooms. It's extremely rare to find a popular model who only types and omits audio from their live stream. I understand that some may only offer sound in paid shows and others may not offer it all for a myriad of reasons. But it has been my experience that the most effective way of retaining a members attention is by using your voice and offering a solid greeting after they've entered your camroom. I often use a combination of the two with automatic greetings and my aforementioned smizing routine. After that I pause and wait for a response.

Now this part can be the most mind nerving moment of any cammodels free chat experience: Will he say HELLO? Why won't they speak? What the f@*k is going on? It's important to not let it get to you and to behave as though its all good. Mostly because if you get stressed out it will show on your face and sometimes members may not be able to respond with ease. This could be related to your chatroom not loading right away. While you may feel as though you've given them ample time to settle in, your video may have only loaded at the precise moment you shout "Why won't you talk to me?". I've done this and it can be extremely damaging to your money making potential if visitors think your unnecessarily hostile or overly needy.
Also I think it's important to mention that viewing camsites on Mobile Devices are not always as great as viewing on a desktop. Sometimes the audio isn't available for mobile users and on the flipside the ability to type responses to your sexy greetings just isn't there. This is why I do a combination of talking and typing while in my chatroom. You have to relax and give them some time to work it out. I've found that periodically using an automated message stating that browsers such as Puffin, Photon and Dolphin are best for mobile users and helps with converting them from free chat to a paid session. Something to this effect works wonderfully:

Mindfuck A Lurker
This may sound a bit harsh but really it's just another way to keep yourself entertained if smiling and verbal greetings aren't paying off. Somedays that's just the way it is and what I did yesterday to make money may need some adjusting in order to succeed today. That's how the cammodel business or any sales job is. Now when I say mindfuck a lurker what I mean is you should try trolling them. But very lightly. After you've let them sit silently in your room without so much as a greeting or acknowledgement of your supreme presence it's time to have some fun. CALL THEM OUT. My favorite way of doing this is by teasing them
"Hey Rockmysocks87 I see you over there tuggin on that little dumb stick, you gonna take me private or what? "

"Hola BreakerLurker19, it's time to take this relationship to the next level, dontcha think?"
These sort of responses to a non-responsive chatroom can be great ice breakers and a way to demonstrate your awesome sense of humor. And FYI just because you can't see guys in your chatroom, doesn't mean that there isn't anyone there. Please understand that there is ALWAYS someone watching. If you're working on a camsite like Streamate, Flirt4Free or ImLive members are allowed to watch your chatroom without logging in and many only log in once they've made up their mind on whom they'd like to spend time with. So even though it's tempting to tell a lurker that I'm about to ban him as a last resort I refrain from openly using phrases like "I'm gonna ban you if you don't talk", I simply look into the camera and thank them for dropping by while I silently kick them from the room. Like I said you are always being watched and as a cammodel you must always be on.
Trolls, Trolls And More Trolls: My main advice for dealing with trolls in your chatroom is to try to make them your friends. Dont be so quick to react to their tactics. Of course if they are being so disrespectful that you feel as though you can't do your job effectively, then by all means ban at will. But sometimes depending on how you handle them can determine if they convert into sales. I learned that lesson ions ago during My First Time on cam. Overall this is a sales job and it is up to you to make the sale. If Target refused service to everyone with a bad attitude, how much money do you think they'd make?
About the Author, Taja Ethereal is a tech loving girly girl who performs camshows live on skype. When she's not creating weird and peculiar fetish content for depraved kinksters you can find her at the dog park.