Frank and Lindsey, Streamate's latest power couple are focused and set on making their cammodel careers fit their current lifestyles, while hanging out with their growing fan base. In the process of constructing this article I had learned that they've only been camming for under a year and not only are they top performers in the Boleyn Models Network, they managed to place in the top 30 during Streamate's Halloween Contest. My objective was to get to know them a bit more and find out what it was that made them the dynamic duo most certainly on their way to a long and successful future in the adult industry.  I asked them several questions about their past, their interest and also  about what sort of things they believed to be the most important when it comes to chatroom engagement.  And what I learned is, they aren't exactly rock star performers putting on flashy and outrageous camshows, but have a more down to earth approach that seemingly speaks to their visitors. In their chatroom there are no gimmicks involved,  and there's a total absence of false sincerity. Based on what I witnessed they truly love what they do. So when you add all of those things together with a dose of professionalism, it becomes blatantly obvious why they're killing it!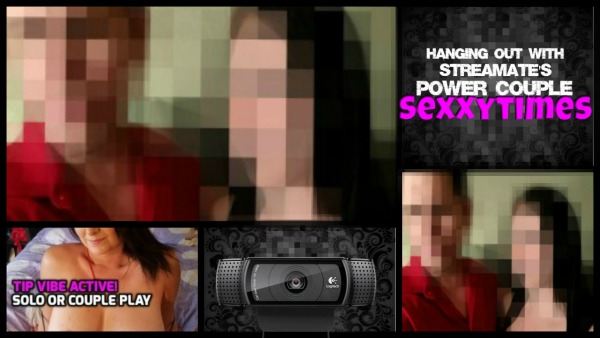 Both cammers come from cooperate backgrounds that at times required excessive traveling that from time to time, took them away from one another. After being together for three years at the age of 30, they decided to quit their "real" jobs and pursue the cammodel industry in February of 2017.
What made you guys want to become cammodels?
After growing tired of the monotony of working for other people, a close friend who was already performing as a camgirl suggested it to them. "It was time for a change and to stop working for someone else and following all of their rules. Having to show up at a set time didn't really work with our lifestyle."  Lindsey say's that it was nice being able to work from home and the ability to spend more time with each other was a plus. Although she say's that working a set schedule in her previous career was something they wanted to get away from, she admits that currently keeping a routine has helped with their success online and that it wasn't always easy to do. But together they were able to figure out a plan that would keep them both regimented in the hopes of being more consistent. She went on to say that when they logged in to stream live on Streamate, is when they begin to notice and increase in their earnings. Before they logged in ten hours here and there but now going into the Holiday season they'd like to bump their time up from 35 hours per week to around 40 hours, a full time schedule.  So even though they've settled into a more relaxed environment, they realized that in order to make it work and achieve high numbers that they would need to treat camming just like they would any other "real" job.
Do You Think You Would Make More Money As Solo Performers?
After a slight hesitation they both agreed that it's best when they work together. From time to time Lindsey may go online alone when Frank has other appointments, but quite often visitors will ask if he's there with her. And sometimes even when he is there, men will ask for him to leave so they can have her all to themselves. Lindsey laughs while saying "I think they get off on the idea of knowing my man is right there while they get to have me." Cuckolding fetishes is something they cater to quite a bit as well as SPH Fantasies. I asked them more questions about their chatroom style and found out that Frank isn't just there as a prop, but actually has a great sense of humor and knows how to have fun with the guys and warm up the room.  In between taking privates and exclusive show's they have hangout sessions where they get to know their fans.
One of the things that surprises them the most about their chatroom guest, is how appreciative they all are. In the beginning they had their fair share of members wanting to wast their time and rush their way through camshows. But now after only a few short months they've been able to decipher chatroom logo and separate spenders from the talkers. Frank and Lindsey have learned how to read their chatroom and how to pace themselves. And I imagine that maintaining a high level of endurance must be extremely vital while working together because these two do not perform in Gold Shows. Realizing that the job gets better and more intuitive the more they do it.  They understand that even in the adult industry that professionalism is required. Possibly because of their cooporate backgrounds this is something that carries over. Not just dollar signs. Not just a name in a chatroom.
"We were drunk." is the basic response that Frank offers. She goes on to say that it's a silly name that she once used to describe their special time together and then one night while signing up to Streamate, they decided to go with that.  I could tell from this response that they really do enjoy one another's company. So I got curious and asked what sort of things they did when they weren't winning people over online. Both cammers agreed that their favorite thing to do was to hang out at bars and play video games. You can't get more down to earth than that. The current fix is Final Fantasy IV and a little bit of Overwatch sprinkled in. It's no wonder that they work their chatrooms with such ease. I wanted to know what sort of things they did on less than perfect days to maintain avoid the dreaded resting face, Lindsey said, "I take a break to get a soda. And then I feel better." I honestly got a genuine kick out of that, because honestly snapping back after the negativity starts in isn't an easy thing to do. I will definitely try to remember the next time I'm overcome with a case of the F%CK YOU.. PAY ME attitude, I will most certainly reach for an ice cold soda pop.

What Made You Join Boleyn Models?
They both quickly said that the daily pay program was the initial motivation. "That's a no brainer." and Frank went on to say "There aren't too many jobs where you can make this much money and get paid the next day. Plus Boleyn Models support is super helpful and fast." Not only have these two placed highly in the last Streamate contest but they've also taken advantage of the Boleyn Models weekly Streamate Bonus. Lindsey said that being a cammodel was probably the best job she's ever had. And when asked how long do they think they will be able to perform as cammodels, they both seemed impressed by the longevity and ages of some of the other cammodels that they watch online. Lindsey say's acknowledges that "There is definitely someone for everyone and I guess we'll do it as long as it's satisfying."  If you'd like to visit and keep up with Frank and Lindsey you can visit them live on Streamate.