A new Halloween contest and costume ideas for cammodels starts this week on Streamate. This year on Streamate there will be two 48-hour contests.  That's four days of dress up, cosplay, role-playing and teasing. The first part takes place on Oct 29-30 (GMT), and part two happens on Oct 31-Nov 1 (GMT). For each portion of the contest, Streamate will award the top 500 costumed performers based on all eligible earnings. This will double your opportunity to climb the leaderboard and claim a top prize. 
This event has one special rule: you must be in costume while streaming to earn a prize. Choose one great costume, or change outfits as often as you'd like! It can also help to go a step further by decorating your camroom with a Halloween theme. If you need any inspiration, we have plenty from our Halloween Cosplay Ideas For Cammodels article.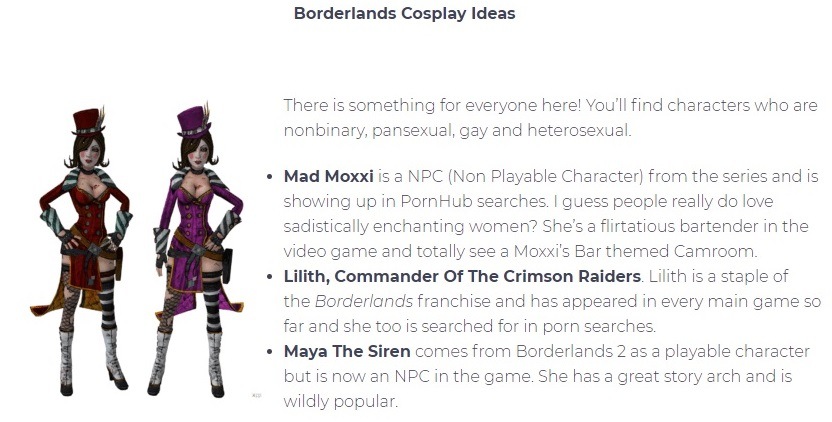 Last year I used PornHub Insights to determine what cosplay ideas were the most popular among their visitors. It turns out that people really love video game characters. Last year the top searches were for characters from Borderlands and Resident Evil 2.  If you're looking for more traditional ideas, search favorites like "teacher", "maid", "nurse", "cop" and "vampire" remain popular.  But according to PornHub search traffic's taste has become more complex. The term "succubus" (a female demon that seduces men) was in the top 5 last year.
The Streamate Halloween Costume Event:
🧛CONTEST ALERT🧛

Grab your spookiest garb… a wicked 2-part contest awaits!

Halloween Costume Contest
Part One | Oct 30-31
Part Two | Nov 01-02

500 winners will be awarded for each part of the event!
Details

👻 "Ghosts and goblins come to play on October's final day"! 👻

Join us for a two-part contest. Costumes are required to receive a prize.
Have a fa-boo-lous #Halloween!#HappyHalloween #funquotes #spooky #smcontest #ContestAlert #money #prize #costumes pic.twitter.com/ZGRY4asMu8

— Streamate Europe (@StreamateEurope) October 29, 2021
To find out when the event starts in your time zone, check the contest leaderboard for a countdown.
Prize List for Both Contests
1st place: $1750!
2nd place: $1500
3rd place: $1250
4th place: $1100
5th place: $1000
6-10th place: $750
11-20th place: $500
21-50th place: $250
51-100th place: $100
101-200th place: $75
201-300th place: $50
301-500th place: $25
* All costumed performers are eligible to earn rewards. Ranking is determined by the amount members spend on you during the event (excluding Video sales, Fan Club subscriptions, Cammodel earnings, and Partner Site earnings, which do not count towards your ranking). Let your regulars know when you plan to be online and invite them to join you! Use #smcontest to promote your shows on social media.
To learn more about the BoleynModels Daily Pay Network and how to register/transfer your Streamate account take a look here.