Whether you're a findomme who prefers in-person meets or online interaction, using social media can be a great way for potential subs to discover and adore you . Social media is one of the best ways to do that. Financial domination can be approached in a number of ways.  The first site I will go over for financial domination and marketing is Twitter. This is one of the most popular marketing tools for various reasons. If you are unfamiliar with Twitter and how to use it, don't worry. It's very simple.
The reason  why I find Twitter to be so useful for camgirl campaigns and selling adult content, is because it has a huge audience and consistent traffic. It allows for a number of different media types for posting:video, gifs, as well as jpeg images. All of which are excellent for making promotional tweets. Unlike Instagram and Facebook, Twitter isn't as likely to shut down sex worker accounts. This is why to this very day it's still the go to site for posting adult content and teaser clips. In addition, this platform is interactive as it allows your fans and subs to communicate with you either through public tweets or  private messaging. Beware of thirsty men trying to slide into your dm's. 🙂
One of the key elements to using Twitter for marketing success are hashtags.  These are searchable keywords and  a great way to get noticed especially if you are a new findomme. When I first started out, all I had was a twitter account and I found that simply tagging #findom in my posts brought me more traffic and attracted a lot of subs. From there I recommended new findommes to use the relevant tags in their posts as often as they could.  In addition to hashtags, there are also users on twitter who retweet findommes.
Dealing With Fake Slaves And  Needy Submissives On Social Media
I have mixed opinions with regards to the usefulness of retweet slaves  and submissive men on social media.  In case you were unaware, Retweeting is when another twitter user shares your tweet with their followers. Retweeting is a FREE FUNCTION! NO FINDOMME SHOULD EVER PAY FOR RETWEETS. There just simply isn't any reason to do so. Your true fans and subs you gain from your own hard work will retweet you for free. Also, there are TONS of promo pages with larger outreach who will find you if you use specific hashtags. Most will retweet you at no cost whatsoever. Another issue I've personally experienced with retweet slaves/ promo pigs is they think their retweeting is acceptable payment for my services. 
Do not let them guilt you into giving them your time or attention.  While retweet pages do give you a larger following they do not always give you the kind of followers you want. "Eggs" and bots tend to follow findommes who use the tags often. These types or accounts tend to be annoying or even harass findommes and other online sex workers so make sure you check who's following you.
Will A Private Twitter Account Work For Financial Domination?
If you want your content to remain on Twitter, but only followers you approve of to see your content, you can make your Twitter account private. What this means is your entire Twitter feed will only be visible to people who you follow back. What I've seen some findommes do is have a public twitter mainly for promotion of their content and then they have a fee for their private twitter where they share extra content that you wouldn't see anywhere else. If you don't like the idea of having two twitter accounts but would still like to add some exclusivity to your Twitter feed, I strongly recommend OnlyFans mostly because you can connect it directly to your twitter account and sell monthly subscriptions for a fee. When you post from your Onlyfans, a notification tweet is immediately sent your twitter timeline, letting  your fans know about the latest content added. This allows them to subscribe with ease. Other subscription based sites that work through mobile apps are FanCentro.  However I've noticed that platform sites that showcase adult content can sometimes have a greater return than Twitter. When referencing content sites, I'm referring to platforms that are known for hosting model content and require payment before access is granted.
How To Gain Paying Traffic From Adult Content Sites
Well, for one, you MUST be 18 and over to sign up for them. This is great for you because it verifies that you are an adult and lets subs know that you are a real person. Secondly payment processor meaning you can use it to accept tributes. If you're a Canadian findomme you may have noticed how difficult it can be to accept payments for services with American based e-wallets . This is why my favorite adult content site is IWantClips. I haven't yet tried the e-check method but when I received direct deposits from them I received payment within 2-3 business days. They even have direct deposit for Canadian Camgirls and content providers. It was extremely fast and I love the Request Payout option.  I can let my money build up and then request payment whenever I want.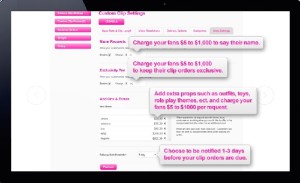 IWantClips is a content site that has many built-in tools to help grow your fan base and get you the right subs. The site has a social media tool where you can set automated tweets to promote your clip studio. One thing I like about IWantClips is they're active on Twitter and regularly retweet the promotional video clip tweets generated by their site. I highly recommend that you use their preview generator! If you have any problems with payment or any features on the site email their support team. They respond quickly and are usually great at resolving issues. There are many other sites that I did not cover but the way you use them is generally the same. Be consistent. Post often but don't spend all your time on one site. Remember, the key to making money is diversifying your income and trying not to become too dependent on one place. But of course the overall goal should be to be yourself and enjoy the lifestyle and however you've decided to make it work for you.