This article was originally posted on March 7, 2018. Since that time Facebook has started to give some members the option to opt out of it's Facial Recognition Software. As of today June 9th, not all members have been given that option. The most recent updates have been added to the end of this story. 
Listen up cammodels, sexworkers and all around hustlers! If you are using Facebook as a part of your marketing efforts and online promotions, but would like to remain somewhat incognito, report to your Facebook settings immediately. I frequently advise sexworkers who're grappling with the effects of being on the internet and not willing to come to terms with the fact that whatever you put on the net is there forever, to avoid Facebook all together. But still many persist due to the large amount of traffic they're adult industry endeavors receive on the platform. With 2.13 Billion monthly visitors I completely understand the appeal. However now that FB is willing to finally come clean and tell people about their facial recognition software, there is something that sexworkers should know. You MUST opt out of this feature in order to avoid being cataloged in their AI software. The Facebook Recognition Software is "Turned On" by default.

See! It's turned on already and I'm only just now realizing that it's been on. I'm not exactly hiding and in no way am I trying to remain incognito because I've come to terms with being "out there" already. But what bothers me most is having to opt out of a feature that I didn't know they were "officially" using in the first place. Now just to be clear I'm fully aware that FB and many other social media platforms had started using facial recognition software long ago but were doing so with out the knowledge of the general public. Law enforcement agencies have used similar software throughout the United States for years. It's definitely not anything new. Even Instagram which is also owned by Facebook uses AI software to detect Instagram Automation And Image Detection.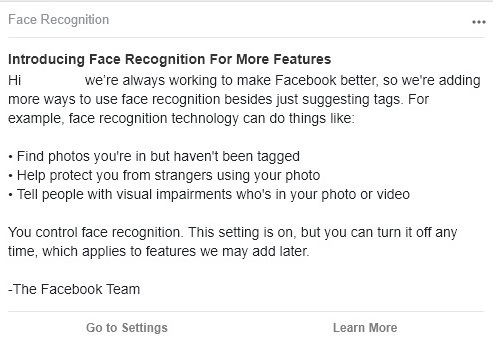 I believe that what's currently happening with the recent notifications that were deeply lost on my facebook page and buried under memes, is they are under immense pressure to show more transparency. This after several intelligence agencies have come to the conclusion that the platform was (and quite possibly still is)  infested with bots and foreign propaganda meant to negatively influence users with fake news stories. Facebook has been using facial recognition software for some time now and while on the one hand I'm revealed that they're finally telling people about it, on the other I'm not pleased to learn what this could mean for sexworkers who may be using the platform unaware of these changes.
Some models may only use the platform for making connections through any number of FB groups geared towards those in the adult industry and perhaps they don't enter their page through the newsfeed? And if that's then they are definitely clueless to the fact that they will now have to opt out of face recognition. Be sure to spread the word about this new feature and let others know what they will need to do so that they can minimize their chances of being entered into an online data bank that collects their likeness.
For more information be sure to follow us on Twitter @BoleynModels
Facebook Facial Recognition Update June 2018
How Does Facebook Collect This data?
Face recognition technology analyzes the photos and videos you're in to calculate a unique number ("template") for how you appear in images. When your face recognition setting is on, we collect and process this template and compare it with analyses of other photos and videos to recognize when you may be in those photos or videos.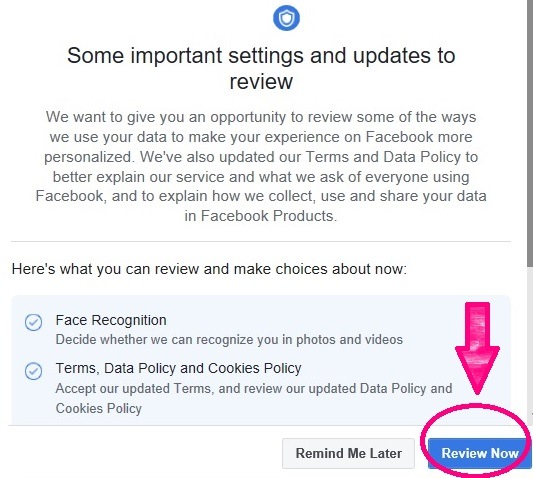 Sex Workers Find Out How Facebook Uses Your Data. 
We've added more ways to use face recognition besides just suggesting tags. For example, face recognition technology can do things like:
Help protect you from strangers using your photo
Find photos you're in but haven't been tagged
Tell people with visual impairments who's in a photo or video
To control your options for face recognition, manage your data settings. Otherwise we'll continue to use face recognition to recognize you in photos and videos.
If you haven't yet come across the the new Facebook terms and are still using it for your sex worker promotions you can find the them down below:
Review our updated Terms, Data Policy and Cookies Policy
We've updated our Terms, Data Policy, and Cookies Policy, to make sure you know how your data is used so you can make the choices that are right for you. By continuing to use Facebook, you are accepting our updates which go into effect on July 14.
We've made it easier for you to control your data, privacy and security settings in one place, which you can do any time in Settings. Our Terms better explain our service and what we ask of everyone using Facebook. Our Data Policy and Cookies Policy reflect the new features we've been working on, and explain more about how we create a personalized experience for you. Updates include:
Adding information about features such as Marketplace, camera effects and accessibility tools
More detail about how our systems process things you share, such as text, photos and videos
More about how we share information, systems and technology across the Facebook Company Products, including WhatsApp, Instagram and Oculus
Adding Instagram, a service provided by Facebook Inc., to the Data Policy