Cammodels looking for a skype alternative can now use Discord and it's latest video chat feature. According to Discord, The Dawn Of Video Has Come and with it comes the ability to video chat with up to 10 people plus utilizing features like screenshare. To date using Discord for video chat instead of previous options like Google Hangouts and Skype for private one on one camshows, appears to be the THE next thing for Independent Cammodels. In recent years performing camshows live on skype has become more and more difficult and in many ways a bit limiting. But now that we're getting more alternatives that not only provide streaming options many of those come with built in traffic that cammodels can use for monetization.
WHAT IS DISCORD?
Previously it's primary use was for voice chat designed to maintain a steady speed during game play.  Discord produces minimal impact on your CPU while gaming, therefore leaving game quality to the highest level. But now that the option to use video chat has finally been released for all members it's soon to become the go to streaming app for gamers as well as cammodels.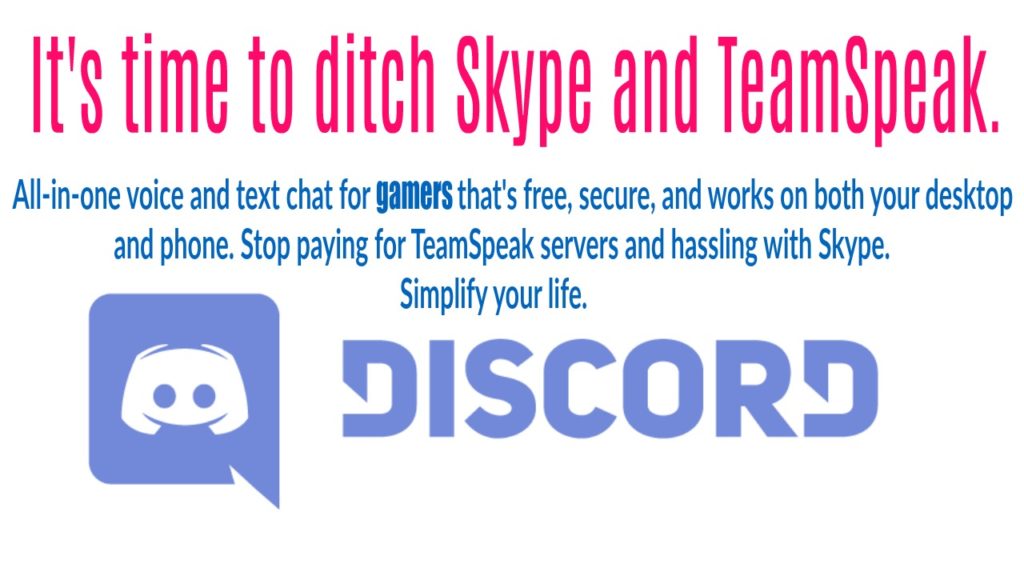 Some may consider that a pretty bold statement and fortunately Discord isn't a new contender in the world of gaming. They can definitely back up this claim with over over 45 million users. Also it should be noted that if you're a professional cammer, most likely you've noticed the similarities between gamers and cammodels by now. The very same products and computer specs used for gaming are of the highest quality frequently sought by cammodels. Consequently making the switch from performing live on skype to Discord a smooth transition and definitely something you will want to look into. Especially if you've ever thought about running your own chatroom or group show.
For me I would have to say that my primary reason for exploring this new skype alternative is to use it as a new traffic source (Remember! 45 Million Users) and a way to hangout on my own terms while ushering interested parties into a paid show. Although this may seem extremely similar to how things occur in a freechat setting on a major camsite, but for an Independent Cammodel who have accessed adult billing services profits are earned at a greater percentage. Also something to think about when tapping into gamer traffic, you now have the ability to reach a demographic that was willing to spend $23.5 billion in the gaming industry for the year of 2015. With statistics showing that the average guy who frequently spends money on gaming as being 35 years old (lets hope that for the sake of all things positive that he doesn't live in his parents basement) I would consider that a great target. Gaming is an expensive hobby and what cammodel doesn't like a spender who isn't afraid to.. spend?!?
Other Than Men Who're Gainfully Employed With Expensive Hobbies, Why Should I Use Discord?
In January of 2017 Microsoft FINALLY decided to hide all ip addresses by default for all skype users. This came after years of confusion among cammodels who were essentially afraid to enter the world of independent camming for fear of being stalked and exposed as an online sexworker. And despite the decision to hide ip addresses within their video app, trouble makers and fake hackers are still able to access this information from previous versions. Personally I would never let that sort of fear impede my money making abilities but at least now with the Discord app cammers can rest easy and perform shows with peace of mind. Because of encrypted server to client communications your ip address is kept safe at all times on Discord.
Start That Podcast you've been thinking about! Once you've built a following and have created a channel on Discord, start up a server for voice only communications if you like. If you have a perspective that you'd like to share with your fans and also wanting to give regular updates, a podcast is definitely something to think about. Go live and let people know what's on your mind.
Create Texting Packages with Discord as your preferred platform. Not only is Discord available for desktop but it's also a mobile app. So even when you're away from home performers can connect and earn income on the go with texting services.
Perform Your Own Version Of "Gold Shows". Charge a discounted entry fee or NOT! It's completely up to you. Remember, on Discord you can share your video screen with up to ten people. So if you create a Discord Server and send an invite only to members who've paid an entry fee, you can then control access by creating a type of paywall.
Now that the cammodel industry is quickly evolving into a multifaceted money making industry, cammers are able to take control of their own businesses deciding on what tools are best for them. We can still stream live several times a week on major camsites while simultaneously creating additional streams of income. There's a growing desire for interactivity between cammodels and adoring fans and performers who cater to this new growth will come out ahead. In my opinion a cammodels journey towards independence is best achieved when they learn to create and distribute content through platforms that provide the most freedom as well as ease of use. I believe the Discord App with it's latest video chat feature has all of those elements.
Edited March 27, 2018 Microsoft Plans To Ban offensive language' from Skype, Xbox, Office and Google Drive
The changes are part of the new Microsoft Terms of Services agreement that go into effect on May 1st 2018  Microsoft services.
This can definitely effect Independent Cammodels who are still using Skype to perform camshows as well as adult content creators using Google Drive to store clips and other forms of erotica. Most of these changes aren't exactly new but the new enforcement comes after the new FOSTA Bill passed through the United States Congress.
Here are the very clear and concise terms of agreement for those using Google Drive.
After these recent revelations I decided to check back in with Discord and their policies in regards to NSFW and adult content. It appears that just today the Discord App updated their guidelines and are still allowing NSFW content as long as it's flagged as such.
Discord NSFW Channels And Content
Latest Update From Discord On Twitter
NSFW content is allowed in DMs and video chat provided that all parties involved are consenting and of appropriate age. In servers, NSFW content can only be posted in appropriately flagged NSFW channels.

— Discord (@discordapp) April 11, 2018
Be sure to bookmark this article as well as the Boleyn Models Blog for future updates on this topic, including FOSTA and how it can effect cammodels. 
About the Author, Taja Ethereal is a tech loving girly girl who performs camshows live on skype. When she's not creating weird and peculiar fetish content for depraved kinksters you can find her at the dog park.