Don't you just love it when you spend so much time getting all dolled up for your camshow only to have zero audience participation? I mean what cammodel doesn't like it when you've just spent an hour flat ironing your hair and not one single "You're so beautiful BB" is spoken? If this has happened to you then I'm willing to bet that you're next move was to check your stream to see if your room was loading completely. After all why would a camsite visitor enter a chatroom and not…chat? You've probably thought that something must be wrong and that there's some sort of technical explanation for the silence? Unfortunately this isn't a tech issue nor something that can be explained with precise logic, because what you and many other cammodels are experiencing is the abject fuckery of a chatroom lurker.
Lurkers described in cammodel terminology are "losers" who sit in camrooms failing to participate or interact even when greeted upon entering. Some models may even consider them to be freeloaders who quietly wait for boob flashes generated by tips from other members. And in some cases this just might be the case, however the purpose of this article is to show that not all lurkers are losers, moochers and/or freeloaders. Quite often in my experience as a veteran cammodel, it was the lurker who saved the day by either tipping an exorbitant amount of money or by purchasing a long camshow.
The important thing to remember while entertaining live on the internet is that viewers are anonymous and many enjoy the freedom of being incognito even to the point of lurking. While you may be squirming under the pressure of not knowing what to talk about, viewers are trying to determine if they want to spend or not. This is when they're trying to find out what sort of model you are and if you're willing to perform in a way that makes you both compatible. I know lurkers can be the bane of any cammodel shift but until you learn a few tricks to encourage engagement, lurking may be all you get.
How To Convert Lurkers Into Spenders
One of the oldest tricks in the Camgirl Book Of Hustles, is to simply talk to yourself if the chatroom is completely quiet. I would even suggest talking to yourself if your chatroom is completely empty for whatever reason. Sometimes right after a camshow has ended it may take a few moments before your camroom fills back up or maybe on that particular day and time the camsite traffic is very low. Therefore when this happens it's up to you to create or fake chatroom engagement. It sounds insane but I promise you, it really works.


The key to pulling this off is to make it appear as though you're talking to someone in your chatroom. This works best if you're working on a camsite like Streamate that gives cammers the option of streaming live while in Classic Chat. This is a setting designed so that camroom visitors are not able to see what the others are typing. I tend to keep my conversations flirty and sexy as though I'm responding to a question regarding a camshow or tipping. By doing it this way I can remind viewers of how things work in my chatroom without having to call them out. And we all know how much they love it when we directly ask them for money. ? It's another form of suggestive selling. If talking dirty isn't your shtick then go off into a long story about the best concert you've ever been to. Eventually someone will speak up.

When talking to myself fails to encourage chatroom engagement amongst lurkers, I get up and start to move around the room. To be honest there are moments when I myself am not feeling too talkative and thought of sitting in one place for hours on end becomes too much to bare. Recently I've started live streaming from my kitchen because I love cooking and the natural lighting that comes in is amazing. Some viewers have found this intriguing and are willing to play "Kitchen Games" while I'm streaming.
I know that for some cammers streaming from different parts of your living space may not be an option, so I would suggest creating a physical activity that can be done in your camroom. For example I've folded laundry while on cam and I've even broken out the ironing board a few times. Moving around gives the viewer the opportunity to see what you look like without feeling like you're on an auction block being told to twirl around. "Stand Up BB" or comments like "Show Me Your Ass BB" won't stop all together but at least when you're moving around you're doing it on your own terms.
Understanding The Lurker's Mentality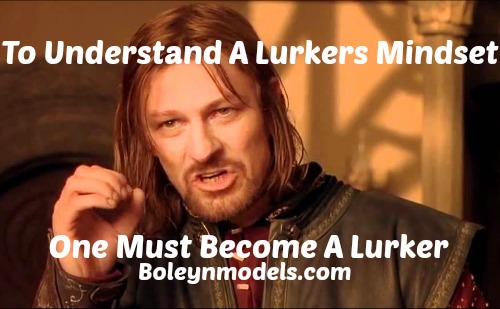 We've all done it. Spied on other cammodels and some of us (cough) may have even entered their chatrooms under a customer account in order to remain anonymous. There is absolutely nothing wrong with doing this so long as you aren't there to waste their time, poach customers or troll them. I think it's perfectly acceptable to enter a fellow cammodels chatroom especially if you're new to camming and just starting out. It's a great way to do research and learn how camsites work from both sides of the camera. It wasn't until I created a customer account on one particular camsite that I discovered that customers are able to control their spending limits directly from their dashboards.
Camsite Member: Sorry Baby I'd tip you but I've reached my spending limit. 
Me: Oh yeah? Well let me show you how to increase it. 🙂 
It definitely pays to know how camsites operate and entering a camroom from a customers perspective is a great way to explore this. What I quickly realized while logged in as a camsite customer is that having your member name immediately called out is a bit jarring. In some cases I completely froze and couldn't decide if I wanted to stay or leave? And I'm a cammodel who definitely understands that those models were only trying to be polite but even then hearing my fake member name spoken out loud within seconds of entering the chatroom shocked me. Now imagine that it's a socially awkward member trying out a camsite for the first time. I truly believe that this is the number one reason that many guys immediately leave the room after they've been acknowledged. They want to be able to lurk for a bit and quite possibly are reading your bio or perhaps perusing your photo album. I personally think it's best to wait a few minutes before making a greeting. In some cases I may wait until I'm greeted first.

Instead of immediately greeting new members in my chatroom or sending auto messages to lurkers I like to mix things up by asking flirty questions that are hard to ignore. Try using open-ended questions.
An open–ended question is designed to encourage a full, meaningful answer using the subject's own knowledge and/or feelings. It is the opposite of a closed-ended question, which encourages a short or single-word answer.
Try sending them a private message that say's something along the lines of  "What sort of panties shall I wear during our private show?" Not only are you assuming the sale but you're asking a question that's exciting and has a better chance of getting a response versus:
Cammodel: Hey! How are you today?
Lurker: *crickets* or GOOD
These techniques may not work on every single member who enters your chatroom but it may work at some point further down the line. I will say it again and again until the day I retire my webcam, there is ALWAYS someone watching even when you can't see a visible sign of their presence, they are out there. This is an opportunity to show off your personality and what you have to offer and assuming that all lurkers are losers can have a negative impact on your earnings. By blocking them  you just might be blocking your path to success.
Go Here To Learn More Information On Streamate's Potential Members Tool it may help with your Lurker problem. 🙂
About the Author, Taja Ethereal is a tech loving girly girl who performs camshows live on skype. When she's not creating weird and peculiar fetish content for depraved kinksters you can find her at the dog park.