For cammodels its always a good idea to diversify your income when it comes to performing live camshows between independent sites like Skyprivate or bigger sites such as Streamate. I truly believe that the more diversity you have within your own business structure the less likely you are to feel the pinch during slower seasons. For many cammodels there's never a slow season and really just a matter of switching up their options. Performing camshows live on Skype has its advantages due to the lower restraints put upon your computer and a higher payout depending on what merchant processor you may use. Skype directory sites have been around for quite some time and 1000's of cammodels have figured out how to perform one on one shows without the help of major camsites. But now with newer sites like Skyprivate and it's pay per minute plugin, organizing skype shows has become so much easier.
Skyprivate has grown in popularity amongst cammodels and camshow enthusiast. And now due to recent events involving Skyprivate and some of their business partners, #BoleynModels would like to assist the ccammodel community by offering our services commission free for all Skyprivate Models within our daily pay program. That's a flat 75% Payout. Now And Forever.
If you currently have an account with Skyprivate and would like to have it switched to Boleyn Models then you will need to sign up on our site FIRST.  This is to ensure that we know who you are.  Also, if you are an existing Skyprivate model with funds that need to be paid out please DO NOT add "Boleyn Models" to the studio line. Instead you can cash out your funds through us by adding "Send funds to Skype BoleynModels". We'll credit them to your account with us.
Once this is completed, all payments are automatically forwarded for your daily payments.  It's so simple. Not only is this site amazing because of its pay per minute plugin but it actually has it's own built in traffic. This means that every model that signs up to the site has an opportunity to make money right away. Even If they decide against sending their own fan base to the site. It's perfectly normal to want to test things out before you fully commit and the Skyprivate setup allows it.
However if you do decide to link your Skyprivate account with Boleyn Models there is one thing that you should know.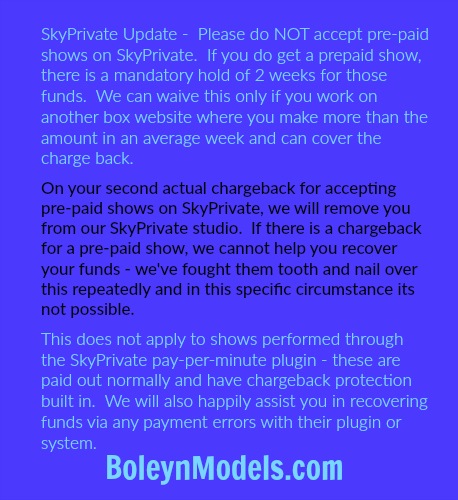 DO NOT accept pre-paid shows.  In order to combat chargebacks and fraud cases, it's best that cammodels stick to performing pay per minute camshows with the Skyprivate plugin.
Boleyn Models will work diligently to have your back in cases of fraud and negligence on the customer side. But you could help us to help you more efficiently by only accepting pay per minute shows on Skyprivate.
Another great reason for using this site is it's perfect for multitasking or splitcamming. Many cammodels have figured out ways to multiply their income by working multiple camsites at once. While technically working on a site such as Cams.com and accepting skype shows through one of our skype directories isn't exactly splitcamming, it's still a viable option for those looking to increase their income. SkyPrivate stays in the background and models can adjust their settings so that only paying Skype members to have access to their Skype I.D.'s. You can potentially weed out freeloaders wanting to engage you for free while focusing on your main camroom, if you're a model who does both independent cammodeling and likes to work on a major campsite at the same time.
Skyprivate is the site that just hangs in the background and really takes minimum effort. A few tricks that can help you with visibility on the site is to frequently change your profile information. Newly updated profiles get a bump on the site. Also, make sure that each time you log onto your computer make sure the Skyprivate plugin is running. If you have a huge following on social media like Twitter you can link both accounts. This way you can tweet your availability directly from your Skyprivate dashboard directly to Twitter.