It's been one full month since Nexocams by Clips4Sale evolved into the new fanclub alternative, LoyalFans!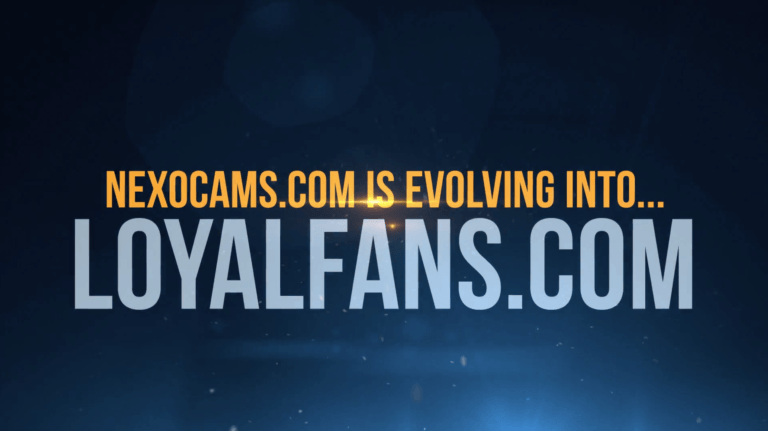 Latest Update September 2019
Since August, adult content performers who've previously used the platform are now able to login with the same credentials used on NexoCams. But they will be greeted with a new interface and color scheme for willthe LoyalFans brand. LoyalFans just like Nexocams is still operated by Clips4Sale and is apart of the BoleynModels Daily Pay Network. There's no need to create a new account because your credentials will remain the same!
As many of us in the adult industry have noticed, the webcam game has evolved beyond live streaming. No longer are top camsites like Streamate and MyFreeCams the only contenders when it comes to performing live on cam. In fact for many years adult content sites like Clips4Sale have been the go to place for obscure fetish content. And now after building up a major reputation, C4S has finally decided to venture into the land of live streaming. They have recently introduced Nexocams, a platform that could potentially take on memberships sites like OnlyFans. It's still extremely new and may not have all of their plans completely mapped out, but I will say that things look promising and even more so because they are apart of the Boleyn Models daily pay network.

Nexocams Latest Update 11/18: Live Camshow Widgets To Appear On Individual Clips4Sale Pages.


C4S is one of the oldest clips sites in existence and despite the recent influx of competitors it is still the number one site for kinksters and fetish content. In the beginning it was known the site for amateur content providers who mostly filmed their own sex acts for profit and the caliber wasn't always that great. But even still to this day, now that production quality has gone waaay up, C4S is most definitely the only clipsite where a bonafide amateur can make it into the top 50 top selling clips.
Content Creators Will Receive:
40% COMMISSION
from all paid chats: nude, private, group and tips.
70% COMMISSION
from all earnings based on social media subscriptions, selling content: videos, photos and posts.
More than 3 Ways You Can Profit as a Cam Model
You are singled out for greater earnings when you register as a cam model on

NexoCams

because of our exclusive site features. Here are some of the money-making features we think you'll love on this site:
You earn a 40% commission for every chat cam session you have.
Tipping in private chat sessions means you can make even more revenue with your talents.
Your profile has a timeline you can effortlessly update, private messaging options, video galleries, and other features that let you connect with members and steadily grow your fan base – which means more and more money for you.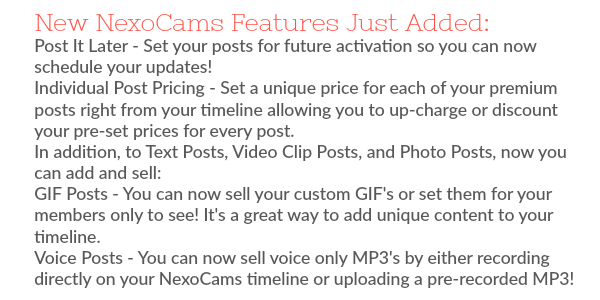 As the porn industry changes by taking a step away from overly produced releases, the recent trends seem to be in the favor of stay at home content creators. Although amateur porn has become more popular with time, the word amateur isn't a reflection of the quality of the content uploaded to the site. It's used more as a niche that simply describes the content as not being produced porn stars and porn producers. But now with Nexocams and the Boleyn Models daily pay network, content creators can finally dig into the C4S platform and use it as a home base for all adult content.
Nexocams Update May 2018
As of today, May 11, 2018 your commission on NexoCams will be 80% from Cams: tips, private, group and nude chat for the next SIX (6) MONTHS on all traffic you push to your NexoCams account using your personalized REFERRALS link (Get your link by going to: Menu -> Settings -> Referrals).
BrokerBabes Traffic Partnership
Then starting on May 21, 2018 NexoCams will open the flood gates on high quality, customer driven traffic by partnering with BrokerBabes, one of the biggest companies in adult traffic (customers), to give all of our performers increased visibility to new revenue opportunities.
NexoCams On the Go
NexoCams now allows all performers to stream directly from your mobile phone browser, offering all the same desktop functionality from your phone, to NexoCams members.
Don't Miss Out!