The most important question a new cammodel  should ask themselves when joining Chaturbate is "Am I experienced enough to entertain a crowd?"  I would say that it's very possible for a newbie to succeed and excel on Chaturbate 
if
 they're into high energy camming. Unlike other token based sites such as 
Myfreecams
, CB doesn't have a camscore. Therefore the trial and error stage is a lot more forgiving.
Once signed up on Chaturbate, you're officially a member and can go into anyone's chatroom. However until your age verified your profile will not be approved to accept tokens and monetize on the platform. The age verification process is easy and very simple. And quite often Chaturbate support can have a model up and running within a few hours.  What's required for this process is identification provided by a government agency and a picture of you holding that id next to your face. In addition to that all cammodels are required to sign an electronic agreement stating that you understand the terms of service and promise to abide by all platform rules.
Mobile Streaming On Chaturbate
When it comes to streaming technology this particular website doesn't require top of the line equipment. Of course having the best webcam and a strong computer is the best way to maintain a clear stream, cammodels on this site have other options. Chaturbate currently offers beta mobile streaming when you access the site via m.chaturbate.com.  Beta live streaming mode functionality includes: private show, group show, and receiving chat, private messages and tip notes.  Sending chat and other chat features are not available at this time.
Streaming Tips For Both IOS & Android
For IOS: Streaming works in both landscape and horizontal mode. The live stream will stop if you rotate the device. Safari 11 or greater is your best choice for browsers.
For Android: Cammodels should start their live streams in horizontal mode. Once your stream has started the camera will become locked so that rotating your device is possible. The best supported browsers for Android are Chrome 67+ and Samsung Browser 7.4+
Use Chaturbate Bots To Play Games & Manage Your Chatroom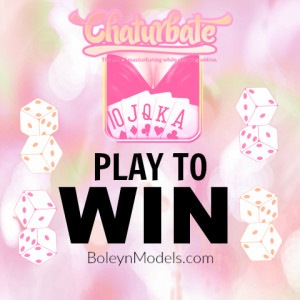 If you want to create a fun atmosphere for you and your fans, then familiarize yourself with Chaturbate Bots.  When I first started on the site I learned how each bot worked by observing the chatrooms of more experienced models. I watched their shows and took notes on how to perform for large crowds and learned how to become engaging in a way that didn't come off as too aggressive. What I soon found out was the more personable you are the more likely your fans will participate when you implement bots into your camgirl routine.  Here are a list of the most popular apps found on Chaturbate:
Three Apps To Help Models Perform For Paying Customers Only
Crazy Ticket: Allows broadcasters to sell tickets for a Hidden Cam show.
Tip For Show: A better way to do private shows without sending out passwords.
Private Show With Timer: Perform a group show for paying members only.
Goal Oriented Apps To Encourage Tips
Tip Multi-Goal: Have multiple goals which change as you meet them, keeping tips moving. Never change goals again! Set up to 8 goals, and as tippers meet them the goal will clear and the next goal will automatically be set up. Hit the last goal, and a custom message automatically comes up and the goal clears (no more manually changing to "Tip if you enjoy"!) And if you're worried that this means people will stop tipping, then problem solved! You can just set up your last goal to loop forever instead.
Tip Menu: Lets you create a Tip Menu for your Viewers, with optional or recurring goal. This app is great for models who decide to set a token goal during their show. The app lets you set your token goal and each time someone tips you it goes directly towards the countdown and deducts the amount of tokens that were tipped so you don't have to do it manually.
Use Apps To Help Moderate Your Chatroom
No Grey Demands, Graphics or Caps: Mutes demands, rude words, graphics, spam, caps, stickykeys from grey users.

 This bot mutes grey messages. Notice is given that user was muted and reason. Only the message is muted (user is not silenced). On room entry, the grey viewer is given a private notice of what is not allowed in your room.

The Black Magic App: Replace user slang or naughty words with whatever you like.Example 1. = "show boobs" is Replaced with "show tokens"Example 2. = "boob" is Replaced with "boob show for 100 tokens"

 
Chaturbate is one of many camsites within the Boleyn Models Network. We're a virtual studio that provides daily payments, tech support and marketing solutions. If you'd like to know more about our Daily Pay Network and cash advance program please send us an email right here on the site. You can also fllow us on Twitter
@BoleynModels
for daily updates.