Styles and trends are constantly changing and for that reason I thought it was time for a brand new Cammodel Decor On A Budget article. Here on the Boleyn Models blog we have articles going over lighting, new gadgets and even cammodel outfits that are diy and budget friendly. So of course we're gonna go all in with tips for decorating your cammodel space. A few months ago I decided to give my camroom a makeover and in the process I finally got away from my usual shades of pink champagne.  My space is still pink, that's not really gonna change I'm afraid. But the hue has gotten much darker and versatile. When I decided to give my room a facelift I thought about future adaptions and how easy it would be to incorporate new styles to existing pieces. I found that the best way to do this was to start with a solid color foundation that I can tweak later on. And the best part about this makeover is it only cost $100. Keep reading if you're sick of your camroom decor and those friggin tapestries that took over in 2018. Let me show you how to change things up while on a budget.
Solid Colors For Bedding Is Where It's At
When it comes to selecting a comforter for your room, I think choosing a solid shade is the way to go. I try to avoid patterns because it's very rare to find a pattern that isn't already in use by dozens of other cammodels. I like to stand out and starting with a solid color/reversible comforter gives me the option to create different looks by adding different embellishments and accessories from day to day. Checkout  Mainstays Bed In The Bag products that are sold at Walmart for only $29.99. It doesn't matter what size comforter you choose, from twin to king it's still $29.99. No it's not of the highest quality, but I don't believe that should matter too much when this is something that you may potentially squirt on at some point. 🙂
Ambient Lighting That's Good For Complexion And Your Wallet.
I previously mentioned the Ustellar 15 watt, rgb, remote controlled flood lights on Amazon in our New Gadgets For Cammodel Lighting. Many months later I still love them! These lights are by far the best option for versatility and low cost.  The color changing effects are vibrant and be used indoors and outdoors. Therefore if you decide you no longer want to be a cammodel you can use them for something else like a Holiday Light Show. Another thing I really love about the Ustellar RGB lights is how easy it is to change the colors to coordinate with different skin tones. I found the dark purple setting and the hot pink to be the best suited for my skin tone. You can essentially use these lights to enhance the undertones of your complexion without the use of a filter. Take A look at this picture down below. The first is with the hot pink selection and the second is with the dark purple, a cooler setting and great for someone who may have blue undertones.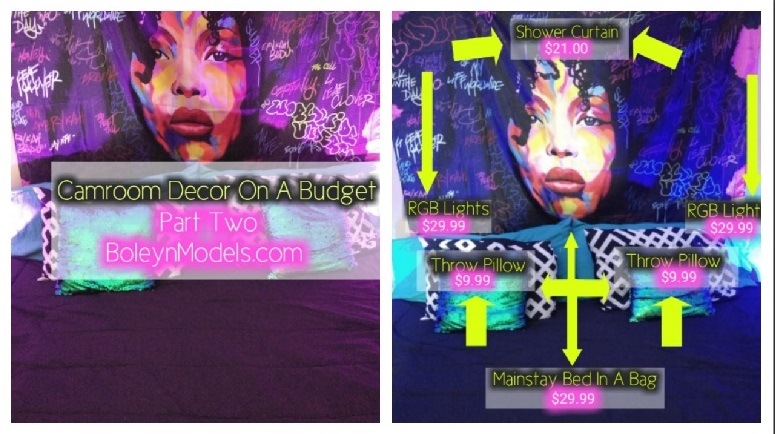 The Ustellar lights that I ordered came with 2 packs each with it's own remote control. The intensity is pretty strong with just the 15 watt led flood lights pictured below. But now I'm curious to know how powerful and vibrant a stronger power will be? As I mentioned there are two different remote controls that come with the flood lights, but I've found that it's best to only use one to control them both. Just one remote control can keep both flood lights in sync. And they are only $29.99!!!
Backgrounds For Cammodel Decor, the sky is the limit!
If you read our previous article on tips for decorating your camspace you will remember my wallpaper suggestion. Except I didn't really suggest traditional wallpaper but instead it was wrapping paper. I still use this option from time to time but there are only a few holidays in a year where I can find cute wrapping paper to cover my background. Plus this option can be a little tedious if you want to get it done right. This is why I've started to turn towards using pretty fabrics to hang on my accent wall. About two years ago I thought I was being pretty unique and mystical when I found a tapestry in the perfect shade of pink with a huge Mandala on it. But now they're everywhere. Throw the whole trend away. If you want something unique and works well as a photography background, try using a shower curtain. Shower curtains found online, of course. These are budget friendly options for camroom decor that are budget friendly, vast and varied. I can spend hours on Amazon going down the rabbit hole in search of the perfect shower curtain for my background. Here are few examples: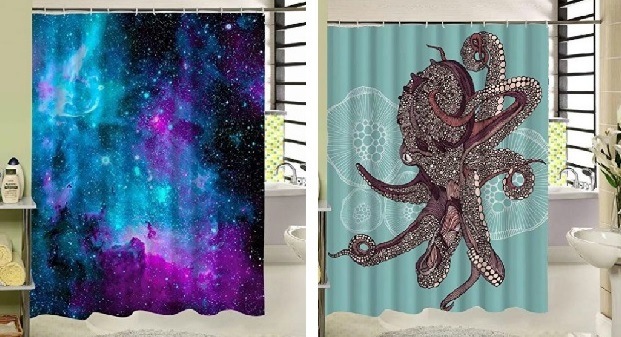 These vibrant shower curtains are sold by Yunmai on Amazon and range in price from $9.99 to $21.99. The size that they come in is 72 inches in width x 72 inches in length. That's plenty enough fabric to cover an accent wall. In addition to this company there are so many more found online. I prefer to use online sellers because I've found that they have a greater selection than what's available in local stores. If you have any other suggestions on what to use for a background I would love to here them. Please follow us on Twitter @BoleynModels to share your camroom ideas.