Streamate, the number one site in the Boleyn Models Daily Pay Network now allows cammodels to record their camshows. If you're a cammodel who also enjoys selling adult content videos to your fans, you can now make even more money if you're streaming live on Streamate. The latest streaming encoder for the most popular private show camsite is SMConnect. We here on the Boleyn Models blog have covered many of it's latest features showing how cammodels can earn more money while staying competitive. Previously, recording camshows has been a complicated task for cammers but now Streamate has made it much easier.
How Can I Record My Camshows On Streamate?
The first thing I'd like to point out regarding recording videos of your live shows is that this is only possible if you're live streaming through the latest Chrome browser. If you try to send your stream through any other browser like Internet Explorer, FireFox or other you will not be able to record your live camshow. This feature is available in Chrome Only! Also an important point to make is that when you use the SMConnect to record your shows directly from the app, you can also sell videos while offline as well as live. But please keep in mind that these clips will require an additional step to convert the videos to a format that can be uploaded to your video gallery.
How Can I Record, Download & Delete My Videos On Streamate?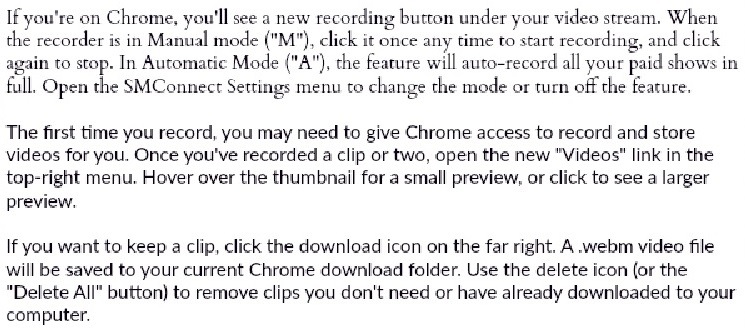 Using the Video Clips
Clips recorded through SMConnect are automatically saved in a .webm format. These clips will need to be converted to a compatible file type before they can be uploaded to your video gallery. This can be done with a file converter or a video editor. Streamate has added a list of recommended converters in the newly updated Creating Video Clips guide. Previously Cammodels were allowed to send customers their video recorded content via self-hosted links. Customers were required to click on those links in order to receive their downloads. However that was no longer an option when the onsite video gallery was created.  Ever since this tool has been a great way for Streamatemodels to share content with their viewers and generate additional income. And now with the new video recording option added to the SMConnect cammers will be able to make even more money.
If you're in the BoleynModels Daily Pay Network interested in learning more about Streamate, please visit this article How To Get A Weekly Bonus & Free Daily Pay for more details.