We all have those days as cammodels, when it seems like nothing is working in your favor to bring in the money. In frustration, you rage quit and to make yourself feel better, you end up going out and spending your rent money at the nearest bar and barfing it into the toilet. Don't do that! Instead, change your perspective and use the free time that you have to never go broke again.
How do you do that? Easy! It's called Affiliate Marketing. You are going to build a system where multiple streams of income constantly replenish themselves 24/7.
As a cam model, your strategy is to build up the following content to which you will then promote and market your affiliate links:
Pillar 1 – Clips and Photosets
Pillar 2 – Merchandise/Product Endorsement
Pillar 3 – Blog/Vlog
Pillar 4 – Social Media eg. Twitter, Instagram, SnapChat, Periscope, Tumblr, YouTube
Pillar 5 – Forums, Comments, Classifieds (optional)
I know it sounds overwhelming but, you're not going to do all this overnight. It's actually better to build your empire slowly, pillar by pillar because each pillar supports the others. You do need to have at least 3 of the 4 pillars in place before you start pimping your affiliate links.
Hopefully, you have a strong brand and identity associated with your cam persona. If not, I highly recommend taking time to write down and define your brand. This means you know what your strengths are, if you will shove a squash up your butt in your shows, your demographic of customers that you want and how to market to them with all of your images and media. Whether you are an independent model or a big box cam site model or a combination of both, a strong identity is pretty important these days to stand out from the competition.
Pillar 1 – Become a Content Creating Monster
Clip Creation
When I first heard about making clips, I thought they were a waste of time. I was wrong and this is why: clips are all about long term, steady income. One clip may not bring in the big bucks but the overall number of clips will. Creating content is the easiest way to success because your content is your own, unique and can be sold to a larger demographic than your live per minute privates. You are not available 24/7, but your content is! Yes, there are days when you don't feel very creative or when you don't feel like filming anything because you don't have any inspiration or motivation. The great news is, it's not that hard to overcome.
So how do you get over the obstacle of laziness? All you need to do is start! The best time is when it's slow on cam because you're ready to film. Your makeup is on point, you're in the mindset to perform, so just start a clip. Imagine that you are in a show with an awesome customer and film whatever comes to mind. Once you start, the flow of inspiration will pour out of you and it becomes effortless. You can also grab your best screenshots from your clips to use as photosets.
Another great motivator to create content is Boleyn Models network of clip sites for daily pay. How gratifying and validating is it to have your content sell on the day you decided to upload your newest video? You can get daily pay for ManyVids, IWantClips, IndieBill, and ModelCentro through BoleynModels. If you can upload content that day, it really is no different from actually working a cam site or independently. Don't forget that having clips also enables you to entice customers to buy during free chat both on token sites and private based sites. Nothing like getting a cheapass mofo who can't afford your rates, buying your vids instead! Once your clips are created, they will generate income for you pretty much forever! Cam shows don't do that!
If you want to learn more about how to upload, create, or get great ideas for making clips, read this article: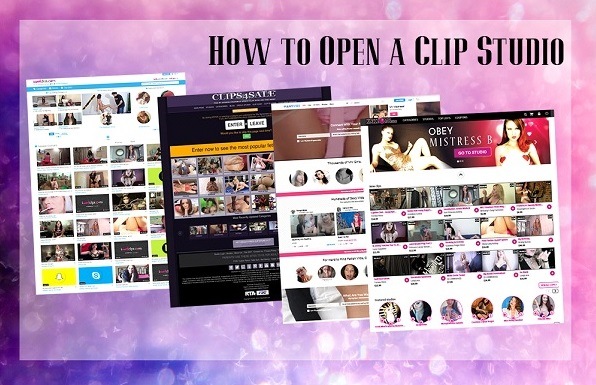 Pillar 2 – Merchandise/Product Endorsement
With Product Endorsement, cam models can utilize the affiliate programs offered by sex toy companies, favorite brands of lube, fetish wear sites, fitness products, beauty products, clothing brands etc. You can also endorse products that appeal to heterosexual men because of your built in fan base. Almost all internet friendly companies offer some sort of affiliate program. With our fan following, cam models can be very powerful influencers for selling!
You can also sell your panties, pantyhose, articles of clothing and shoes. Even better sell  branded merchandise like coffee mugs, t-shirts, keychains and more on your website pages. You can utilize your talents and sell your own artwork! I've heard of models selling their boobie paintings! Be as creative as you'd like!
Pillar 3 – Blogging/Vlogging
I don't see a lot of cam models utilizing the power of blogging/vlogging. However, maintaining a blog/vlog can be quite easy to do especially if you can utilize a way to link up all your social media together with your blog/vlog. There are several ways to start a blog, I highly recommend getting your own domain with your cam name through GoDaddy and switching the nameservers to a host site like ModelCentro or IndieBill. ModelCentro has a built in blog system that automatically tweets and sends out emails to your customers when you update. IndieBill can customize your website with a similar set up.
I recommend using YouTube for vlogging. Google owns YouTube and so the advantages are clear as to why YouTube is the clear winner for search engine optimization. Plus, you can also have another passive income generator through Adsense earnings.
Pillar 4 – Social Media
Social media is important for promotion. It's where we can communicate with our fans and grow our fanbase further. It's where we can further pimp our affiliate links. Twitter, Instagram, SnapChat and Periscope are the most important ones to concentrate on building. Some models like to sell "premium" packages for nude SnapChat/Instagram. There are risks and strategies involved to doing this, and so I suggest reading this thread (link to SW thread here) on Stripperweb for more on selling premium SnapChat accounts.
Pillar 5 – Forums, Comments, Classifieds
If you like to write, this pillar will be easy for you to maintain. You're going to utilize forums in relevant topics where you can can pimp your affiliates in your signature. You might also want to comment on relevant YouTube vids, blogs, Instagram pics etc. You can also utilize classifieds especially if you are an affiliate marketer of products.
Affiliate Marketing
Once you have built up at least 3 out of the 5 pillars, you're ready now to start with affiliate marketing. There are two directions to which you can go with affiliate marketing. It depends on your intentions. You can end up making a full time income with just affiliate marketing and becoming a webmaster. Or you can continue to be a cam model and keep growing your cam model endorsements and brand by utilizing the Streamate/Cambuilder whitelabel program.
You'll notice that when you start talking about affiliate marketing, a lot of eyes start glazing over. It's actually an old system around since 1989 on the internet and a very broad term that describes the effort of bringing customers to a product they will most likely buy and if they do, you get a share of the profits.
As an affiliate marketer, there are two basic ways of building passive income. You can pay for it, or you can generate organic traffic. Paying for it is usually faster but requires an investment up front. Generating organic traffic can be done very cheaply or even with no money. You generate organic traffic through social media outlets like Instagram, Twitter, Tumblr, Periscope and SnapChat. Facebook and Pinterest are not recommended outlets because of the stricter adult content enforcements and the risk of being outed to your real life contacts.
Where do you start? First of all as a cammodel, you have a advantage over those who are just webmasters. With your brand, you can create your own system of multiple streams of income.  Those streams work together so you make money faster. Where as a webmaster starts out with nothing. By now you probably have your own domain/website through ModelCentro, IndieBill or your own hosted site. Each has their own strengths. With ModelCentro, you have almost complete control over your content and how it looks and with their built in templates, you'll have a great looking, professional website in a couple of hours, that you can update at any time. As well, MC has it's own affiliate marketing program for webmasters so traffic is being generated for your domain especially if you can provide your webmasters with promotional material however, they do take more of a percentage over IndieBill. IndieBill will build a site for you so you have less control over how your site looks and you can't really update your own site on the fly but that might be just fine for you. Both are with the BoleynModels network so you can get dailypay. Hosting your own site gives you complete control but it's time consuming, labor intensive and requires you to come up with your payment processor.
Best Affiliate Programs For Cammodels
Creating a White Label
Right now, the most popular and generous programs are Cambuilder, (Streamate), and CrakRevenue. Chaturbate also has their own affiliate program as do many other cam sites. You as a cam model want a program that lets you build a white label. A white label just means you can create your own domain and brand it however way you wish with your own logo.
For example, my cam name is Hyori Kim. I will purchase a domain like HyoriWorld.com through GoDaddy. I chose HyoriWorld.com because it contains my cam name and it is relevant to my brand. You can choose whatever domain pertains best to your brand, just make sure it is easy to remember and creates a community feel. The other domain you might want to purchase has a call to action to do something eg. www.payhyori.com, joinbambibabe.com, spoiljennyjenkins.com etc. This domain can link up with a payment processing page for all your products or a profile on a cam site that lists all of your merchandise.
Now why would I want to buy my own domain when Streamate gives us a member referral link through their cammodel program? I will tell you why. The cammodel program gives a very generous extra 40% when a new member signs up through your referral link so that you earn up to 75% rather than the usual 30%-35% they spend on you. You also earn 20% of what they spend in Gold or in paid chat with anyone else on the site. The Cambuilder program however gives webmasters 35% overall lifetime revenue, (that is their best program, they do have others).
The Cammodel program is limited to giving you a share of the profits for as long as you are a cammodel on Streamate. The Cambuilder programs give you income for life and since most members are very much into spending on a variety of different models, I would say that 35% trumps 20%.
So now that you have your community domain all ready to go with cambuilder nameservers in place, you want to start promoting. You can do this in a multitude of ways, tweet when you go live, SnapChat/Periscope/Instagram Story/ YouTube your cambuilder domain and ask guys to join to see your live shows. Have a cute graphic logo for your cambuilder domain and use the same graphic when you tweet, insta and tumblr post. Over time, your new fans will sign up through your cambuilder domain and you'll have their 35% for life, all time, from all over the world, for life.
Remember to also promote your product endorsement affiliate links but, don't go overboard. You want good content that is valuable to your customer base as well, not just posts that promote all the time. When you start generating income in your sleep you will have even more time to also build up webmaster affiliate accounts with other cam site programs. If you desire, you could even just go vanilla and find programs through sites like ClickBank. Affiliate marketing is limitless in earning potential.