Cammodels I know you've worked hard all year long and going forward I'd like to encourage you to continue your hustle for the Holiday Season. Halloween is quickly approaching and before you know it, it will be time for Thanksgiving and Christmas as well. Typically during the Holiday Season is when many cammodels flourish due to the overwhelming generosity from camsite viewers. I summarize this generosity to be a result of many viewers carefully watching their funds all year round and only allowing themselves to splurge during the Holidays. Cammodels should take advantage of this spree and position themselves accordingly.
Cammodels How To Position Yourself For The Holidays
As a veteran of this industry both as a cammodel and a phone sex operator, I've found that the best time to start planning for the Holiday rush is in August. This doesn't mean that you can't start now in November for the current season, but for next year try to begin by the end of summer. My reasoning behind starting so soon is due to my preferred methods for online advertising for sex workers. I like to start out by doing link exchanges with adult websites with high page rankings. And contrary to popular belief Google still has an algorithm that assesses the rank of each website entered into their database. The only difference is that now they no longer display website PR results publicly since Google implemented its first algorithm to target blackhat tactics called Penguin. If you're an adult webmaster then you will have noticed that Penguin not only attacked suspicious and underhanded seo techniques, but also affected camsite whitelabels, phone sex directories, adult toplist and any website that appeared to have duplicate content. Some have even said that this new algorithm by the mighty Google Gods was a direct attack on porn and all adult perversions. I personally choose not to let this affect me and continue on, because after all this is the work I know and I still have bills to pay.
Despite the Penguin setback in 2012, I still remember what websites were ranked high in the page rankings and continue to use them now in 2016.
–Myspace: Yes I said Myspace, the old forgotten Auntie of social media…Myspace. Attention online marketers, Cammodels and PSO's: Myspace is still relevant! It's just not as relevant as Instagram, Twitter or even Facebook is for cammodels. Because remember we're talking about Google Page Rankings and how to position yourself through out the year for maximum exposure. I am in no way saying that you should create a new Myspace page and start promoting it. Only do so if its the platform for you. But what you can do is dust off the cobwebs for any old, forgotten pages you may have. Once upon a time this social media platform was king about 13 years ago. So if you have any old blog post on this platform, you can pretty much assume that your page is indexed in the Google database. You will need to update the old info to reflect the new contact info for your webcam business. Create a few blogs with at least 300 words and you should be golden.
For Current Web Crawling Methods
-Twitter is currently one of the fastest methods to spread any sort of adult content. Each time I create a blog post I'm sure to drop a link on our Twitter page. Mainly because I know the Google Spiders will appear on that cammodel  blog almost immediately. Tweets appear in Google searches adding new content to the algorithm around the clock. Reddit is another option for high visibility in the search rankings. For more information on how to use this option check out How Cammodels Can Dominate Social Media.
Work On Your Promo Materials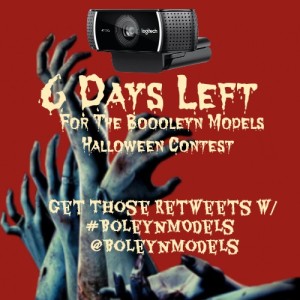 If you're wanting to increase your website traffic going into the Holiday Season I would suggest blogging and rediscovering old platforms to speed up indexing. Yes you can still use sites like Twitter, Instagram and TikTok but quite often people forget about older platforms that are already developed. Give it a try and see what happens. If not go back and delete it.
Use Current Social Media Platforms For Instant Updates Like: Twitter, Instagram and private Facebook Groups.
Seek Out Platforms That Have Great Emailing Systems:
IWantClips will allow models to send unlimited messages to customers that who have made a purchase.
Some sites will allow it's models to send messages to anyone that has visited their profile regardless of money spent.
After You've Created Your Cammodel Campaign
Pick a schedule that works best for you and stick to it. Because I do start my planning several months ahead of time I start seeing results as early as the first week of October. Often times I may see customers that have been missing in action for months during the Holidays. I also use marketing tools like mailing list to give them updates on my current specials and give them a synopsis on what they can expect for the coming months. In general I can expect a huge increase in business right after Halloween because of all my marketing efforts from the months prior to now. By instilling interest in my existing customer base with teaser ads and promo materials I'm able to keep them interested as well as maintain my standing within Google rankings. Also during the Holiday season keeping a steady schedule allows me to make myself available to men who otherwise may not have seen me before. If you maximize your hours during a peak season you can protect yourself from the drastic decline in traffic come February. It happens every year but know that it happens and preparing for it keeps you ahead of the game.
If you're a Boleyn Model please take advantage of our current Streamate Bonus Program: we double your second-lowest day and pay it out to you again as a bonus at the end of the week. Models working at least 6 days a week, even in small shifts, can increase their payouts on Streamate effectively up to the full 35% basic site rate. A bonus plan such as this can only increase your profits during a busy Holiday Season as a cammodel.