All Boleyn Models who go live on Streamate from June 7-11 are eligible to earn rewards. Cammodels within our daily pay network can earn up to two bonuses during that week. Your rankings will be determined by the amount of money spent on you during the event. This will exclude video sales, fan club subscriptions and affiliate earnings through your cammodels link. Streamate is holding a 5-day contest where only your best two streaming days will count towards your ranking. There will also be a chance to earn a bonus gift for streaming during the week.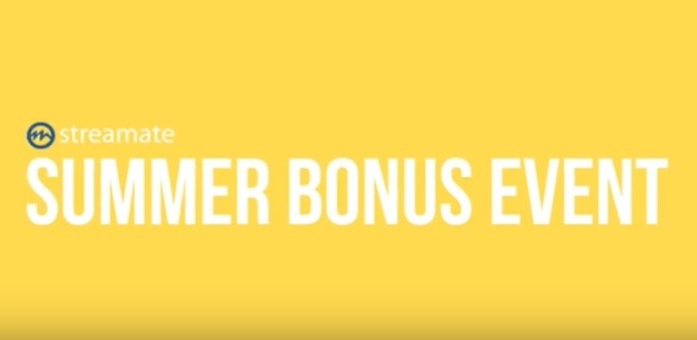 5-Day Best Face Forward Contest
As stated the contest week will run for five days on June 7-11 (GMT). Once the contest week is over Streamate will add up all eligible earnings from your best two days to determine your rank. The other three days will not count towards your placement. This will provide more flexibility and allow models to be able to take a day off if they need to and still place high on the leaderboard. The leaderboard will show your placement using just your best two days so far. The top 200 performers will earn great prizes:
Prize List
1st place: $3,500!
2nd place: $2,500
3rd place: $2,000
4th place: $1,600
5th place: $1,400
6th place: $1,200
7th place: $1,000
8th place: $900
9th place: $800
10th place: $700
11-20th places: $500
21-50th places: $400
51-100th places: $275
101-200th places: $150
Chance to Earn a Bonus Gift
You also have a chance to earn a bonus gift! You must stream for at least 15 hours during June 7-11 (GMT) to qualify:
If you stream 15 hours and earn at least $150, you'll get a $15 bonus!
If you stream 15 hours and earn at least $300, you'll get a $30 bonus!
If you stream 15 hours and earn at least $600, you'll get a $60 bonus!
All performers are eligible to earn one of these gifts, including performers in the top 200 ranking. Make sure you stream at least 15 hours throughout the event to qualify.
Here's How You Can Get A Second Bonus From Boleyn Models
Streamate is the most popular camsite in our daily pay network and is a longtime favorite among veteran performers. Additionally it's a great site for new cammodels as well And for these reasons we decided to create the Streamate Bonus Program.
On Streamate, we double your second-lowest day and pay it out to you again as a bonus at the end of the week.  Models working at least 6 days a week, even in small shifts, can increase their payouts on Streamate effectively up to the full 35% basic site rate. If you were thinking about putting in more hours for the upcoming contest, this could be a great opportunity to earn two bonuses at the same time. One from Streamate and the second from Boleyn Models!  For more information on how existing models can transfer please read Streamate Daily Pay Transfer FAQ.