If you lurk on any of the internet forums dedicated to online dating, you're guaranteed to find men complaining about two things in particular: catfishing and cammodels. The only way to deal with the first is to stop giving a damn and live your best life. If a man thinks I'm too gorgeous to be true and decides to pass me by for that, well then I didn't want him anyways. 🙂 But what do we do as actual cammodels, about the second issue? Do we stop pursuing sex, love, and partnership online because misguided idiots on the internet think cammodels soley exist to extract credit card numbers from lonely hearts?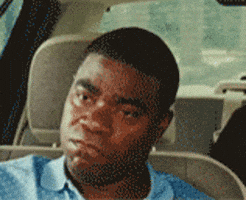 All jokes aside there are real concerns about dating online as a sex worker: disclosure, safety and discrimination to name a few. Even the loudest, proudest, most "out" cammodel on the planet has a lot to contend with, given our special set of circumstances. Dating profiles are us at our most vulnerable. There are very few places where we give away so much information so freely. The same people who shred every last piece of junk mail will glibly fill out hundreds of prying, personal questions on OkCupid, forever attaching their thoughts on anal sex and the death penalty to the curated photos on their profile. But an issue many of us agonize over is if and when we should disclose what we do. Do you prefer to say you're a sex worker on your profile, hopefully weeding out all potential suitors who'd find such work off-putting? Do you wait to disclose until you've exchanged a few messages? Is there a magic number of dates you go on before you feel safe telling your sweetheart how you pay the bills? Or is camming a secret you'll take to the grave?
There are merits and shortcomings to each method of disclosure. If you plan on one day working in a field involving children, you probably don't even want to be in the same room as the term "sex worker," let alone say it on your profile or share it with people you don't trust implicitly. Some people prefer waiting to tell their dates about their jobs until they've gotten to know them a little, using the extra time to do reconnaissance on their potential partners before disclosing the full truth. One model who chooses this method says: "I'll test 'em out with the 'I know someone who…' a few times and cut 'em off right away if they act too judgy," but in the future, she "might just put 'camgirl' right there on the profile and if they don't want to talk to me after seeing it, they can save themselves some time." OkCupid in particular can be a goldmine of oversharing and an excellent place to gauge your date's tolerance of cammodels, given that there are questions point-blank asking if they could date a sex worker or if they would be accepting of a partner who works in porn. The saturation of questions dealing with sexuality can also give you a good idea how comfortable your potential partner is with sex, generally, and a lover who is experienced and knowledgeable.

Not everyone is in search of conventional dating. Perhaps one of the biggest issues about being out and proud on your profile is that a large proportion of people will be unable to see you as anything but a sex object. Your inbox will fill up rapidly with all the "hey"s, "hi"s and "mmm"s that you've become accustomed to finding in free chat or your Instagram DMs. The most conflicting part of dating this way is that people you'd love to meet—beautiful, successful, and talented—will slide into your inbox, low effort, sharing their lewdest sexual fantasies. And sometimes those of us who've been marginalized by society, like BBW's, LGBTQ people and people of color, will find that we're not just fetishized on camsites but in real life as well: "I've always wanted to fuck someone like you." If you're a kinkster looking for this sort of relationship, then you will definitely find what you're looking for.  I, personally have often found these sort of inquiries to be rather disappointing.
You'll also find yourself well-acquainted with the amateur porn star: usually vanilla-presenting men who record and share their sexcapades with anyone who happens to have their phone number. Just know that if he's freely sharing pictures and videos of his last hookup with you, he will show the same non-existent level of respect to you and your work. If you're pursuing this kind of person as Premium Snapchat or OnlyFans talent, make sure you get your papers in order; if you're selling porn you've made with someone else, whether or not they show their face, you need to adhere to 2257 regulations. A good rule of thumb about making porn is not to make porn with people you're not comfortable exchanging IDs with.
The unfortunate truth about giving out even the slightest amount of information online is that creepers are gonna creep. If you're taking shots during a cam show and letting loose tales of Tinder fails and OkCupid foibles, you better believe that someone's using your approximate age and location as search parameters in a fit of a thirsty, inappropriate boundary-crossing. I don't want to scare you, but from personal experience, it's a special kind of terrifying the first time you get a message on a vanilla platform referencing your porn persona. Even when you're out in your profile, it doesn't necessarily mean you wish to be found and pursued by your clients, customers, and casual viewers.
You can make it more difficult for creeps and stalkers by lying your pretty little heart out, either in camland or on your dating profile. For practical reasons, I recommend limiting the number of lies you tell on your profile because viewers won't care if you shave five years off your real age. But in the era of Catfish, people are often looking for any reason to claim victimhood over being forced to spend half an hour sipping mediocre martinis with someone they just weren't attracted to. Cammodels are often the queens and kings of obscuring personal information. I know of several models who've been nineteen for the better part of a decade! So I do understand where some of the rhetoric comes from. But when it comes to dating and looking for a mate most cammers genuinely searching for companionship.  
Another thing to keep in mind, and for good reason—is to avoid using pictures that can be reverse image searched. This is an easy point to ignore when a large portion of your job is being recorded and photographed; it can be hard to resist sharing that perfect selfie you just took for your promotional Twitter. Part of this is from the unfair pressure that's put on people, especially women, to meet certain standards to avoid being labeled a catfish or a liar. The impetus is on us to provide a slew of recent, up-to-the-second pictures for appraisal, because over the course of a year, many people will gain a hundred pounds or grow a second head. To prove we're not ostracized socially, we're encouraged to use pictures that other people have taken, and again, it can be hard to resist using one of the professional images many of us have. If discretion is your highest priority: learn to resist!
A recent change that OkCupid has implemented now requires that users use their real first names on profiles, unlike Tinder. Many many have grown upset by this change because of the obscene amount of information they previously felt safe sharing on the site; adding a first name to a set of search parameters (like age, location, career, college, etc.) suddenly makes it far easier to find and target people. This is especially problematic for sex workers who accidentally provide enough information on cam for clients to find them; it's one thing for clients to find your dating profile, it's another thing entirely for them to find your dating profile and your real first name. Of course, you can always use a fake name, but it's kind of unfair to be forced into a lie just to protect yourself, and it can be awkward to say to a potential romantic interest after a few exchanges that your name isn't really Jane.

A struggle every cammodel has contended with has been the constant flow of men who treat cam sites as dating platforms, whether through false advertisement or willful ignorance. Over and over again, we've found ourselves in positions where we have to gently remind men that if they're looking for someone to "get to know—really know—and be there for," they need to tab over to eHarmony because Streamate isn't the place to find their future spouse. But now many sex workers, casual and professional, are using dating sites to sell their Premium Snapchats, find potential finsubs, and boost their social media follower count. Understandably, it can be confusing for men who feel they're doing the right thing by only pursuing women in spaces specifically for dating; blurring the lines may be beneficial for your wallet, but they don't do much to encourage boundaries and limit annoyance.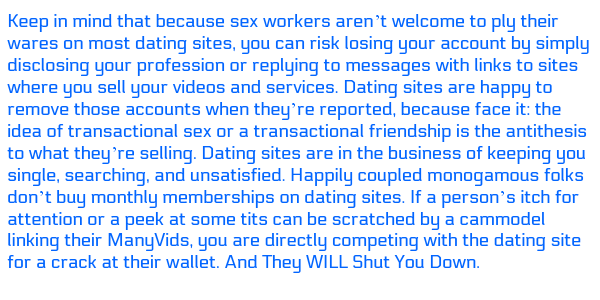 Ironically enough, a site dedicated to euphemistic sex work, Seeking Arrangement, doesn't allow potential sugar babies to disclose they're cammodel status. You can of course be a cammer on SA, but don't you dare admit it on your profile. The site will not block you, but your profile will become suspended for review until you make changes.  Other sites, like Feabie, which isn't specifically a dating site, but a fetish site that allows it's users to sort people by age, gender, orientation, location, and kink, initially embraced sex workers because they bring with them large followings.  But Feabie does place limitations on the number of posts displaying actual work. Depending on your success as a cammodel, another issue you may encounter is being reported for catfishing simply because your real pictures are of someone in the public eye. This is another reason to refrain from using pictures that can be accessed through a reverse image search. 
It comes in waves, but you'll often find that online dating as a sex worker feels like a lot work. Your "no"s are followed by a choruses of "why"s. Your inbox never empties, and the constant attention can be overwhelming. Burnout is very real and it's important to take breaks when you're no longer getting what you want from dating sites, or you realize that the effort you put in isn't worth the quality that's coming out of it. It's hard to bring your best energy to camming and filming when your head is telling you that you're sick of it all. Sometimes, the best safety feature on a site is a little button marked "DEACTIVATE."