A short while ago Xbiz Digital, a trade publication for the sex industry, published a piece created by an individual who works as the cammodel liaison for a popular camsite. In this piece entitled "Camming 101: Establish Boundaries to Keep the Fantasy Alive"  there are a few theories that run the gamut from quite sensible, highly debatable to…my realizing that most likely he has never performed as a cammodel. I'm quite sure that the article was written with the best intentions in mind, but as far as I can tell, people who aren't cammodels are, unfortunately prone to producing advice that quite often misses the mark. And this can be true even they are adult industry insiders. As it's quite likely that newbies would look to a piece called "Camming 101" for guidance, I felt moved to offer a response. Let's take a look at the article in question and see if we can enhance his advice on setting boundaries.
Example 1. A member complained that a model (with whom he'd spent 55 minutes in private chat) was wearing a wedding ring. According to the model liason, this is a valid complaint, and models should keep their marital status hidden. He writes: "While there are distinct fantasies, like cuckolding that make a wedding ring a part of the fantasy, most members are looking for single girls to interact with. Remember, that is part of 'selling the fantasy'."
Example 2. A model who gave her personal Facebook information to a customer, who then went to great lengths to harass and even blackmail her. On this example I believe he made some sensible suggestions here: don't share your personal details with clients, be careful about identifying details in your social media posts, etc.
If you're not thinking about it too hard, both these cases would lead to the same conclusion: don't disclose too much about yourself to cam customers, just be a fantasy girl on the screen. "Establish boundaries", the article title cautions, "to keep the fantasy alive". Seems wise, right? Maybe. The two examples are very different from each other, and you could even think they contradict each other. If customers didn't get the impression models were available to date them, you might be less likely to run into stalkers, blackmailers, and other bad actors who want more than a model is willing to offer.
Besides, these examples deal with two completely different issues, and you might even say neither of them is really about boundaries: the first is about sales and marketing, and the second is about personal safety. Both of these are important topics, in their own right, but a new model absolutely needs to think about boundaries, and advice in the piece doesn't help with that at all. Example 1, with the wedding ring, is especially strange, and I'm going to use it as a starting point to discuss what boundaries are – or are not.
What are boundaries?
What does it mean to establish boundaries as a webcam performer? I would argue that it means the following: decide on some rules about how you would like to be treated at work, and clearly communicate this to customers. Weed out the boundary pushers as soon as possible. This is extremely important: a camming career is a long haul, and if you feel miserable going to work every day because you're miserable there, your happiness suffers, your health suffers, and you burn out.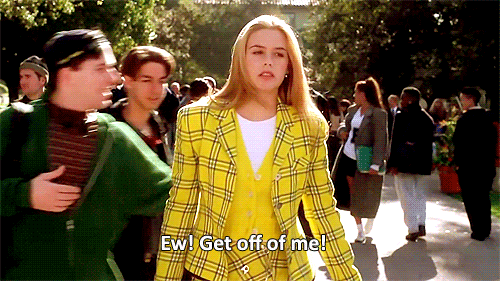 Boundaries are for the benefit of the model, not the customer or the cam platform.
The advice in Example 1 has nothing to do with setting rules for customers – quite the contrary, it has to do with setting rules for the models. Advice on what the model has to do so that the customer doesn't see something that makes him sad, and run complaining to site support, is certainly in the interests of site support. Is it in the interests of the model? That's highly debatable. We set boundaries to put limits on what customers do, how they talk to us, even who is allowed to see us based on their location. There are as many sets of boundaries as there are models. By definition, some customers will be unhappy that every model doesn't do exactly what they want – that's how boundaries work. Leaving cam site support to deal with complaints, so that we have peace of mind at work, is in part why we pay them a percentage of our earnings.
Cammodels need the freedom to be fairly arbitrary about the boundaries they set.
Each model will have a different set of needs so that she is happy at work. It's absolutely essential that she can pick and choose what she is comfortable with. Cammodels may not be in the same room as their customers, but we still offer sexual services – a category of work that's rife with emotion both for models and the customers. It's vital that the model makes her own decisions as to what she wears on cam. If I feel like a fool slipping on a crotchless catsuit, I need to have the ability to wear flannel pyjamas to work, no matter how many customers complain to support. This goes double for an item as personal and emotive as a wedding ring. If my ring is a talisman of my love and helps me feel safe and sexy, I have to be able to decide to wear the ring. Even if it's the case of not having to think too hard about what I'm wearing, so I can get online quicker for my shift, I need the freedom to do that too. Making these arbitrary decisions is important for the longevity of the model's career, and it's vital that cam site support takes the model's side on this at all times.
Cammodels need the freedom to set boundaries against things that can damage their income.
Boundaries are for your emotional and physical wellbeing, and that may not always correspond with making money fastest, or making the most money, or making money from each and every customer. That's OK. Healthy boundaries are likely to lead to a longer, happier career, and help you thrive long-term – they have nothing to do with the short term. Some boundaries may be so bad for business that you'd have to question whether live camming is the right career for you – for example, if you absolutely can't show your face online, it will be very hard to make money, and you might consider phone sex or sexting instead. Even so, you should be free to make this decision, even if you'll be turning customers away. To return to our example, it's possible that most customers are looking for a single girl (they aren't, by the way). But if you're a bad actress, or hate lying, or think it's a silly idea to give the customer the impression you're online to meet men instead of to sell sexual services, you need the ability to tell the truth, even if you lose business. Boundaries aren't about sales and marketing, they're about sanity. Sanity is also good for business long-term, but that's beside the point.
Sometimes personal boundaries may not be in the best interest of the camsite. And that's OK.
It's absolutely in the interests of cam sites that models are as efficient as possible at converting traffic into money. As far as a cam site is concerned, we are either "live content" or a sales force. They pay for traffic and send it into this conversion machine in order to squeeze out as much money as possible in the most efficient manner. This set-up doesn't really take into account what's best for each individual model, and can lead to site rules or advice that are bad for our business, like Streamate's social media policy, or our sanity, like models on some sites being penalised for not responding to customers quickly enough. Having healthy boundaries means that, unlike a sales force in a call centre, we need the ability to pre-filter customers, and decide in advance that some of them aren't worth bothering to sell to. The cam platform needs to be OK with that. The guy in our example, who is happy to spend 55 minutes in private, and then runs to support to whine about a wedding ring, is not a customer I would personally want to keep. A customer who has a problem with what a model is wearing, or that she is married, isn't somebody that every model will have the patience for, and while that might be inconvenient for the cam platform, the model's boundaries aren't for the platform's benefit.
So there you have it. "Keeping the fantasy alive" could be sound business advice – which isn't true, by the way: chasing a fantasy is only one of the reasons customers pay for live cam sessions – but business reasons are not why you set boundaries. Nor do you set them to please the customer, or to make your cam platform happy. They are for you, the model, and your long-term happiness in your career.