This years most controversial bill, AB5 is re-written and re-classified giving certain gig economy workers like Cammodels new exemptions. When Assembly Bill 5 originally passed, Cammodels residing in the state of California were no longer classified as independent contractors. This would leave some camsites no choice but to stop working with those cammodels all together. AB5 would force companies accross the state to provide full employee benefits to gig workers who before did this independently.
But the financial constraints of having to re-work an entire business plan on such short notice left many cammodels scrambling to find a site to stream from. The only camsite willing to work out a system that would allow most cammers to continue to stream on their platform was Streamate.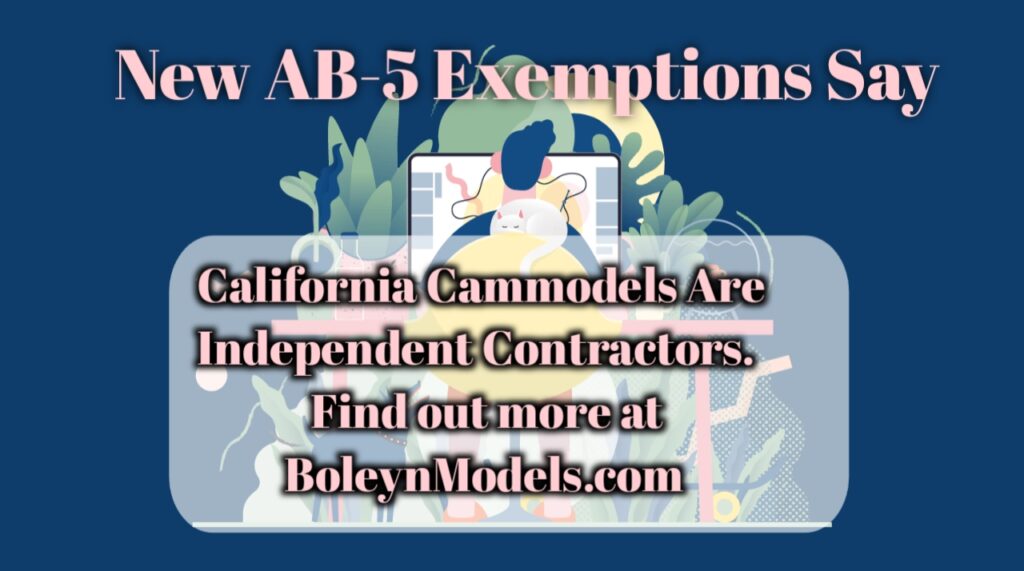 Streamate created their very own virtual studio called CalGems. The new studios' responsibility was to apply rules keeping track of hours worked, overtime, meal and rest breaks. According to my research most cammodels found it to be incredibly confusing and not very organized at all. Which allows me to announce some very good news for cammodels in California. Now that Streamate's Calgems studio has been disbanded due to new AB5 exemptions, models are free to re-sign with Streamate directly. The best part is you can now work with us at Boleyn Models and our daily pay studio. California residents may now apply for Streamate again through BoleynModels at any time. Those that have been previously in BoleynModels and are now in CalGems may email Liz and ask to be reinstated with BoleynModels if they wish. This must be done before October 3rd.