One of the many obstacles and annoyances that many cammodels face are related to stolen content that's then spread all over the internet. Many will spend countless hours scouring the net looking for their content and filling out take down forms for DMCA services. But unfortunately fighting piracy as a cammodel who streams live on the interwebs is like playing a never ending game of wack-a-mole. Because once you're done filling out a dmca form and waiting for the stolen content to be removed another recorded show appears on a different website. Sometimes it's the very same website that you may have contacted in regards to a takedown on a previous date. It's never ending and becomes extremely time consuming. Now there's anti-piracy and privacy protection services that we can rely on to assist us with having stolen content removed from shady websites.
How to navigate piracy & privacy online? 🔒 Industry trailblazers @CatCandescent @DDestiny_Diaz @KorinaKova & @NoahBensiSFW are sharing how they protect themselves & their brands.⚡️

Join the talk on May 25th at 5:30PM EST on ➡️ https://t.co/YZItclY49t. pic.twitter.com/r0IhDUZjsJ

— BranditScan (@BranditScan) May 19, 2021
Fortunately services like BranditScan provides assistance for models and has a system created exclusively for cammodels and adult content creators. One of the benefits to using a service like this will offer up more control of your content as well as maintain a successful life long after you retire from your cammodel career. . When a Cam Model signs up for a a complete package they will monitor the Internet 24/7/365 for your pirated images, videos and live webcam recordings. So even when you want to move on to a new chapter in life and and may not be able to find all of your x-rated content a takedown service may be required to assist you with deleting your adult worker past. A take down service will file on a cammodels behalf and make sure that pirated images, live webcam shows plus videos are eliminated from hosting services, search engines and tubesites.
BranditScan even offers a free one week trial to test out their anti-piracy and private protection service. Models can choose from one of three levels that fits with whatever budget a cammer has. It's recommended that newer cammodels start out with the one week free trial. This is perfect for a performer who may not have a large catalog of clips or camshows under their belt quite yet. However the Starter program does not include daily link removals or removal from social media, google search and google images.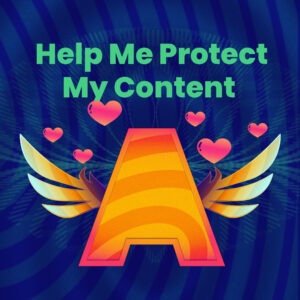 As you become more and more popular in you webcam career you may find yourself needing more protection and should probably opt in for the Superstar program. Veteran cammodels who sign up for more than the free trial program are given access to a personal assistant who will manually search for your stolen content each week. And if this isn't something that you want to spend money on, BranditScan will even allow your customers to gift you a takedown package as a way of showing you how much they appreciate you. To learn more about Branditscan visit their site and see why so many models are using their service.