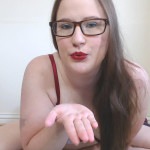 CamModelDirectory is a great site for models new to Skype-based camshows and experienced indie models alike. When paired with Boleyn Models, CMD pays out 71% of your sales daily. As one of the longest-established listing sites, CMD has a good reputation with customers as well as some of its own traffic. As with any independent cammodel site, you have to promote your own link, but to maximize CMD's existing traffic, you need to get as many eyeballs as possible on your profile and listings. The more exposure you get, the more opportunity you have to convert browsers to customers. There are 4 ways to get your profile and listings more attention than the average views from your natural placement: bidding for a featured ad, uploading a video, refreshing a listing, and showing up in search results. Using these 4 tactics together will increase your exposure on CamModelDirectory, which can result in an increase in sales.
Bid for a Featured Spot
The easiest (and most expensive) way to bump up your CMD profile views is to pay for a featured ad spot on the top banner. I'm not going to address the controversy surrounding the bidding process, because regardless of one's opinion on the ethics of sites charging a premium for advertising on top of their sales commission, featured ads on CMD work in terms of putting more eyeballs on your profile. Not only are you listed on the top slider (which shows on the main page as well as on all of the category pages), but your listing also appears at the top of any category you are in, and you show up at the top of relevant search results.
If you choose to go this route, make sure you properly calculate your true costs when determining your maximum bid amount. CMD takes your bid amount from your net sales at 75% of gross, and Boleyn Models takes that same bid amount from your net of 71%. In other words, a bid of $40 requires gross sales of $57 (40/0.71) to cover. Any week you are featured can have a knock-on effect in raising your natural placement during the following week if you have increased sales, as placement outside the featured spots is calculated based on sales in the previous 7 days.
Upload a Video
Everyone loves something new–it's why new camgirls bank during "new model" status, and why every site from Amazon and Modcloth to MyFreeCams and Cammodel Directory has some kind of "new" section. There are 2 ways for a model to take advantage of the "What's New" section on CMD to increase exposure: uploading videos and refreshing listings. While I have never actually sold a video through CMD, I have often used it to get me to the top of "What's New". When a potential customer clicks on a video listed in "What's New", they are taken to the video listing, which has a link to chat with you on Skype right at the top! Your profile is just a click away, too, and there is nothing stopping you from adding information about your live shows or linking to a related listing within your video description. Using your existing content to get yourself more exposure via the "What's New" page is a quick and easy way to increase views.
Refresh a Listing
Posting a new listing gets you to the top of "What's New", but what do you do when you've run out of categories to post in? As a brunette I suppose I could post under "Blonde" or "Redhead", but men browsing in those categories won't be looking for what I offer (not to mention that this kind of posting would make me look like a complete asshole). Instead I "refresh" my listings by copying the content, deleting the original listing, and creating a new listing in the now-available category with the copied content.
To avoid ending up with broken links from this process, I recommend promoting your CMD profile link on your social media, not individual listings. I also refresh my lowest-performing listings regularly, leaving listings with thousands of views intact. You can use your dashboard to determine which listings to replace, either by choosing the listings with the lowest hits in the table, or by ensuring you avoid the listings that customers tend to pay through.
Show Up in Search Results
The search bar is at the top of the page for a reason: serious guys with time limits want to find exactly what they are looking for. Especially when it comes to fetish customers, search results are important. Do you offer fetish shows? List your favourites, write about your strengths in both your profile, because it's your profile that shows up in search results.
Some models have chosen to format their profiles using images for the main content–don't do this. Text in images is not searchable, and won't help potential customers using the search bar to find you. One place you should use images containing text is listing things you don't offer–that way, customers searching for models offering those types of shows won't see you in their search results.
CamModelDirectory offers a lot of opportunity for cammodels willing to put in some effort to grow their sales. If you have a good profile and strong listings, getting more views is a crucial step on the way to more sales. These 4 actions will help you increase your views on CMD.
TEXT FOR IMAGE CAPTIONS
Video listings have direct links to chat with the model on Skype, making them valuable in getting you in front of more potential customers.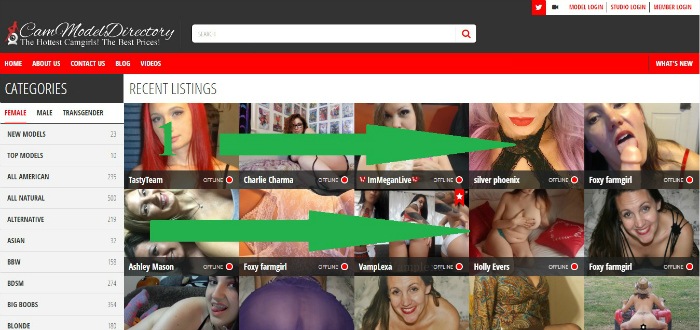 Refreshing a listing or uploading a video put you in position "1" on the "What's New" page. As more models create new listings or videos, you move to the right and down along the page. Featured ad spots do not affect placement on this page.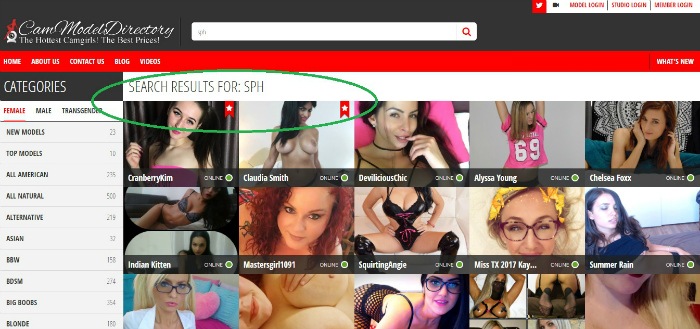 Featured ads show up first in search results.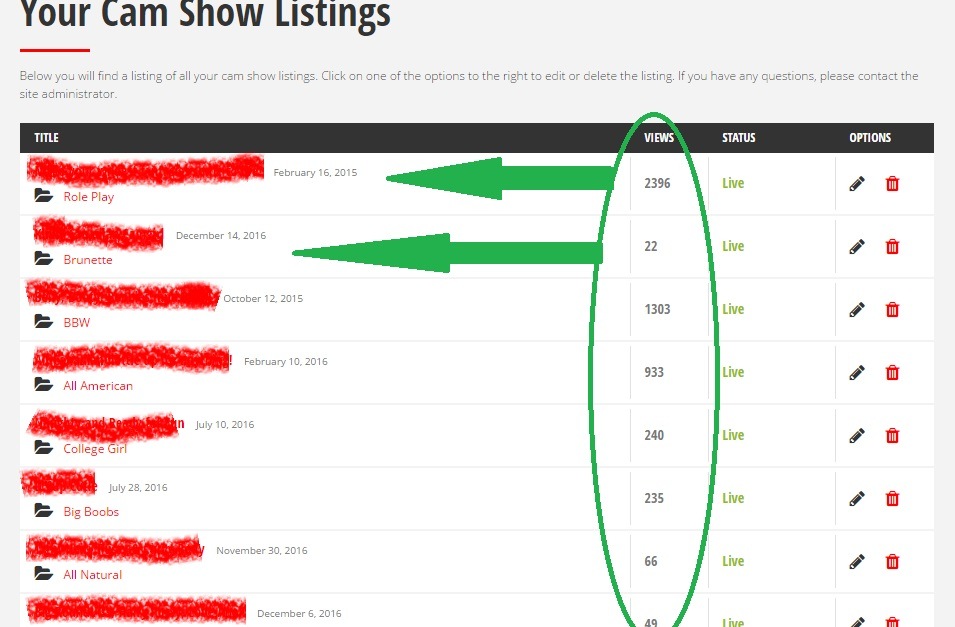 Use listing views to decide which listings to refresh. Leave your best-performing listings alone.