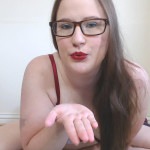 When most people think of Manyvids, they may first think of the vids/videos of its name, but Manyvids is much more than a place to sell sexy clips. A relative newcomer to the clip sales world, the popularity of Manyvids has exploded over the past 2 years with creators and customers alike. Though its payouts are slightly lower than many of its competitors (60% bi-weekly direct through Manyvids, 55% daily through Boleyn Models), the functionality and visual appeal of the site, as well as the variety of digital and physical goods and services permitted for sale, have allowed Manyvids to overcome this potential drawback. The rapid growth of Manyvids has sometimes strained the site's staff, but their dedication to simple sales and open communication between models and customers keeps buyers coming back. Messaging customers privately or publicly is simple, and the ability to "heart" your profile and individual videos and store items lets potential buyers build an ad-hoc "wish list" for future reference. Manyvids has created a social selling site, and their success shows that they've tapped into something long absent from the cam and clip market.
I started out on Clips4Sale, which made coming to Manyvids a bit of a learning curve. Suddenly things were simple and straightforward, the pages were attractive, and navigation was simple and modern. I've put together a quick primer, so you too can start getting paid daily for selling videos, panties, texting, and more with Manyvids and Boleyn Models.
How To Sell Videos On Manyvids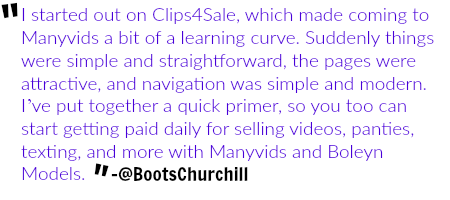 It's hard to give a simple overview of the "Store" section on Manyvids, as the items that can be sold through it are limited only by the law and your imagination (and their Terms of Service, which is pretty much "don't sell illegal things", but you should read through it). Snapchat subscriptions are common items, as are add-ons like personalized snaps and dick pic privileges. Dick ratings, assignments for submissives and slaves, prize wheel spins and every kind of game and challenge you can imagine are some of the digital items you might find for sale. Selling panties, shoes, socks, bras, sex toys, autographed photos, and other physical items is quick and simple through Manyvids, which is a huge plus for those of us who also work on other platforms that forbid the sale of physical items. You can list the videos items have been used in, which can increase cross-sales. Not sure if you can sell it? There are (i) links right on the item listing page to help you sort out what is and isn't allowed.
Membership Sites With Manyvids
No membership site? No problem! Choose which of your videos to include with memberships, and set prices for 3, 6, and 12 month plans. New videos will automatically be added to the membership so your fans get access to all your hot new content for the duration of their subscription.
Selling Skype Shows & Texting With Manyvids
Use Manyvids to sell texting plans (through your phone number or a messaging service like Kik), Skype shows, custom videos, and run contests for your fans and customers. There are a variety of options for each service, including offering a "best price" option for longer shows and videos. Running a contest through Manyvids gives you a simple link to send people to for rule and prize info, and a quick way to tweet your info out.
Cammodel Funding: Manyvids has an option that allows you to crowdfund a goal amount, and even lets you set "rewards" for certain donation thresholds.
Contests At Manyvids
Manyvids has gotten a lot of attention for its regular contests. They run a "Daily Grind" challenge, a themed "Winning Wednesday" competition each week, as well as more contests on a less-than-weekly basis. Votes are individually free, though paid votes are multiplied depending on the value of the vote. Models offer a wide variety of incentives and offers for paid votes, and the standings are updated live. I personally do not participate in the contests (all are opt-in), so I can't elaborate on how to make them benefit your exposure or your sales.
Onsite Self-Promotion Is Allowed
In addition to easily allowing you to link Twitter and Tumblr accounts directly to your Manyvids to auto-post your videos, store items, and services, Manyvids offers other ways to increase your sales.
MV Links: Send download links for one or more videos directly to another person. I use this to sell "video bundles" (you may have seen these as "buy this video and get 9 more!"), and other models use them to send out videos as prizes or incentives. Links are good for just one use, and do not require any purchase from the recipient.
Discount Codes: Want to offer a special deal for your Twitter followers? Or maybe your premium Snapchat subscribers deserve a little spoiling. Use the promo code generator built into Manyvids to generate a coupon code that can be used an unlimited number of times for a % discount you select. You can also track the number of times the code is used to track the uptake of your promotional efforts.
Sales: Don't feel like messing with coupon codes? Want wider uptake of a discount? Have a sale! Mark down videos and store items individually or collectively to control the deals you're offering. Especially with daily pay through Boleyn Models, putting content on sale can be a great way to make some quick money. You'll notice a lot of sales happening near the end of the month on Manyvids, so scheduling your own sales closer to the start of the month can help them stand out, especially if you're not tied to the MV payout schedule.
If you want a simple site with a wide variety of sales options, Manyvids is it. With everything from simple links (YourName.manyvids.com takes you right to your profile) and social media options to physical item sales, memberships, and discount codes, I can't think of another site that has such a low barrier to entry. No setup fees, flat payout % across all categories of sales, a simple messaging system, and great video listing options. Check out Manyvids with Boleyn Models today–you won't be sorry.