If you've ever wanted to turn your dslr camera into a webcam while saving money…you're in luck because Black Friday and Cyber Monday are just around the corner.  Turning your dslr camera into a webcam can be a great way to upgrade both your live stream and content videos. Currently the cammodel standard for streaming devices is still the Logitech C920.  And it is still a great little webcam at an extremely low price, but if you want to be able to add certain effects while streaming you're gonna need to step it up with a mirrorless camera. Those are better because they come equipped with larger sensors that can detect features meant to standout in low light settings. If that last line sounds confusing don't worry because I'm going to break it all down while making a few budget friendly suggestions. I will even recommend a few other mirrorless cameras for perhaps when  you're ready for the next upgrade. But for now this guide will feature cameras that are under $600 and are great for cammodel streamers who want to use DSLR's as webcams.
Reasons Why You May Want To Turn Your DLSR Into A Webcam
Webcams are not equipped with the sharpest quality. DSLR's come with more pixels.
Extremely vibrant color effects in low light settings are hard to depict with webcams. A mirrorless camera will give you the "Ethereal Glow" you've been searching for.
Creating a greater field of view is more obtainable with mirrorless cameras. Bring on the bokeh effects BB! 🙂
This is a competitive industry and you just simply want to stand out from the pack.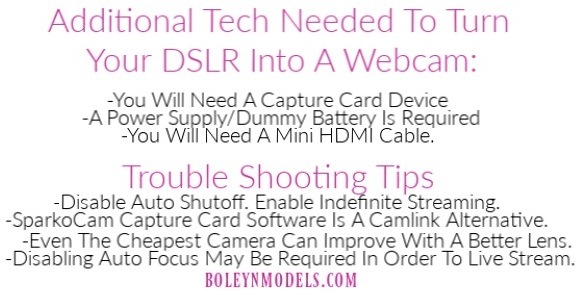 Before I get into the rest of this guide I'd like to elaborate a bit more on why you should take advantage of  camera deals on Black Friday and Cyber Monday.  Investing in a DLSR camera can improve your cammodel business additionally if you like creating promotional videos for online marketing. In all honesty the process used by Youtubers and Gamers on Twitch or Mixer is very similar to what we camgirls use. As I've stated in previous articles we basically use the same equipment. The only real distinction we should make between these group of streamers is that there are those who want to enhance their business and provide customers with high end results, and there are some who are more interested in clocking in and then clocking out.  And the latter is perfectly fine but if streaming is your primary job, then you may want to look for new ways to start increasing your profits.
My number one recommendation for novices would be the Panasonic Lumix G7.  This was my very first DSLR camera and I found that it has an easy right out of the box setup system especially when paired with the ElGato Camlink 4k. Also the price point is… on POINT!  Right now Pre Black Friday sales you can find the Panasonic Lumix G7 4K Camera on Amazon for only $497. It comes in a bundle that includes an interchangeable lens, tripod, led light, shoulder bag and more.  This camera is also currently discounted on BestBuy for $449 without bundled accessories. I got mine a few years ago for much more and right now I'm absolutely shook looking at these prices.
PROS For The Panasonic Lumix G7 And Live Streaming
It provides a clean HDMI output that can be accessed directly from the camera settings. Most budget friendly cameras under $600 will only provide a clean HDMI output if you disable the auto focus. With this model that's not necessary.
Clean HDMI is the ability to feed a live signal from your camera's sensor through the HDMI port without any of the onscreen info you might have displayed in your view finder. You don't want all of your camera settings showing up in your camroom. #DatsGhetto
The viewfinder is 100% flippable. That means you can use it to view yourself if you want to see how your steam is looking. This comes in handy when you're creating clips.
It comes with an audio jack.
It streams 1080p at 60 fps.
CONS For The Panasonic Lumix G7 And Live Streaming
If you decide to utilize the auto focus features on this camera you should know that it's not as great as some of the other brands. Panasonic are known to have slower auto focus features. But you can always use it in manual mode and their are lenses that can improve the quality of this feature.
It is a 16 mega pixel camera. There are other cameras on this list with more mega pixels but they can be a little more complicated when it comes to setting up with  devices like the ElGato Camlink capture card.
Another option that tends to run at lower cost are older cameras from the Sony Alpha series, in particular the Sony A5100.  This is a great startup camera and is extremely affordable with great features. In some ways the Sony A5100 is even better than the Panasonic G7 but it doesn't shoot in 4K quality. However it does provide a crisper image and has better auto-focus. Sony is great for that sort of stuff and also works well when pairing with capture cards. Right now it retails on Amazon with an accessory bundle for only $448. But if you want to find it at an even lower price minus the bundle, it's also on Amazon for only $398!
PROS For The Sony Alpha a5100 Mirrorless Camera
It provides clean HDMI output without disabling the auto focus.
It has a 24.3 mega pixel censor. However it does have a cropped sensor like all of the other cameras on this list but it's still performs very well in low light settings.
It's compatible with the ElGato Camlink 4K capture card.
It has a 3 inch flippable touch screen that you can see while streaming.
Cons For The Sony Alpha a5100
It doesn't have an audio jack. I don't believe this to be a deal breaker considering most of us use external audio devices like the Blue Yeti microphone.
It's not a great camera for outside usage due to the view finder being somewhat difficult to see in direct sunlight.  Outdoor camshows could be somewhat difficult.
When recording for more than 30 minutes it's been known to overheat. However as a clipmaker I rarely record footage for more than 15 minutes at a time.
Moving on to a pricier option is the Canon EOS Rebel SL2. I've owned this camera for about two years now and I absolutely love it. It's not the latest in the rebel SL series but is less expensive than the newer ones and still has many of the same features. I personally don't see the point in purchasing a Canon SL3 when the SL2 is still being sold.  Right now Pre Black Friday and Cyber Monday sales, this camera is going for $589 with an accessory bundle on Amazon.  I couldn't find it listed on Bestbuy's website but there are sellers listed on Ebay selling the Canon SL2 for as low as $435 used. Who knows how low the prices will be in the next 48 hours?
Dual Pixel Auto Focus
It provides clean HDMI output. *But requires some maneuvering and understanding of how Canon's work.
Comes with the Canon Feature Assistant Mode. This is great for novices just getting started and I would compare this feature to something like Cortana for Windows or Clippy from Win97. Pat yourself on the back if you remember that guy. You deserve a bonus hi-five if you've ever played the Oregon Trail. 🙂
It also has built-in Wifi plus Bluetooth capabilities.
Cons For The EOS Rebel SL2 And Live Streaming
While this camera is capable of giving a clean HDMI output…it can be a pain in the ass if you are unfamiliar with Canons. While the Camlink Camera Check page list this camera as being compatible.
*You MUST disable auto focus to achieve a clean HDMI output when using the Canon SL2 for live streaming. Plus you will need to continuously press the INFO button on your camera until the overlay box goes away completely. It took me far longer than it should have to figure this out. 
There is NO audio output when sending data through HDMI. You will need to use an external microphone like a Blue Yeti.
The Canon EOS M50 4k dslr camera is the most expensive camera on this list. Right now its available in an Amazon bundle for $599. You can also find it elsewhere but again it doesn't come with the additional accessories found on the Amazon website. That bundle includes two 32gb memory cards and a full length tripod. In my opinion paying the extra money makes this worth it. The Canon M50 is probably the most popular budget friendly camera for live streamers at the moment.
What you will need to operate this camera for your live streams:
Power Supply/Dummy Battery for the Canon M50 on Amazon for only $22.
This camera is listed on the ElGato Camera Check page as providing a clean HDMI output therefore making it compatible with the Camlink 4k. However I DO NOT own this camera and have read in many reviews that pairing this capture device with the M50 was extremely complicated. Some streamers are saying that it's better to use SparkoCam's Capture Device software.
A fully licensed version of SparkoCam is $100 for one year. On the other hand you can get capture card hardware right now for $100 as well. Except with the hardware it's a one time fee and doesn't require renewal each year. But If you're deciding to turn your Canon M50 into a webcam the SparkoCam option may be better suited for you. It's available for PC only and has a dashboard that makes adjusting your camera settings so much easier.
You can easily turn off the HDMI display with SparkoCam.
Disable Auto Focus
Disable Auto Shut Off. This is important for live streaming. Most cameras are set to turn off or go into rest mode after 30 minutes.
Plus SparkoCam can be used as splitcam software.
If you're looking for additional ideas to enhance your cammodel business while saving money take a look at our article on Cyber Monday Deals For Cammodels.