Hello Cammodels! Through the power of the internet I would like to share some sexy geek knowledge for cammodels just like me, who use their sex appeal, beauty and special gifts from the goddess to make horny men cum. And I would love to help ensure that you continue to make some serious bank while working from home!
In recent years, camsites like Streamate and Livejasmin are now demanding that cammodels provide higher quality and are now rewarding models with placement bumps if they can maintain these specifications. Buzzwords like HD video, audio, 1080p are the norm and sadly not many models are knowledgeable in regards to what sort of computers and technology is required. I and Boleyn Models would like to help them get the gear that'll let them produce higher quality content and stay competitive. If you don't you may miss out on potential customers due to lower placements on big box sites, or customers choosing a different girl because her stream looks and sounds much better than yours.
And that's where we come in! And why not take advantage of the crazy holiday sale days such as Black Friday and Cyber Monday to gear up on the best hardware you can get to maximize profits?
Laptop Or Desktop?
This is a tough one and it all boils down to personal choice.
A laptop will certainly allow you to cam from ANYWHERE in the world, assuming you bring your webcam, tripod and find a place that's nice enough for you to feel comfortable. Also you must have good lighting and a high speed internet connection. Also for the most part, Laptops are next to impossible to upgrade, they're usually slower than desktops and if the computer dies, it's much harder to service them and have them back up and running in one day.
With a desktop, you're sacrificing mobility and it'll certainly consume more electricity depending on the specifications of your machine, but you'll also get higher serviceability, lower maintenance costs, more reliability and a MUCH higher bang for the buck that'll pay itself in no time. We're talking of computers that'll give you 1.5 times as much power as a laptop of the same price, If you're willing to build the PC yourself.
In the end, it's all a matter of what you prefer. I personally have a custom PC that I built myself in 2013 and made some upgrades over the time (Graphics card, for the most part as I'm a gamer and I also stream on Twitch.tv) and I also have a Mid – 2012 non retina custom MacBook Pro that I snatched on ebay for $500. This means that I have the option to cam from a hotel room if I want, which is nice.

I'll show you three different target budgets using parts I picked with cammodels in mind. Yes, these are for custom built PCs, but don't worry. Building a PC is quite easy nowadays and there are plenty of guides online for it. If you don't feel too comfortable building it yourself you can always go to your local BestBuy or Newegg and ask the geek squad to build it for you for a small fee, tested and all! So, don't be scared to buy the parts yourself and have your own custom computer!
All of the builds have the following parts in common: Motherboard, processor cooler and thermal conductive paste. These three components will support any of the CPUs I picked for this article and will allow for considerable scalability in the future, allowing you to max out the RAM memory up to 64GB, use a capture card and ensure you'll have a system as stable as possible under heavy operations such as editing video in 4k 60fps. Any of the following builds will last you for at least 3 years with exactly the same top notch performance, assuming you take good care of them.
Keep in mind that this cost ONLY COVERS THE DESKTOP. Other devices such as the webcam, monitors, mouse, keyboard and other things are sold separately and may cost an extra. I'll add some personal suggestions at the bottom for those. I picked the prices from Amazon.com as it's the easiest way for you ladies to get the pieces you'll need.
Let's Call This Build: The Lace Machine Gun

The intention of this build is to give you the basics, hardware wise, to let you stream to your favorite cam site, do skype shows in 1080p quality and edit any video you produce in 4k, hassle free, without breaking the bank account.
Total price for this build: $849.90 + shipping (Free in the US if you use Amazon Prime)
---
Build Number Two: The Puss-O-Tron9001

This build is pretty much the best bang for the buck you can get for content production and if you want, gaming (Even in VR). And yes, playing games on the PC is glorious! Never mind that it'll let you stream games on twitch.tv if that's your thing as well.
Total price for this build: $1,199.15 + shipping (Free in the US if you use Amazon Prime)
---
For the OS, as it'd be the same on any build, I pick Windows 10 Pro. I wouldn't personally cam using Linux but if you're geeky enough, feel free to try it. The problem with Linux is it's an operating system that's not supported by ANY of the camsites. If you run into tech problems anywhere down the line you are essentially on your own. The more time you spend tinkering with tech issues the less time you will spend on cam making money. And that's just not how it's supposed to work.
I suggest the following laptops for cammodeling because they have VERY powerful processors and enough RAM to let you do all of the multi-tasking you'll need to make clips and stream.
LENOVO  is a well built, balanced machine and the brand is known for high quality, inheriting the design principles of IBM when they used to make computers. Think of this Lenovo IdeaPad as the mobile version of the Lace Machine Gun. Price: $884.99 + shipping (Free in the US if you use Amazon Prime)
ASUS LAPTOPS, this is the best you can get for mobile without breaking your bank account. It also has a Thunderbolt 3 port (Through the USB 3.1 type C port), exactly the same ones that the latest MacBook Pros have WITHOUT PAYING AS MUCH as with an Apple laptop. This means you'll have a plethora of expandability with that laptop. Think of tons of external hard drives, graphics cards, monitors, anything you want to plug into it that works with the newest MacBook Pro will work with the Asus Laptop ROG G752VT  feature. Price: $1,373.50 + shipping (Free in the US if you use Amazon Prime)
If you notice carefully both laptops have exactly the same Intel Core i7 6700HQ processor, so no need to worry about that. Either way you'll get a pretty similar performance in that regard: HIGH! Be warned that the Lenovo laptop does NOT have a Thunderbolt 3 port, so if that's important for you, keep it in mind.
Now, needless to say it makes no sense to buy all this computer gear if you don't use a good webcam. Logitech has released a newer webcam: The Logitech C922. What makes this so great compared to the C920? First of all, it takes 1080p video at 30 frames per second, and 720p video at glorious, PC master race worthy 60 frames per second. It's also worth noting that it still takes 720p video at 30fps if you prefer a higher video quality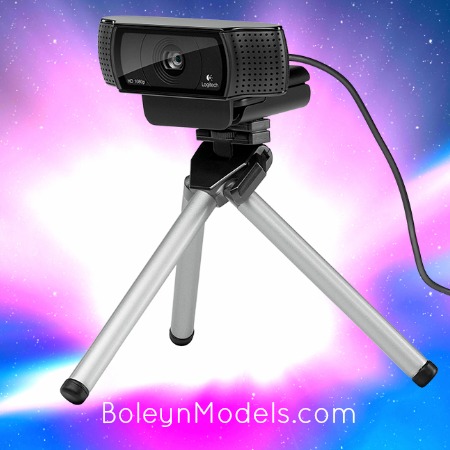 As for a tripod, I strongly suggest you to get one. I personally have the following one below. I find it best to have a tripod that allows you to you to attach and detach your webcam at a fast pace. Sometimes your camshows are like rapid fire and each client may require a different camera angle.  This way you can switch between bed, desk or any place where you're camming on the fly.
Many cammodels have wondered if they should use an Ethernet connection with their computer or if it's ok to use WiFi. This is a tough one, as I personally prefer Ethernet for a more stable internet connection because its more reliable. However, if you use a good quality router that has a strong transmission rate and you protect your wireless network so only YOU (And your loved ones) can use it, for the most part you'll be fine. If you do decide to go wireless for things like outdoor shows, you will need to factor into the equation things like interference. What devices are between you and your router? Keeping this amount to a minimum helps to ensure that your stream will maintain top speeds.
When you call your ISP to order high speed internet, be sure to ask them specifically about upload speeds. This is what's most important when performing live camshows online.  It's pointless to have the best computing, recording and networking gear in your house if you're still sporting a dial-up internet connection! Do those still exist?
That's all for today and thank you so much for reading my Black Friday Cammodel Computer Guide! If you're not able to get out today and go shopping, remember that Cyber Monday is in just a few days. Some smart consumers say that buying online vs. in store is the best way to go. If you have any comments, I'd love to read them down below and please don't forget to share and follow me on twitter @scarlettpixl for more geekiness!