Quite often performers enter the world of cammodeling without much thought to what sort of cammodel they'd like to be. Many are unaware of things like online sex workers who perform for kinksters acting out role plays and fetishes. Usually becoming a fetish cammodel is something that occurs much later in their careers. But something I've noticed when it comes to live interactive fetish models the journey into the world of kink is something that most models stumble upon and learned along the way.
How Do I Become A Fetish Camgirl?
Most people will immediately think of bondage and mistresses when the topic of fetishes is brought up. But the truth is what's a legit fetish and considered kinky can be just about anything. It's more than the idea that people are either dominant or are submissive. Being a fetish cammodel isn't even about the performer being a switch either. It's very possible to be perform live kinky camshows that don't involve those things at all and still provide a unique experience. For example there are fetishes like voyeurism and sneezing that have zero involvement with a persons need for control or complete submission. And voyeurism can be so many things and involve more than someones need to stand by as someone watching the object of their desires.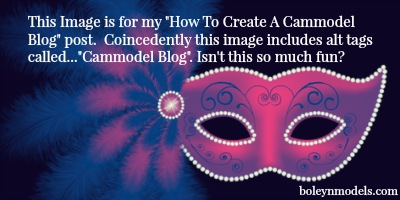 As a cammodel becomes more and more knowledgeable in the sex industry and grows more comfortable with performing live camshows, they may then start to delve into fetishes. When you become more and more popular and confident the possibilities will increase. Members will make request regarding things like ass worship, foot fetish and fantasies involving tales of cuckolding. And it wont be long before you realize that the idea of mainstream masturbation shows aren't going to be a routine occurrence. This isn't to say you won't be able to have a say in whether or not you exclusively perform fetish shows or something more vanilla. But there is definitely a demand for fetish performers and and sometimes the fetish chooses the model and not the other way around.
Sometimes members choose models to act out a particular fetish based on their look and this isn't always the most accurate way of getting their needs met. What I've found as a fetish performer that it's best to keep an open mind and research different request. It's not imperative that you act out each fantasy thrown your way but doing proper research on common request can increase your profits. If you're unsure of what something is it's okay to let a customer know and save the camshow. Be honest not only with them but yourself as well. For ideas on different types of fetishes I would suggest websites like literotica.com that are filled with erotica and detailed descriptions on various fetishes.