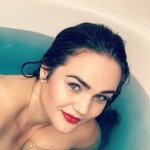 I've been on an fast and upward trajectory for amazing opportunities starting back in September of last year. That's when ManyVids announced they'd be attending their very first AVN Adult Entertainment Expo held in Las Vegas from January 24th to 27th 2018. In addition they would be start searching for MV girls to represent them at their booth. Of course I got very excited when I had read their blog post, and I immediately responded. With a few months to plan, I knew I'd find a way to make it all work out. I had never been to an adult industry expo yet, but it has always been on my bucket list of things to do. I've been in this industry since 2009, and so many people were shocked to find out that I had never attended any of the conventions until now.
So I contacted the ManyVids team right after I got the news. I was nervous as I knew there was a chance they wouldn't pick me to represent them at their booth- just as any other girl that put their entry in. We had to tell them why we thought we should be chosen. Just a few days later I got my exciting email announcing they have chosen me to represent them at the AVNs along with a handful of other girls, for each day. Now that it was official, the fun had really just begun. Between planning and discussing video content collaborations with fellow girls- time flew by and I was already on the plane headed to the beautiful and extravagant Las Vegas!
Once I arrived at the AVN Expo I began to prepare for my  live ManyVids takeover directly from the booth and it was my first day in Vegas therefore I kinda wanted to take it as easy as possible.  The reason why I had to take easy was because of the MFC model meetup.  I'd been a model on MyFreeCams since 2010 and there was no way in hell I was going to miss that. MFC had a vip suite that was amazing and the open bar game was on point. So was the security. But because my schedule was so jammed packed this is the only MFC event I was able to attend. I tried to make the most of my trip count as much as I could because to be honest, I'm extremely proud to be an exclusive cam girl for MFC. Mainly because they care so much about their models and really put in a lot of effort thinking about our growth as a team and business partners. They really do go all out. Towards the end of the expo there was a private show by Lil Wayne exclusively for models on MyFreeCams.
Once the AVN Expo officially began I got the chance to finally meet Scarlet Raven a fellow Boleyn Model and content creator who recently got the chance to visit the ManyVids Loft. Meeting her and the amazing representative from Manyvids helped me to embrace all of the warm hugs and smiling faces and they also helped to calm my nerves quite a bit. I immediately felt like I was just part of the team, it was great!
Speaking of  going all out the ManyVids both was filled with all sorts of swag bags and they were incredibly generous when handing them out. to hand out to passerby current or potential MV stars. We each got our own goody bags full of even more swag- including a beanie, leggings, crop top, knee high socks, etc. I had got some business cards made prior to the event and spread them across parts of the booth. Other girls had actual prints made, 4×6's, 8×10's, etc. I would definitely recommend printing out some 4×6's to hand out as well, I know I will next time. People passing by loved getting free photos of a hot girl with her name attached.  Let me just say, there was literally hundreds of photos taken each day.
Being an exhibitor at the AVNs definitely makes you feel like a celebrity, except I didn't end up doing much signing, just a ton of photos. Most people I encountered were very respectful, but I would be lying if I said I didn't get a few touchy feely, happy hands as well.
Even though I had seen it many times before I was surprised when some person would assume they could touch my breasts and/or backside without asking. To the visitors that didn't assume or asked these things first, regardless of my answer, thank you.
My only real regret is I didn't do as much planning for my MV Takeover as some of the other ladies.
Everyone else had games to play, purchased toys, props and other awesome ideas.  Thankfully a handful of my camsite regulars showed up  to spread the love despite the fact that all ManyVids take over involved zero nudity. Now that I'm home I look forward to having another takeover from the comfort of my home where I could really show my tippers a better time. Or at least if you do a takeover live from the ManyVids booth make sure you have ideas, games, raffles, or whatever it is you decide to do ready to go to entertain and entice your room.
At the end of the day, I was so honored to have joined ManyVids in this big event even though I was so nervous.  It truly was not as nerve but  ready to take on day #2 at the MyFreeCams booth
on Thursday
. When I arrived back to the Hard Rock Casino, where the AVNs are held, I made my way to the MFC Lounge- a special spot for MFC girls only. There you will find an absolutely ridiculous amount of MFC goodies! Like literally so much swag, you'll have to see it to believe it.
Kisses 💋 #MVGirls pic.twitter.com/A8PPchpMLc

— ManyVids (@ManyVids) January 25, 2018
Now that I'm back home I can't wait to go back again in 2019. But most importantly I've had time to recover from a small cold and cough. Apparently getting sick is something veteran attendees of these trade shows knew to include things like  anti viral mask & hand sanitizer , to avoid the illnesses. Hopefully next year I will be better prepared when traveling and if you'd like more info or travel tips checkout
Travel And Safety Tips Xbiz/AVN Awards attendees.
  If you are apart of the adult industry I would highly suggest attending this event. I wouldn't already be planning to go next year if I wasn't fully satisfied with my own trip. I connected with so many camgirls I've spoken to online for so many years. It felt good to finally be able to meet them in personal. For once I was free to promote my work without feeling like a bad person or a degenerate of society.  I was surrounded by a society that embraced my line of work and treated me like royalty. This is not something we experience in our day to day lives. So for that reason I say,  treat yourself because it's well worth it. And now since arriving back home I can tell that my efforts have begun to pay off because my MV rank has surged tremendously, landing me in the to 20 stores on ManyVids. That's never happened to me before! But that's not to say I'm not ready for it because I am 100%.