It's been six months since Boleyn Models it's comprehensive guide on what mobile apps for cammodels were the most useful in regards to marketing and building a fanbase. Since that time I've discovered even more interactive mobile applications for cammers that will enhance their brand while making life easier in front of the camera as well as behind the scenes.
Background Eraser
First up I've chosen mobile app Background Eraser. What's great about this one is how easy it is to create transparent images and save them in a .png format. This is an application for cutting pictures and for making a picture's background transparent and featuring one object as the central focus. By doing this it makes the image transferable as an overlay and allows for maximum creativity. I would suggest using this app if you would like to create promotional materials with pictures that aren't quite as polished as stock photos. Eliminate messy backgrounds from your cammodel selfies.
Rebrand Your Url's With Rebrandly
This is the perfect app for models who require storage for all of their camgirl urls. But instead of it soley being a link shortner like other apps such as bitly or hootsuite, Rebrandly allows for personalization and rebranding. Once you copy and paste your url onto the phones clipboard, the saved url immediately pops up once you open the app. From that point it's just a matter of what you would like your customized link to read as.
For Example:
https://rebrand.ly/cammodel-apps-2-0 once it's been modified and saved within the app  points towards www.boleynmodels.com/blog/apps-for-cammodels-2-0.
Cammodel Tips For Using Rebranly: Some social media platforms like Google+ are known for disallowing links to adult sites on their platform. But when you use Rebrandly you're able to covertly disguise the url with a rebranded name. This will also work on platform like Tumblr where referral codes are quite often stripped from your post or when .xxx domain extensions are ghosted. Currently links from Manyvids are not supported. 
Music Apps To Set The Mood
My go to app to create the perfect ambiance while entertaining in freechat is SoundCloud. There are others like Spotify, Pandora and Tidal, but Soundcloud has a free version that I've found to be more than satisfactory. If you hate paying data charges because you've been streaming too much music, now most companies have unlimited LTE data for streaming your tunes.
How To Save Hashtags For Faster Posting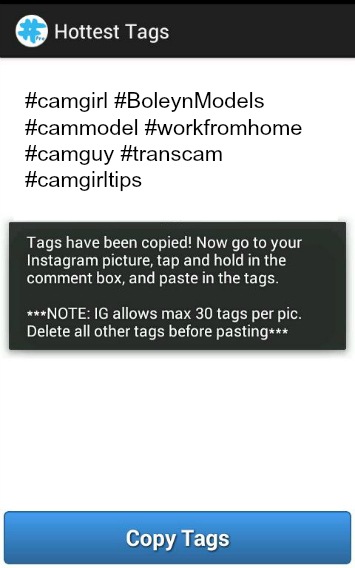 I absolutely love using TagsForLikesPro this mobile app for cammodels isn't free unlike the the other apps mentioned in the article but it's only .99 cents and it's worth every penny. Not only does it help you to quickly find the most popular hashtags on apps like Instagram but it also gives the ability to create and save customized list for faster posting. There is a free version for the app but you are only allowed to create and save one customized list in the unpaid version. Quite often I find that I have different groups of hashtags or pre-determined themes when I'm posting on social media. I have sexy camgirl related ads that I use for selfies or promo materials and then I have list for mainstream postings. It's always a great idea to mix in non-adult post to avoid the appearance of spam.
I Don't Want A Huge Prize Wheel In My Camroom, What Are The Alternatives?
I have never liked the idea of having a huge game wheel in my camming space for two reasons.
They're big and the size of them can make discretion and storage very awkward.
Prize Wheels are expensive and you may not want to spend money on something that isn't very discreet.

I would suggest using an mobile application like Decision Roulette or Wheel Decide. These particular apps are best for tablets due to the larger screen size that will make viewing a lot easier for members in your chatroom.
If you haven't read my first article on mobile apps for cammodels please check it out and offer suggestions for future articles. I'm sure in a few months I we'll be ready for Apps For Cammodels 3.0 Follow and tweet us your suggestions
Follow @boleynmodels