Once you've gotten the ball rolling and have become more comfortable as a camgirl, you may want to explore and obtain a few camgirl accessories. The basic essentials of camming are the Logitech C920 webcam, a computer with at least an i5 processor and of course high speed internet. But what about all the other bells and whistles that can make your cammodel job more interesting if not easier? It's not always suggested that a brand new cammodel go out and obtain accessories in the beginning. Because after all you want to make sure that becoming a camgirl is something you really want to do. So now that you're sure and are starting to make more money, here are few tips on camgirl accessories that can enhance your business as well as your brand.
Here on the Boleyn Models blog we've talked about the importance of three point lighting and how to sharpen your live stream. But what about lighting for your selfies? Taking a perfect selfie in the right lighting at the right angle can truly make your social media campaigns stand out from the rest. One of my favorite camgirl accessories is the ringlight. It gives off the perfect ambient glow but now they even have them for smartphones.
The Whellen Selfie Ring Light is one of my favorites because it's adjustable, powerful and lightweight. It has three different settings for luminosity and is very compact. It fits all smart phones IOS or Android with a simple clip. And when you're not using it you can just put it away in your purse. If you want something that's even more powerful and still in the small side, there's the Godex LED Mini Light Box. This is probably the smallest light box I've ever seen, however it's extremely powerful. But for only $19.99 it may not last very long if you attempt to use it for making clips. Even though it can be charged via USB, I recommend this primarily for taking pictures.
COMPACT RING LIGHTS FOR TRAVEL OR AT HOME FOR UNDER $50!!!
Now that ring lights have taken over the streaming industry from cammodels to gamers, beauty vloggers to tech enthusiast, our options for achieving that ethereal glow are endless and CHEAP! You can even find ring lights at your local Walmart and of course there's always Amazon.
First Up, the Zomei 10'Table Top Dimmable Ring Light With Ball Head. It's pink too! It's also USB powered and you can change the color temperature as well as the brightness. It's a really cute light but I'm not quite sure if it's strong enough to hold a DSLR camera? I would suggest trying a separate tripod to hold your camera if you decide to order this one.
Checkout this 10.2 inch ringlight from UBeesize for only $42.99. It has a universal phone holder with a 2 in 1 design for illuminating photos as well as your cammodel clips. It's also usb powered and can be easily connected to your smartphone, tablet or PC.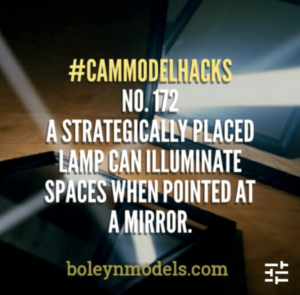 Another idea for making your camroom more functional is to have a full length mirror. Not only are these great for taking pictures but can also be used during live streams. Sometimes during camshows members may request certain positions that can take you away from the camera. If you're in free chat or a group show where you may have to cater to multiple people at once having a mirror can help. For instance if one person wants to see you from behind and the other enjoys watching your smiling face, having a mirror shows both areas at the same time. Mirrors can range in price and aren't always super expensive.
One of my favorite places to go shopping for full length mirrors is Ikea and Target. But you can always use a mid size mirror as well. These aren't as heavy and can be lifted with ease for placement on your bed. I've even decorated my full length mirror with vanity lights to add more background lighting in my camspace. For more checkout Camroom Decor On A Budget.
If you have any camgirl tips and suggestions for cammodel accessories Follow @boleynmodels on Twitter with your ideas.