One of the best ways to get noticed among a sea of webcammers is by sprucing up your cammodel profiles. What you choose as your bio pic and tagline can be your virtual calling card when you work on a camsite. You can even go a step further and create your very own website to sell camshows from. No matter what avenue you choose it's best to put some real thought into what you're doing. Deciding on the right image that accurately describes your cammodel persona and your expertise isn't always easy, but it is doable. Even now years after the Great PornApocalpse that many believe to be the year when Google first cracked down on porn, it's still possible to market yourself.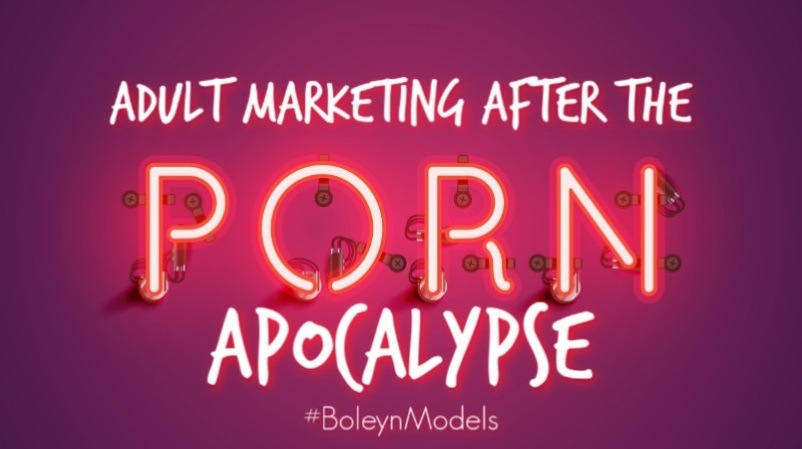 Before I jump into the many different ways your online profiles can show up in Google searches, let me explain what the PornApocalypse was. During the year 2013 Google the worlds largest search engine used a thematic algorithm called Penguin. Over the years there were many updates to the algorithm that would effect the way a website appeared/ranked in search results. Each change to the search algorithm is done with a single goal in mind: to serve up better, more relevant search results to people using Google to find information. The one update that had a huge impact on the porn industry was called Penguin 2.0. Many of the search engine techniques used by webmasters in both the mainstream and adult industry were no longer effective. 
Adult websites that were use to ranking very high in Google searches were buried several pages back. And some were penalized to the point of being removed from search engine results all together. If you were a webmaster who used duplicate content and heavily relied upon link listings, then your websites definitely saw a drop in traffic. This is about the time when White Labels first ran into trouble. 
A White Label product is a product or service produced by one company that other companies rebrand to make it appear as if they had made it. 
If you've ever come across a website that looks exactly like Streamate but the name and color scheme is different, then you've stumbled upon a White Label. While these were once popular tools that easily appeared on the first pages of Google under camgirl searches, the marketability of white labels is no longer as effective.  Today using the term "camgirl" in a search will not deliver results for live camshows on a camsite nor indy skype shows. Instead you'll find a ton of anecdotal articles and cautionary tales about being a camgirl. That's not what horny men are looking for when they want to buy a camshow. Now if you want to compete for the top spots in the algorithm, you'll need to be more specific with your word choices when creating your online persona.
i.e. You are no longer just a camgirl, you are now a Milfy Femdom! Choose your words carefully. 
Getting Them In The Door With Your Bio Picture
When creating your cammodel profile for any given camsite you may want to give it a little more thought than say.. posting a picture on your Facebook or Instagram page. Sometimes what may appeal to you could very easily get overlooked by an eager camsite member looking for some action. Here are a few tips to help you gain more traction in your camroom and hopefully lead to more conversions.
Every camsite gives each model the ability to set up cammodel profiles that are linkable via a home page that may display up to 80 cammers at one time. A great way to stand out from the others is by using an eye catching bio picture that accurately reflects what you look like. It's incredibly important that your avatar is up to date and matches your current live stream. Here's a quick example of what can go wrong when the fore-mentioned isn't executed properly:
"When I first started three years ago my hair was red and down my back, but now I have a pixie cut and a full sleeve tattoo. Why do guys keep mentioning my red hair?"
If you're using pictures from what you looked like three years ago on your cammodel profiles, this could lead to a bit of confusion. This can be particularly confusing for members who clicked on your bio picture expecting a blonde without tattoos. Instead they have now found themselves in a chatroom with an inked model. You may of course be able to turn that situation around with enough flirting and enough charisma to make them want to stay in your chatroom. However if you're experiencing a high number of members popping in and out of chat, then you may need to switch up your avatar. It's a great idea to upload several pictures at once that you can change out whenever necessary. Some camsites like Streamate require approval each and every time cammodel profiles are updated. Having your bio picture pre-approved saves time.
Use Your Tagline As A Call To Action
A tagline is the space usually found underneath the bio picture found on most cammodel profiles. In some cases it may even be above it or to the side. This is where you will want to give viewers some idea of what doing a show with you will be like. Taglines aren't typically that long so it's important to play around with it until you have achieved a message that's precise and fun while giving a call to action. Here is an example on how to use a tagline in mainstream marketing and how it's done with adult marketing: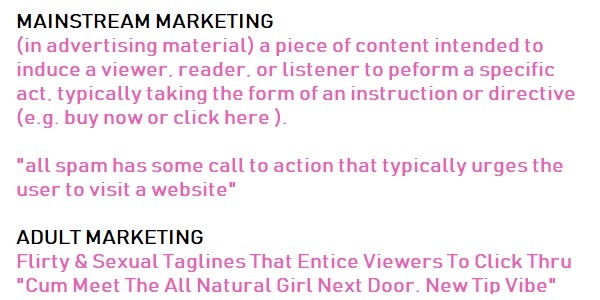 Sometimes effective marketing is a matter of repetition and can sometimes feel redundant. For example the current trend in SEO regarding online content is to repeat the the title of an article at least three times! Of course you place your keywords in the actual title of an article or blog post. After that marketers are using the same sentence as intro text to the body of the article and then once again embedded into the description of a jpeg image. You may have noticed this as well when reading a news article on one of the the many top websites today.  What's going on and why are they repeating themselves you may have wondered? The redundancy wasn't for your benefit or to ensure that you knew exactly what the article was about. Nope. It's all for Google and the millions of Google bots that crawl the internet 24 hours a day.
While I understand how effective that tactic is I believe it to be excessive and think it's better to create an intro with a variation of the title. Just not word for word. If you take the time to think in strategic terms on how you would like to be interpreted versus carelessly throwing images and words together, you'll be able to draw in a larger crowd.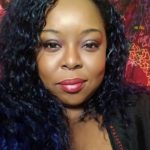 About the Author, Taja Ethereal is a tech loving girly girl who performs camshows live on skype. When she's not creating weird and peculiar fetish content for depraved kinksters you can find her at the dog park.