There are so many important components to our daily routines that can impact our abilities for multi-tasking.  Being a cammodel can appear so easy to those who have no idea what goes on behind the scenes not to mention the definition of splitcamming. Many will be surprised to learn that the job of a webcam performer requires discipline, time management skills and the ability to manage multiple websites simultaneously. And sometimes live streaming on more than one camsite at once is an absolute necessity for some. For some cammers working one site at a time isn't always as profitable as streaming live on one site at a time. Today I'm going to go over the many different ways you can maximize your time and make more money.
What Is Splitcamming?

The preferred software amongst many is Webcamsplitter by Verysoft. It's available for PC users and is known for it's sharp image and low cpu usage. If you're accustomed to using a MAC for camming then you may want to take a look at a program called Camtasia. The upside of using software to handle your splitcam needs is because when using this method there's no need to add on additional equipment.
The downside to a split cam session can be trying to manage multiple sites all at once. You have to check on the chat rooms, converse with potential customers and make sure you are giving attention to everyone on all sites. You also have to make sure that if you get a private show or flash on a site that may allow nudity in free chat, you either log out to remove the camera feed from any sites who do not allow nudity in free chat and then proceed to perform on the site that you are being paid.
How I Make Splitcamming Work For Me
To begin, start with with two camsites that are complimentary to one another. Then its best to learn how to navigate from site to site before adding more to your split cam sessions. Learn how each site works FIRST before split camming so you can easily maneuver in and out of private shows and know when it's time to completely stop a live stream. The number one reason you may want to suddenly cut off one session versus another is because, you're gonna want to avoid showing too much of a paid show on one site while showing in Free Chat on another.  It's okay to reveal the first few minutes of a paid show to those in free chat but try not to give too much away and or run the risk of breaking camsite rules once the below the belt fun begins.

Trying to decide which two sites are the most compatible can be the trickiest part when trying to maximize your earnings. Some cammers may suggest only running sites that are exactly the same to minimize confusion. For example- StripChat  works really well with Streamate and they are also a member of the Boleyn Models Network. These aren't your only two splitcam combinations. I personally have found that some days multi-streaming on a token based camsite while waiting for privates on another works out very well. The ultimate trick is to treat both camsites as though the two combined are one chatroom while not revealing that you're streaming on multiple sites at once.
Pro Tips For Cammodels And Splitcamming:
Update Jan. 15, 2020: Ultra Wide Monitors Are The BOMB! This can help eliminate clutter and streamline your setup. Instead of using two monitors you can now simply splitcam with just one Ultra Wide Monitor. If you're going to use an Ultra Wide Monitor I would suggest finding one that is both curved and at least 30 inches in diameter. I was able to pick one up during after the after Christmas sales for only $200.
Using two monitors dedicated to it's very own chatroom can help with viewing what's going on with each chatlog at the same time.
Sometimes it's better to leave a free chat stream running while simultaneously performing live in a paid chat on a different camsite. Use the first few mins as a tease and a way to entice the other viewers into entering a private session. Use auto messages alerting them that you may take a break soon. If no one bites, then cut the stream and focus solely on the paying customer.

You may have heard other cammodels use this phrase when discussing their splitcam techniques and wondered what it meant exactly? For the sake of simplicity and not wanting to confuse you too much, let's just say that the background is the browser where the site you care the least about is nested. This will be the camsite that may bring in some money but is definitely not your number one money maker, therefore that particular live chat remains in the "background" while you primarily focus on your main site. You don't want to completely ignore what's being said in the chat log and should definitely check back from time to time while listening out for audio indicators that someone may have entered a paid chat. If you decide to stream two sites at a time with one hopeful nestled in the background.  I'd suggest giving your primary focus to the site that has the most traffic and a customer base that are easy to engage.
Check out the ElGato Stream Deck: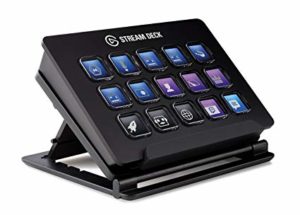 The El Gato Stream deck is perfect for multi-streamers who'd like to spend less time searching between browsers and more time entertaining your viewers. This stream deck can help you stay organized while toggling between popular social media sites, Soundcloud, OBS, Xsplit and more.
Splitcam Software VS Two Cameras. Is It Possible?
If you're a cammodel who's primary site doesn't work well with Splitcam Software then you may want to look into using two webcams instead. Currently the in house encoder specifically designed for models who use Streamate does not recognize Verysoft and most other splitcam software. So if you decide to use the SMBroadcast encoder you may want to use the two webcam method if you'd like to stream on a second camsite. However if you use the OBS encoder you can use whatever software you like. And imo the classic version of Open Broadcast Studio is far superior to the SMBroadcast.
I would like to point out that if you're working with two webcams that are the same (Logitech C920) adjusting your settings per site can turn into a total time suck. And for that reason it's best to use two different webcams like the Logitech C922 along side the C920. There's a PC issue with most not being able to recognize both webcams separately when they're the same model.
Each session and site will vary every time you split cam. You will find that one site might be better during the day while another is greater at night. Sadly there's no easy method when deciding on a suitable schedule for each site. Trial and error is the only way to make your efforts the most beneficial. Once you've put in the work then you'll have realized that you're never wasting your time on a camsite that's dreadfully slow, when you have multiple sites going. This can also bring in more exposure that will allow you the opportunity to gain more followers while bolstering your name. Splitcamming may not fit each and every personality. To be completely honest it's not something I do every time I go live but knowing when and how to do it has definitely increased my income while keeping both myself and fans doubly entertained.
For more information on multi-streaming with Verysoft, OBS & Restream.io checkout this video from the Boleyn Models Youtube Channel: